10M to 22M Multi-directional + PTZ Camera
• Exchangeable 4ea x 2M / 5M lens modules
• 8M to 20M resolution (depend on the combination of lens modules)
• Max. 60fps@2M, Max. 30fps@5M (H.265 / H.264)
• WDR 150dB with 2M, 120dB with 5M lens module
• 2.4mm, 2.8mm, 3.6mm, 6mm, 12mm fixed lens (2M module)
• 3.7mm, 4.6mm, 7mm fixed lens (5M module)
• H.265, H.264, MJPEG codec,WiseStreamⅡ
• IP66, IK10, SD / SDHC / SDXC memory 5 slots
• 4.44~142.6mm(Optical 32x) lens, Day & Night (ICR)
※ Product availability may vary by region.
Please contact your regional representative.
※ Hanwha Vision is formerly known as Hanwha Techwin
Mouse over image to zoom
Discontinued
PNM-9320VQP
10M to 22M Multi-directional + PTZ Camera
• Exchangeable 4ea x 2M / 5M lens modules
• 8M to 20M resolution (depend on the combination of lens modules)
• Max. 60fps@2M, Max. 30fps@5M (H.265 / H.264)
• WDR 150dB with 2M, 120dB with 5M lens module
• 2.4mm, 2.8mm, 3.6mm, 6mm, 12mm fixed lens (2M module)
• 3.7mm, 4.6mm, 7mm fixed lens (5M module)
• H.265, H.264, MJPEG codec,WiseStreamⅡ
• IP66, IK10, SD / SDHC / SDXC memory 5 slots
• 4.44~142.6mm(Optical 32x) lens, Day & Night (ICR)
※ Product availability may vary by region.
Please contact your regional representative.
※ Hanwha Vision is formerly known as Hanwha Techwin
Never Miss a thing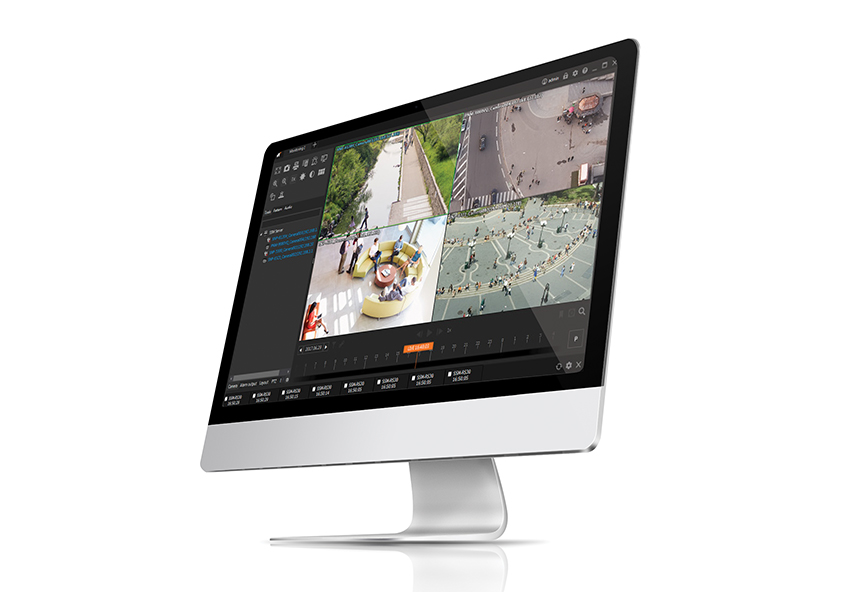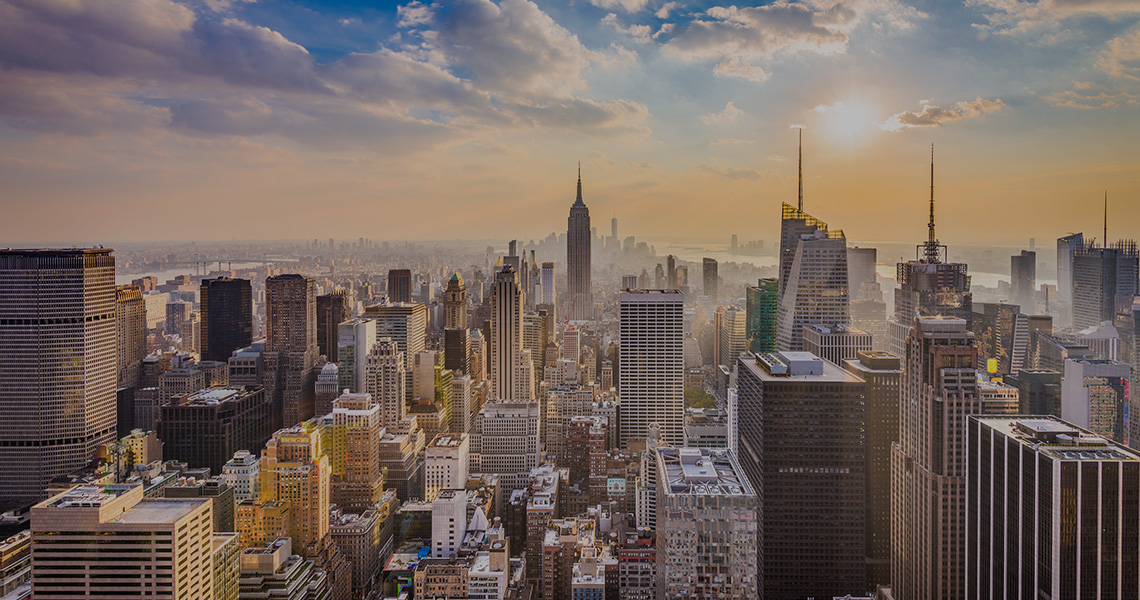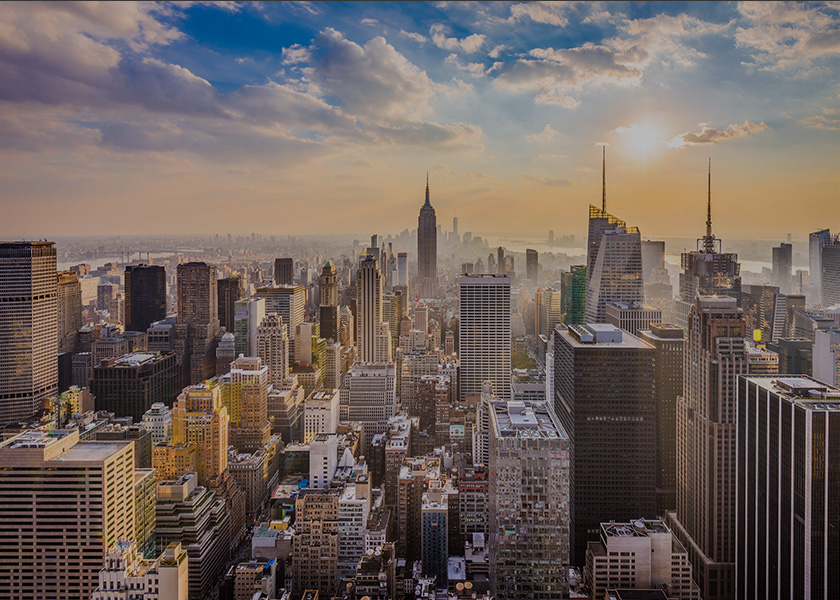 Wisenet Multi-directional plus
PTZ camera
PNM-9320VQP
4 + 1 cameras in one
Multi-directional plus PTZ camera has five sensors in one camera. When using the camera you can monitor a 360° wide area simultaneously with multi-directional camera while the PTZ camera zooms into the desired area for closer inspection. The four sensors in the multi-directional camera move independently of one another.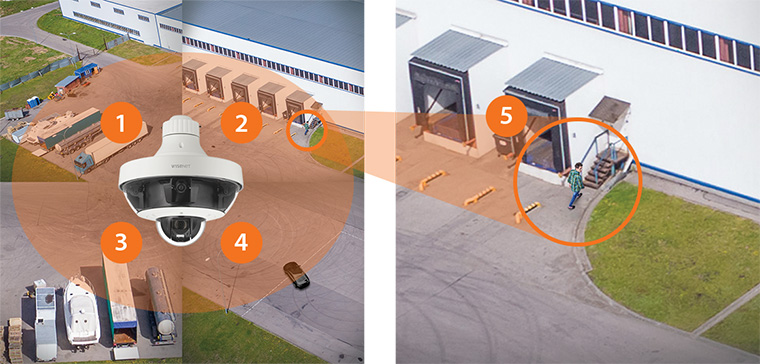 Advance handover to PTZ
When the multi-directional camera detects an event, it automatically links to PTZ camera which carries out zoom-in and track functions. When using preset mode, PTZ camera zooms in to the position that the users preset, while smart zoom mode automatically zooms into the area where event is detected.
Improve bandwidth by up to 99% using WiseStream II
When Hanwha Techwin's original video compression technology WiseStream II is combined with H.265 compression, the bitrate data is reduced by up to 99% compared to current H.264 technology. The costs of configuring and maintaining the system are also greatly reduced, while still maintaining the same pixels and high quality.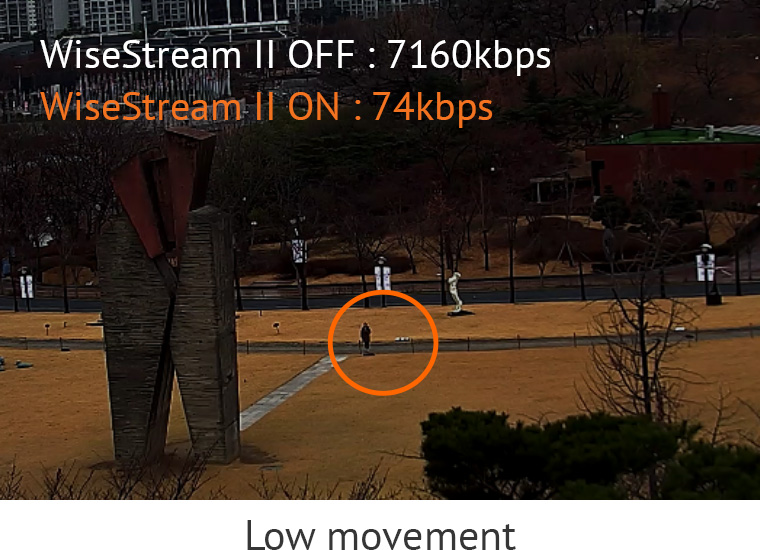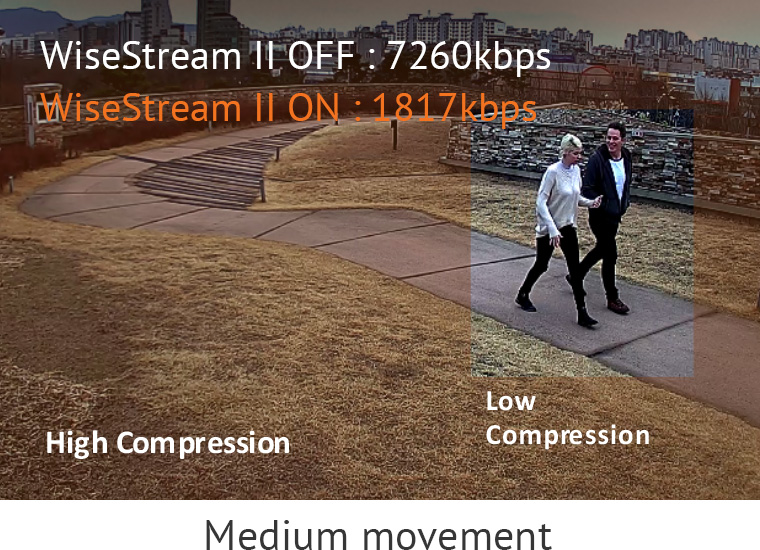 True WDR(150dB with 2MP and 120dB with 5MP)
Even with backlight, Wisenet's cutting-edge WDR technology addresses a limitation found in conventional WDR cameras while producing clear and vivid images. WDR improves the accuracy of an image by resolving the difference in brightness.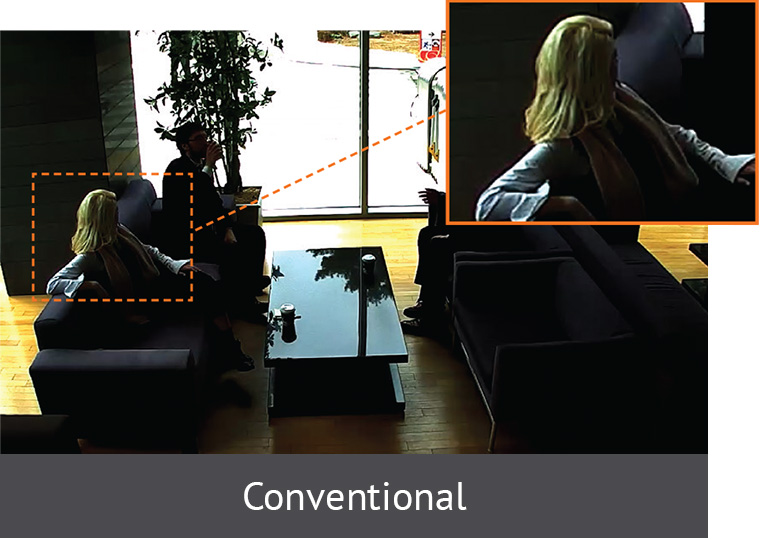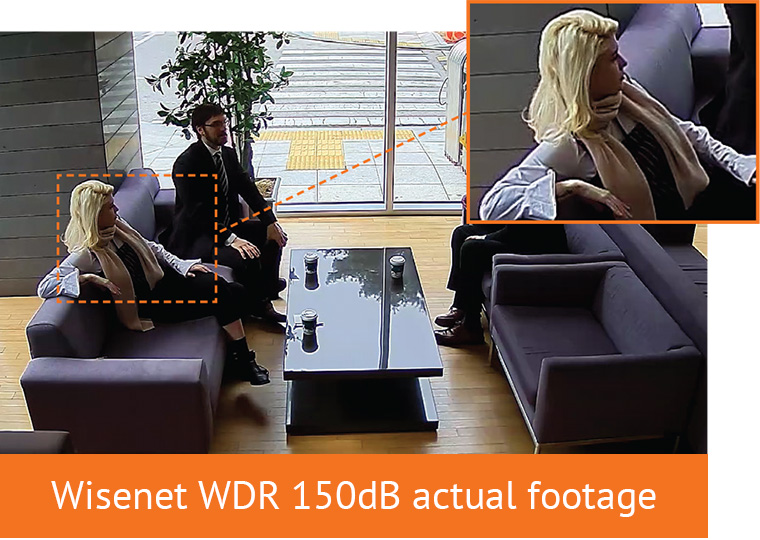 Hallway View
In a vertical shaped environment, traditional horizontal shaped videos focus on unnecessary edges of the area causing bandwidth and storage waste. The Hallway view creates 3 : 4 and 9 : 16 ratio image which is vertically oriented and maximizes image quality in a narrow environment.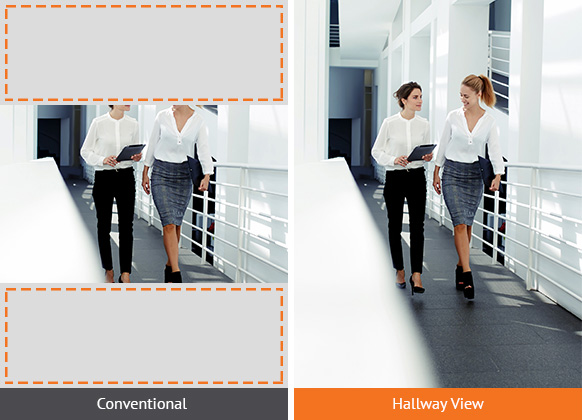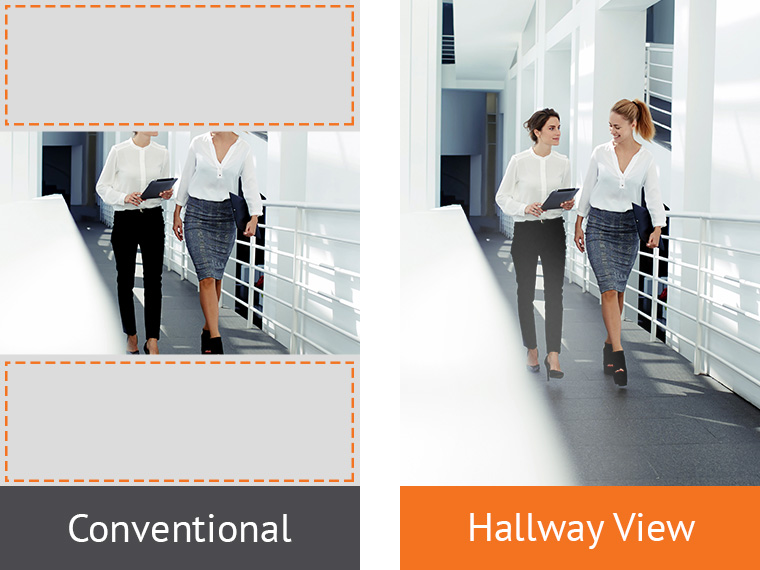 A comprehensive range of intelligent video analytics
Wisenet P series multi-sensor cameras support a variety of exclusive video and audio analytics, providing enhanced monitoring solutions and market intelligence.
* Supported video analytics may vary depending on the camera.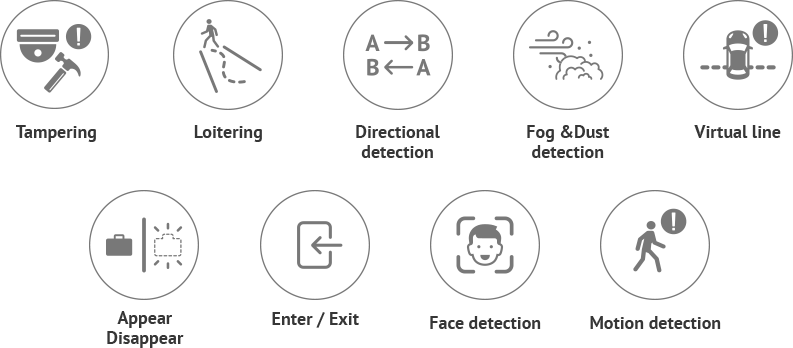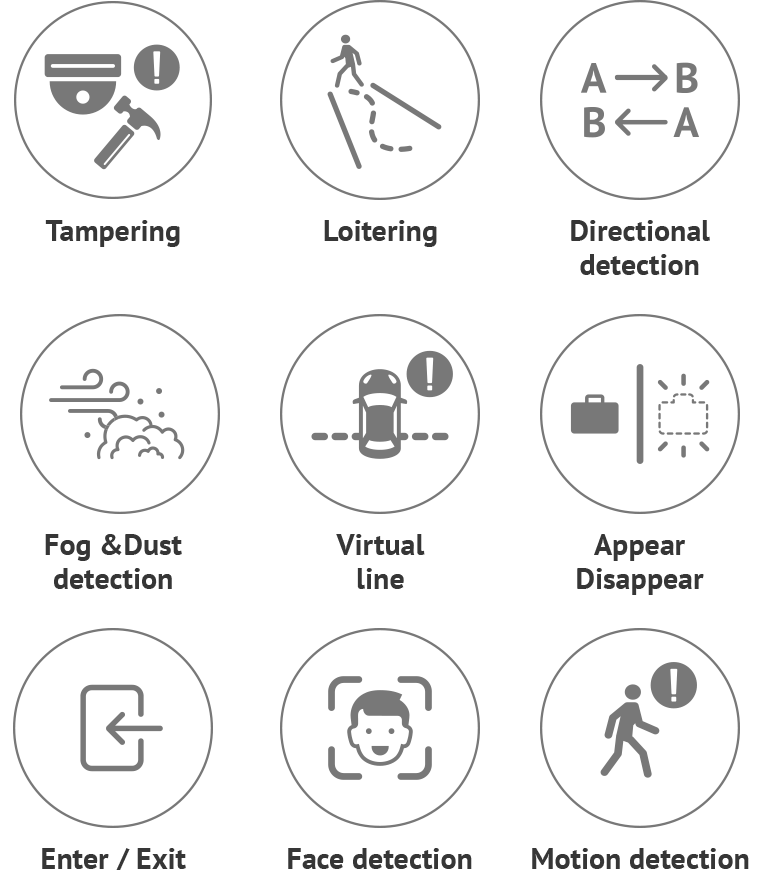 Selectable and changeable multiple lens (PNM-9320VQP only)
Users can choose a wide variety of lenses from 2M 2.4mm to 5M 7.0mm for PNM-9320VQP to create the most optimal field of view for their desired monitoring areas. Choose the 4 lenses of your choice and create a combination of lens module up to 20MP resolution for multi-directional camera.
1/2.8" 2M CMOS
Lens
SLA-2M2400P
SLA-2M2800P
SLA-2M3600P
Focal Length
(Zoom Ratio)
2.4mm
2.8mm
3.6mm
Angular Field of View
H : 135.4˚
V : 71.2˚
D : 161.6˚
H : 107.4˚
V : 62.2˚
D : 122.0˚
H : 94.8˚
V : 49.3˚
D : 114.3˚
Lens
SLA-2M6000P
SLA-2M1200P
Focal Length
(Zoom Ratio)
6mm
12mm
Angular Field of View
H : 50.4˚
V : 28.8˚
D : 58.1˚
H : 26.3˚
V : 14.9˚
D : 30.0˚
Lens
SLA-2M2400P
SLA-2M2800P
Focal Length
(Zoom Ratio)
2.4mm
2.8mm
Angular Field of View
H : 135.4˚
V : 71.2˚
D : 161.6˚
H : 107.4˚
V : 62.2˚
D : 122.0˚
Lens
SLA-2M3600P
SLA-2M6000P
Focal Length
(Zoom Ratio)
3.6mm
6mm
Angular Field of View
H : 94.8˚
V : 49.3˚
D : 114.3˚
H : 50.4˚
V : 28.8˚
D : 58.1˚
Lens
SLA-2M1200P
Focal Length
(Zoom Ratio)
12mm
Angular Field of View
H : 26.3˚
V : 14.9˚
D : 30.0˚
1/1.8" 5M CMOS
Lens
SLA-5M3700P
SLA-5M4600P
SLA-5M7000P
Focal Length
(Zoom Ratio)
3.7mm
4.6mm
7.0mm
Angular Field of View
H : 97.5˚
V : 71.9˚
D : 126.2˚
H : 77.9˚
V : 57.9˚
D : 98.7˚
H : 50.7˚
V : 37.8˚
D : 63.8˚
Lens
SLA-5M3700P
SLA-5M4600P
Focal Length
(Zoom Ratio)
3.7mm
4.6mm
Angular Field of View
H : 97.5˚
V : 71.9˚
D : 126.2˚
H : 77.9˚
V : 57.9˚
D : 98.7˚
Lens
SLA-5M7000P
Focal Length
(Zoom Ratio)
7.0mm
Angular Field of View
H : 50.7˚
V : 37.8˚
D : 63.8˚
Product Specification
Video
Lens
Operational
Network
General
Environmental & Electrical
Mechanical
Video
Resolution
[5MP]
2560x1920, 2560x1440, 1920x1080, 1600x1200, 1280x1024, 1280x960, 1280x720, 1024x768, 800x600, 800x448, 720x576, 720x480, 640x480, 320x240
[2MP]
1920x1080, 1280x1024, 1280x960, 1280x720, 1024x768, 800x600, 800x448, 720x576, 720x480, 640x480, 640x360, 320x240
Max. Framerate
H.265/H.264: 2MP Max. 60fps/50fps(60Hz/50Hz), 5MP Max. 30fps/25fps(60Hz/50Hz)
MJPEG: Max. 30fps/25fps(60Hz/50Hz)
Video Out
CVBS : 1.0 Vp-p / 75Ω composite, 720x480(N), 720x576(P), for installation
Lens
Optional Lens
SLA-2M2400P(2MP 2.4mm)
SLA-2M2800P(2MP 2.8mm)
SLA-2M3600P(2MP 3.6mm)
SLA-2M6000P(2MP 6.0mm)
SLA-2M1200P(2MP 12mm)
SLA-5M3700P(5MP 3.7mm)
SLA-5M4600P(5MP 4.6mm)
SLA-5M7000P(5MP 7.0mm)
Operational
Camera Title
Displayed up to 85 characters
Day & Night
Auto(Electrical)
Backlight Compensation
BLC, HLC, WDR, SSDR
Wide Dynamic Range
2MP 150dB, 5MP 120dB
Digital Noise Reduction
SSNRⅤ
Digital Image Stabilization
Support
Defog
Support
Motion Detection
8ea, 8point polygonal zones
Privacy Masking
32ea, polygonal zones
- Color: Grey/Green/Red/Blue/Black/White
- Mosaic
Gain Control
Low / Middle / High
White Balance
ATW / AWC / Manual / Indoor / Outdoor
LDC
Support
Electronic Shutter Speed
Minimum / Maximum / Anti flicker (2~1/12,000sec)
Video Rotation
Flip, Mirror, Hallway view(90°/270°)
Analytics
Defocus detection, Directional detection, Face detection, Fog detection, Motion detection, Appear/Disappear, Enter/Exit, Loitering, Tampering, Virtual line
Alarm Triggers
Analytics, Network disconnect, Alarm input
Alarm Events
File upload via FTP and e-mail
Notification via e-mail
SD/SDHC/SDXC recording at event triggers
Network
Ethernet
RJ-45(10/100/1000BASE-T)
Video Compression
H.265/H.264: Main/Baseline/High, MJPEG
Smart Codec
Manual(5ea area), WiseStreamⅡ
Bitrate Control
H.264/H.265: CBR or VBR
MJPEG: VBR
Streaming
Unicast(20 users) / Multicast
Multiple streaming(Up to 10 profiles)
Protocol
IPv4, IPv6, TCP/IP, UDP/IP, RTP(UDP), RTP(TCP), RTCP,RTSP, NTP, HTTP, HTTPS, SSL/TLS, DHCP, FTP, SMTP, ICMP, IGMP, SNMPv1/v2c/v3(MIB-2), ARP, DNS, DDNS, QoS, PIM-SM, UPnP, Bonjour
Security
HTTPS(SSL) Login Authentication
Digest Login Authentication
IP Address Filtering
User access log
802.1X Authentication(EAP-TLS, EAP-LEAP)
Application Programming Interface
ONVIF Profile S
SUNAPI(HTTP API)
General
Web Viewer
Supported OS: Windows 7, 8.1, 10, Mac OS X 10.10, 10.11, 10.12
Recommended Browser: Google Chrome
Supported Browser: MS Explore11, MS Edge, Mozilla Firefox(Window 64bit only), Apple Safari(Mac OS X only)
Edge Storage
Micro SD/SDHC/SDXC 4slot 256GB(Each CH)
Memory
5GB RAM, 1280MB Flash
Environmental & Electrical
Operating Temperature / Humidity
-35°C ~ +55°C (-31°F ~ +131°F) / Less than 90% RH
Storage Temperature / Humidity
-50°C ~ +60°C(-58°F ~ +140°F) / Less than 90% RH
Certification
IP66, IK10
Input Voltage
HPoE(IEEE802.3bt)
Power Consumption
HPoE: Max 65W
Mechanical
Color / Material
Ivory / Aluminum
Product Dimensions / Weight
Ø367.8x381.5mm (Ø144.49"x150.20"), 7.05kg (16.1 lb)
Compatible lenses
Video
Lens
Pan / Tilt / Rotate
Mechanical
Video
SLA-2M2800P
SLA-2M2400P
SLA-2M3600P
SLA-2M1200P
SLA-5M3700P
SLA-5M4600P
SLA-5M7000P
SLA-2M6000P
Imaging Device
1/2.8" 2MP CMOS
1/2.8" 2MP CMOS
1/2.8" 2MP CMOS
1/2.8" 2MP CMOS
1/2.8" 5MP CMOS
1/2.8" 5MP CMOS
1/2.8" 5MP CMOS
1/2.8" 2MP CMOS
Effective Pixels
1945(H)x1109(V)
1945(H)x1109(V)
1945(H)x1109(V)
1945(H)x1109(V)
2616(H) x 1976(V)
2616(H) x 1976(V)
2616(H) x 1976(V)
1945(H)x1109(V)
Min. Illumination
Color: 0.055Lux(F2.0, 1/30sec)
B/W: 0.055Lux(F2.0, 1/30sec)
Color: 0.055Lux(F2.0, 1/30sec)
B/W: 0.055Lux(F2.0, 1/30sec)
Color: 0.055Lux(F2.0, 1/30sec)
B/W: 0.055Lux(F2.0, 1/30sec)
Color: 0.055Lux(F2.0, 1/30sec)
B/W: 0.055Lux(F2.0, 1/30sec)
Color: 0.16Lux(F2.0, 1/30sec)
B/W: 0.16Lux(F2.0, 1/30sec)
Color: 0.16Lux(F2.0, 1/30sec)
B/W: 0.16Lux(F2.0, 1/30sec)
Color: 0.16Lux(F2.0, 1/30sec)
B/W: 0.16Lux(F2.0, 1/30sec)
Color: 0.055Lux(F2.0, 1/30sec)
B/W: 0.055Lux(F2.0, 1/30sec)
Lens
Focal Length (Zoom Ratio)
2.8mm fixed focal
2.4mm fixed focal
3.6mm fixed focal
12.0mm fixed focal
3.7mm fixed focal
4.6mm fixed focal
7.0mm fixed focal
6.0mm fixed focal
Max. Aperture Ratio
F2.0
F2.0
F2.0
F2.0
F1.6
F1.6
F1.6
F2.0
Angular Field of View
H:107.4°, V:62.2°, D:122.0°
H:135.4°, V:71.2°, D:161.6°
H:94.8°, V:49.3°, D:114.3°
H: 26.3° V: 14.9° D: 30.0°
H: 97.5˚, V: 71.9˚, D: 126.2˚
H: 77.9˚, V: 57.9˚, D: 98.7˚
H: 50.7˚, V: 37.8˚, D: 63.8˚
H:50.4°, V:28.8°, D:58.1°
Focus Control
Fixed
Fixed
Fixed
Fixed
Fixed
Fixed
Fixed
Fixed
Pan / Tilt / Rotate
Pan / Tilt / Rotate Range
-90°~+90° / +26~+80° / -180°~+180°
-90°~+90° / +52~+56° / -180°~+180°
-90°~+90° / +22~+84° / -180°~+180°
-90°~+90° / +10~+97° / -180°~+180°
-90˚~+90˚ / +36˚~+73˚ / -180˚~+180˚
-90˚~+90˚ / +21˚~+85˚ / -180˚~+180˚
-90˚~+90˚ / +12˚~+93˚ / -180˚~+180˚
-90°~+90° / +10~+95° / -180°~+180°
Mechanical
Color / Material
Black / Plastic
Black / Plastic
Black / Plastic
Black / Plastic
Black / Plastic
Black / Plastic
Black / Plastic
Black / Plastic
Product dimensions / weight
Ø35.5x35.9mm, 30g
Ø35.5x35.9mm, 30g
Ø35.5x35.9mm, 30g
Ø35.5x35.9mm, 30g
Ø35.5x35.9mm, 30g
Ø35.5x35.9mm, 30g
Ø35.5x35.9mm, 30g
Ø35.5x35.9mm, 30g