Hanwha Vision

's Healthcare Solution allows you to increase customer satisfaction in medical service, while ensuring safety of facilities and efficiency in operation.
Beginning of safety management,
Detect elevated body temperature upon entry to perform the screening
– Wisenet Temperature detection thermal cameras detect elevated body temperature at entrances to perform the screening
Manage the number of people allowed in indoor space
– If the number of people staying in indoor spaces exceeds the maximum limit, the staff can disinfect the air
Detect visitors wearing masks
– Utilize object attributes such as not wearing face masks to track noncompliance
Statistical data of visitors
– AI cameras offer statistical data of visitors such as gender or age group
– Utilize the statistical data to enhance visitor service
Core of hospital security system,
Integrated management of both in and out of hospitals
–
Hanwha Vision
's total security solution offers simultaneous monitoring of a large area
– Event alarms enable swift response to events occurring in and out of hospitals
– Smart search supports a quick search for certain dates/time lines or events
– Hanwha Vision's AI cameras detect only people or vehicle even it's moving objects such as shadow, animals, or changing light. It helps increase event monitoring accuracy by reducing false alarms.
Improved medical service,
Record and save surgery procedures
– Ultra-high resolution and close zoom cameras record surgery procedures in vivid and clear images
– Utilize integrated control system to support video recording/playback and fast search
– Save meaningful data for a longer period of time
Reliable for medical staff and patients/families,
Medical consultation room
Record video and audio in the consultation room
– Notify the patient of audio/video recordings at the beginning and the end of consultation
– Recorded video footage and audio files can be utilized as medical records if necessary
– Verify and record identity of medical staff and patients/families involved in a surgery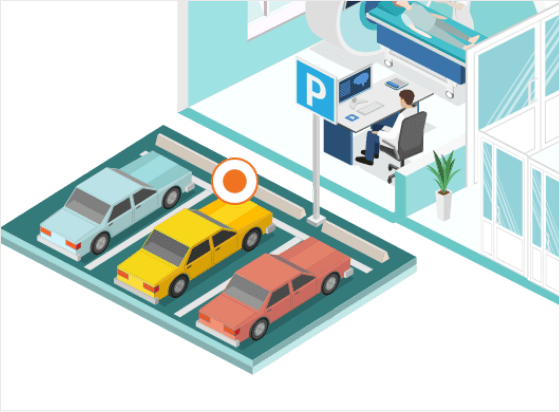 Offer safe and convenient parking service,
* Availability may vary by region
– Display vacant parking space with the lamp and for customers' convenience
License Plate Recognition
– Track vehicles entering and exiting the parking lot to monitor the dwell time
– IR cameras deliver vivid images during nighttime or in a dimly lit parking lot, while the zoom feature supports precise monitoring