For clear and vivid image against strong backlit
Video surveillance cameras have been developed to provide the best image quality under difficult and changing lighting environments. One of the most important aspects is the Wide Dynamic Range (WDR) or backlight correction technology, which reacts to the change of light. WDR is a technology for obtaining an excellent image by resolving the difference in brightness when the background is brighter than the main object or glare is generated by strong lighting.
Generally, WDR is required in the following situations:
ㆍ During daytime, where it is relatively dark inside a building and bright outside.
ㆍ A bright light shines towards the camera, such as with a car approaching the camera with its' headlights turned on.
Hanwha Vision has been working continuously to strengthen its WDR function to provide optimized and vivid images in the strong backlit scenes. Hanwha Vision introduced the Wisenet7 implemented with the extreme WDR technology which can produce high resolution images suitable for forensic search application in the environment with strong backlit.
The WDR technology applied to Hanwha Vision cameras provide excellent image quality while minimizing side effects to deliver videos suitable for all applications.
The WDR technology applied to Hanwha Vision's Wisenet7 chipset uses variable exposure WDR type and it gathers a number of images with various exposure and blends them into one composite WDR video. To achieve extreme WDR following process is executed.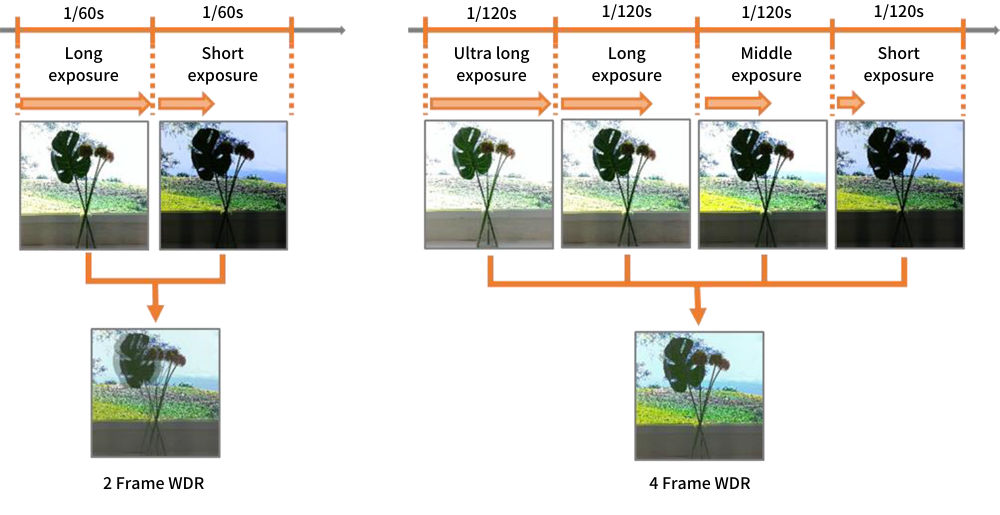 Image. Wisenet7 extreme WDR integration
Scene Based Adaptive Tone Mapping
Hanwha Vision's WDR technology uses SBATM (Scene Based Adaptive Tone Mapping), a technology that analysis and reacts to the surrounding images in order to obtain a natural looking image. This technology can generate natural images without the loss of information.
Local Contrast Enhancement
While trying to acquire the Wide Dynamic Range, the issue of decreased gradation can happen in some areas. In this case, a video with a good Dynamic Range but poor contrast can be the result. The Wisenet7 chipset supports a Local Contrast Enhancement feature to deal with this issue. As shown in Image 4, you can still achieve a video with Wide Dynamic Range and high contrast on the whole scene, providing a nature image and full visibility.
Check out related products.