Hanwha Vision's New CSMO, Choong Hoon Ha Aspires to "Accelerate Company's Growth as a Global Vision Solution Provider by Building upon North America's Success Story"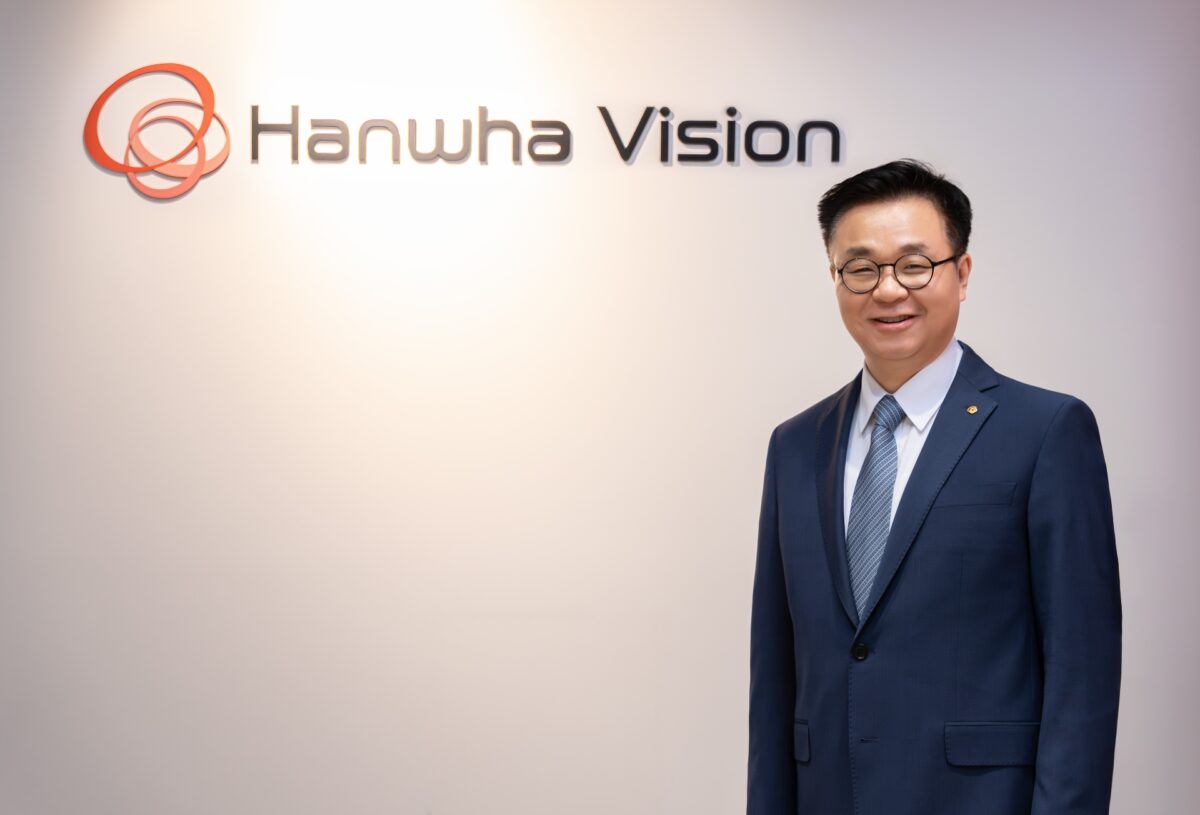 The year 2022 marked a historic milestone for Hanwha Vision. For the first time in its history, the company surpassed one trillion won in annual revenue. Despite economic uncertainties, one of the driving forces behind Hanwha Vision's remarkable growth was its consistent revenue expansion in the global market, particularly in the United States. In the current year, Hanwha Vision continues to expand its market share in the Americas, maintaining its streak of high growth.
Recently, Hanwha Vision appointed Choong Hoon Ha as the new Chief Sales and Marketing Officer (CSMO). He had served as President of Hanwha Vision America for the past three years. Ha assumed his new role on September 1st. Having joined Hanwha Vision America in 2010, he has held key sales and management positions, significantly contributing to the company's growth, product development, and innovation. Ha started out his career at Samsung Electronics in 2002 as the regional sales manager for Asia and Africa and is now a security specialist with more than 22 years of experience in the industry.
As the President of Hanwha Vision America, Ha played a pivotal role in helping the company achieve its new goal of becoming a global vision solution provider. What will the Sales and Marketing Division look like under the management of the newly appointed CSMO, Choong Hoon Ha? Here is a look into his goals and vision.
01
What has been the most significant change in the global security market during your tenure as President of Hanwha Vision America?
The most significant transformation in the global video surveillance market has been the full-scale integration of AI. The application of AI in the video surveillance industry is not new, but it has now become mainstream. However, the expectations surrounding the synergy of AI and cameras have risen to unprecedented levels. In the past, AI in security cameras was primarily about detecting and identifying objects such as people and vehicles, reducing false alarms, and enabling swift searches. Today, the industry is contemplating how to harness the vast amount of data collected by AI effectively. The emphasis has shifted towards user-centric data reprocessing and providing intuitive insights derived from this data.
Simultaneously, video surveillance companies that once favored on-premises solutions are increasingly offering cloud services. This shift aligns with the heightened demand for more efficient utilization of video surveillance solutions and is closely linked to the increased adoption of advanced AI technologies.
02
Despite the unprecedented pandemic, Hanwha Vision America achieved remarkable growth. What do you consider the most meaningful achievement during your tenure?
When I assumed the role of President of Hanwha Vision America, my primary goal was to build upon the solid business foundation laid by my predecessors, Soonhong Ahn and Kichul Kim, and further strengthen our brand presence in the local market.
To achieve this, we introduced the HITE (Hanwha Innovation and Technology Experience) Center in New Jersey, our first experience center in the United States, offering customers a firsthand experience of Hanwha Vision's products and vertical solutions. This hands-on experience approach for our customers translated into tangible business results. We are building additional experience centers in four regions across the United States and Mexico. Furthermore, we established the Hanwha Total Care Center (HTCC) to internalize warranty repair services. Shifting from third-party service providers to in-house services improved customer satisfaction. Establishing new warehouses in North and Latin America and creating the first Latin American subsidiary in Mexico enabled faster product distribution, further enhancing Hanwha Vision's leadership throughout the United States.
We also achieved significant progress in our work culture and practices. One of my goals during my tenure was to create a more enjoyable work environment. To achieve this, we automated and enhanced various functions to increase operational efficiency and productivity. We strengthened daily communication with employees and fostered cultural exchange and harmony by hosting events that celebrated the diverse cultural backgrounds of our workforce. As a result, Hanwha Vision America achieved an employee retention rate of approximately 95%, even throughout the last 2-3 years during which there has been a shortage of talent acquisition for global companies.

03
How do you plan to scale the success achieved in the United States to the global market?
Whether in the United States or other markets, proactive sales is the key to a company's success. This means reaching out to customers first, listening to their stories, understanding their needs, and developing and presenting products and services to help them solve their challenges.
Additionally, leveraging the company's partner ecosystem, which serves as a growth engine, to maximize the impact of proactive sales is crucial. To handle regional, economic, and regulatory differences in each country, we plan to collaborate closely with local teams and partners to expand Hanwha Vision's share in the global market based on proactive sales.
04
The company was recently rebranded as Hanwha Vision in March and has changed its mission to become a global vision solution provider. What does it mean to become a global vision solution provider?
The name Hanwha Vision encapsulates its determination to lead not only in video surveillance solutions but also in next-generation vision solutions that provide customers with essential insights for their business operations, thereby driving innovation in the global market. Beyond the traditional role of security cameras in monitoring, Hanwha Vision aims to expand the scope by offering customized information and solutions through big data analysis, integration of action solutions that enable prevention and real-time response, and support for business operation strategies. These higher-level functions will lead the way in expanding the role of video surveillance solutions.

05
What has the company learned from the pandemic, and what are the current industry trends?
The disruption of supply chains caused by the COVID-19 pandemic had far-reaching effects, affecting various industries worldwide, including the video surveillance market. However, companies that were well-prepared turned the crisis into an opportunity and found new avenues for growth. Through this experience, we have come to understand the importance of a company's resilience and its ability to rebound and continue growing.
Hanwha Vision, for instance, minimized chip supply issues and risks by leveraging its in-house System-on-chip (SoC) technology. Through our factory in Vietnam and dedicated efforts in procurement and manufacturing, we managed to resolve component and product shortages. Consequently, despite the unprecedented pandemic, we sustained steady growth and strengthened our global presence by securing significant projects in various countries worldwide.
Another key to a company's sustained growth is its commitment to sustainability. The practice of sustainability is directly linked to the survival of humanity and has become an essential consideration in various aspects of business operations. Sustainability was often overlooked in the past, but today, business success cannot be guaranteed without a focus on sustainability. Hanwha Vision is aligned with the Hanwha's sustainable management policy and actively considers and implements actions to contribute to the ongoing sustainable development of society and the planet.
06
Please introduce Hanwha Vision's flagship solution for this year.
Hanwha Vision has been introducing more intelligent and useful products based on cutting-edge technologies such as AI and the cloud to meet the evolving needs of our customers. As mentioned earlier, with the growing importance of sustainability, customer demands for products and solutions that help conserve energy have increased. Recently, Hanwha Vision unveiled SolidEDGE, the first serverless camera with onboard SSD that saves energy consumption associated with server management. By using SolidEDGE, companies can significantly save costs, human resources, and energy consumption, as it eliminates the need for a separate server for storing video and managing events.

07
What are your aspirations as Hanwha Vision's new Chief Sales and Marketing Officer?
I recognize my role in accelerating the company's growth as a global vision solution provider by transferring the success story of the United States to other regions, including Europe and Asia. I feel an enormous responsibility. I will listen carefully to the voices of each regional office and apply the best practices of Hanwha Vision America in a way best fits the local conditions, and will build upon our success story.
Furthermore, I will strengthen communication across regional offices to ensure that every member, from leadership to sales representatives on the frontline, understands and echoes the values Hanwha represents. I will also focus on creating achievements driven by cross-office collaboration based on a new marketing strategy structured to align with Hanwha Vision's global standing.