XNO-6083R
2MP AI IR Bullet Camera
• Maximum 2MP resolution
• Color: 0.01 Lux (F1.4, 1/30 sec, 30IRE), 0 Lux (IR LED on)
• Maximum 120 fps (H.265/H.264)
• Maximum IR viewable length : WiseIR 50 m (164.04 ft)
• Day & Night (ICR), extremeWDR (150 dB)
• WiseNRⅡ(Based on AI engine), WiseStreamⅢ (Based on AI engine)
• DIS with built-in Gyro sensor
• Analytics events based on AI engine (NPU) : Object detection (Person/Face/Vehicle - car, truck, bus, bicycle, motorcycle/License plate),
IVA (Virtual line/Area, Enter/Exit, Loitering, Direction, Intrusion)
• Analytics events : Defocus detection, Motion detection, Tampering, Fog detection
Audio detection, Sound classification, Shock detection, Appear/Disappear
• Certification : IP66/IP67, NEMA4X, IK10
※ Product availability may vary by region.
Please contact your regional representative.
? Hanwha Vision is formerly known as Hanwha Techwin
XNO-6083R
2MP AI IR Bullet Camera
• Maximum 2MP resolution
• Color: 0.01 Lux (F1.4, 1/30 sec, 30IRE), 0 Lux (IR LED on)
• Maximum 120 fps (H.265/H.264)
• Maximum IR viewable length : WiseIR 50 m (164.04 ft)
• Day & Night (ICR), extremeWDR (150 dB)
• WiseNRⅡ(Based on AI engine), WiseStreamⅢ (Based on AI engine)
• DIS with built-in Gyro sensor
• Analytics events based on AI engine (NPU) : Object detection (Person/Face/Vehicle - car, truck, bus, bicycle, motorcycle/License plate),
IVA (Virtual line/Area, Enter/Exit, Loitering, Direction, Intrusion)
• Analytics events : Defocus detection, Motion detection, Tampering, Fog detection
Audio detection, Sound classification, Shock detection, Appear/Disappear
• Certification : IP66/IP67, NEMA4X, IK10
※ Product availability may vary by region.
Please contact your regional representative.
? Hanwha Vision is formerly known as Hanwha Techwin
Reducing False alarm based on AI
The new X series cameras utilize AI to detect and classify people, vehicles, faces, license plates and more in real-time. With a range of available resolutions from 2MP to 4K, the cameras' deep-learning algorithms can reliably identify multiple distinct objects. Reduce false alarms due to none interesting motion, like wind-blown trees, shadows, or animals. Analytics become a reliable second pair of eyes to operators helping them know where to look for important real-time events, while making post-event forensic searches highly efficient.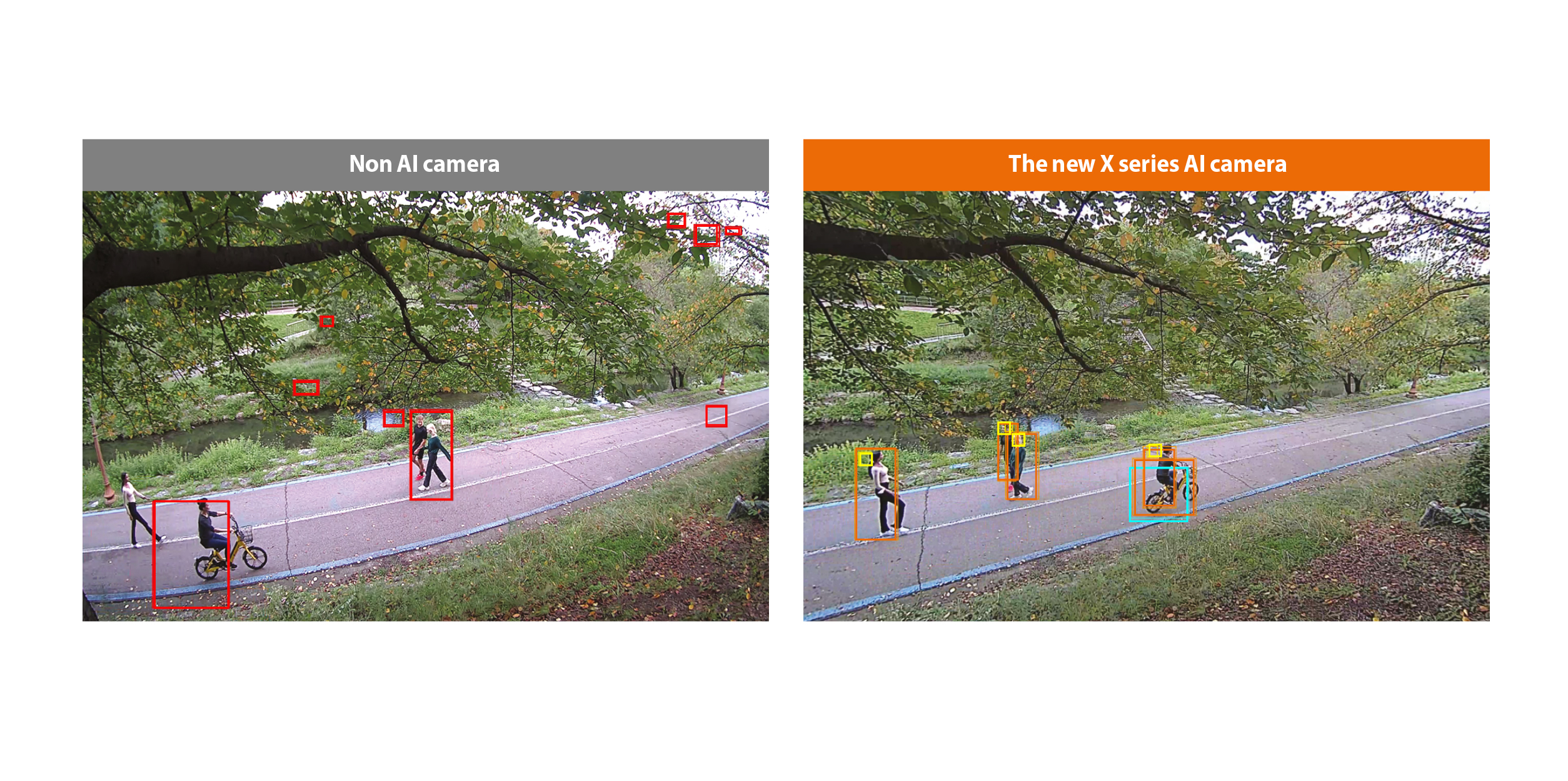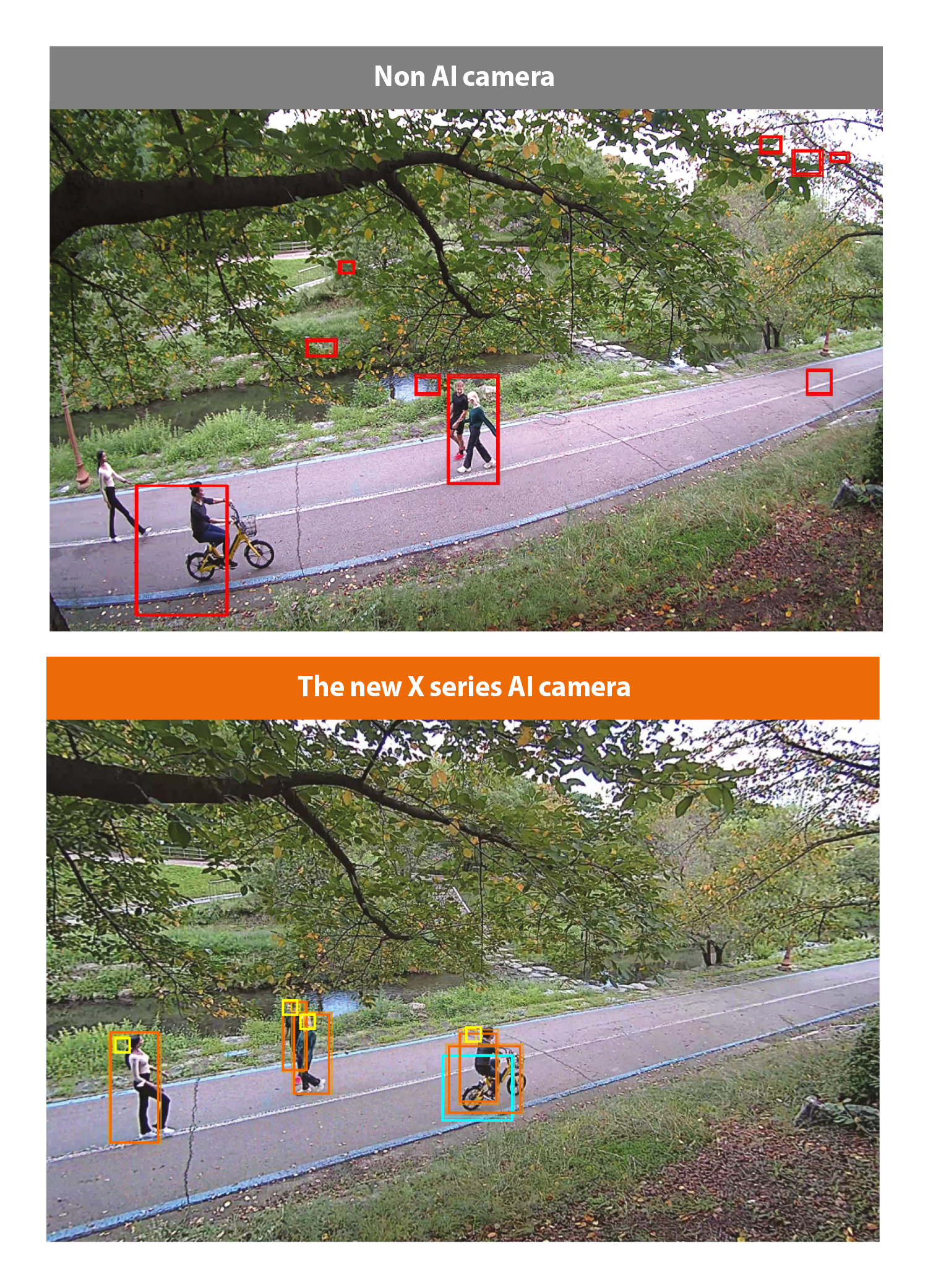 AI-based object detection for operational efficiency
Metadata including information (person, face, vehicle, license plate) is sent to the backend server and used to extract information on specific events. Operators are able to search AI events on the backend server. This greatly enhances search efficiency and reduces time spent on searching events. Also it can be reducing false alarm when operators were monitoring scene.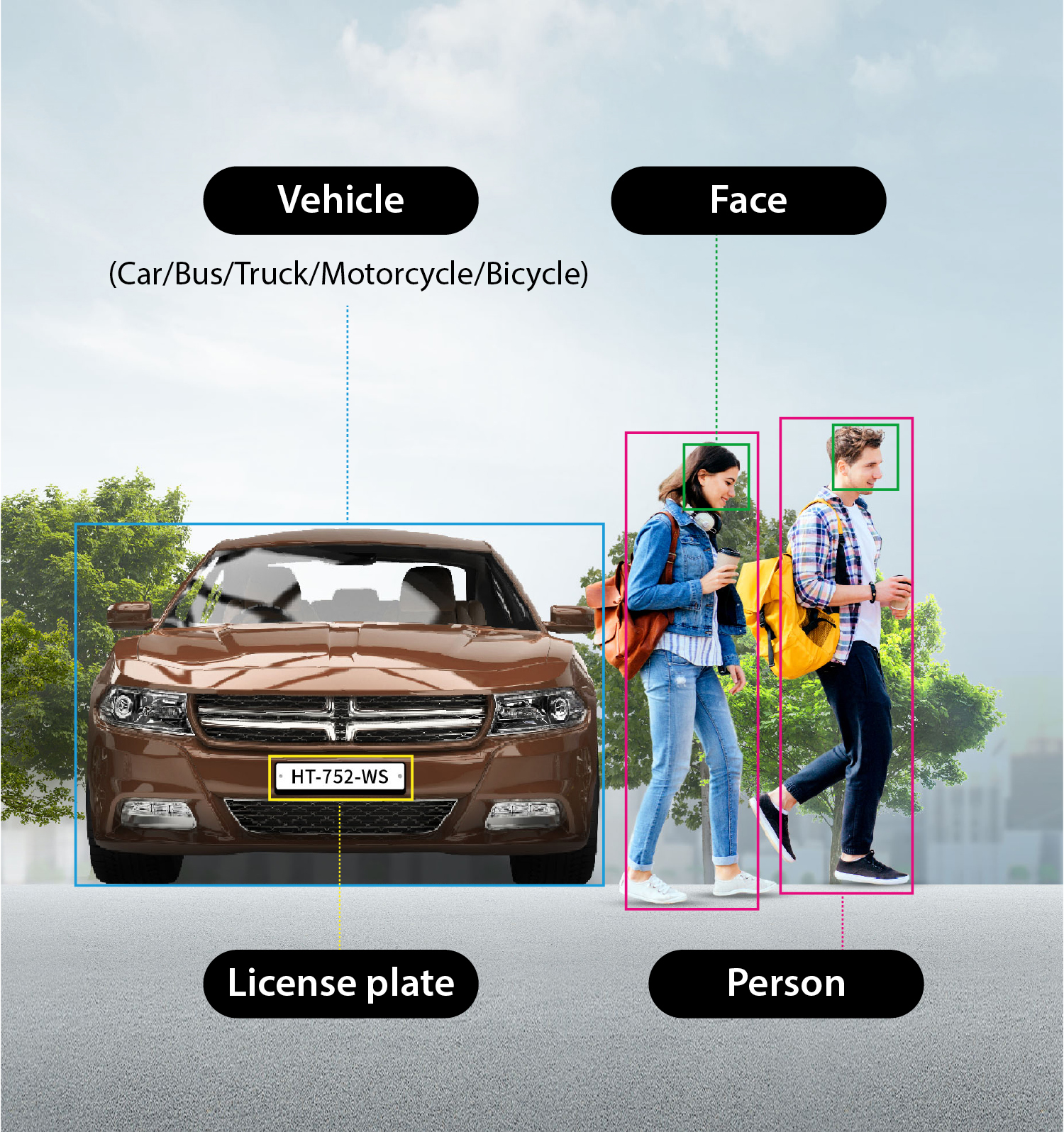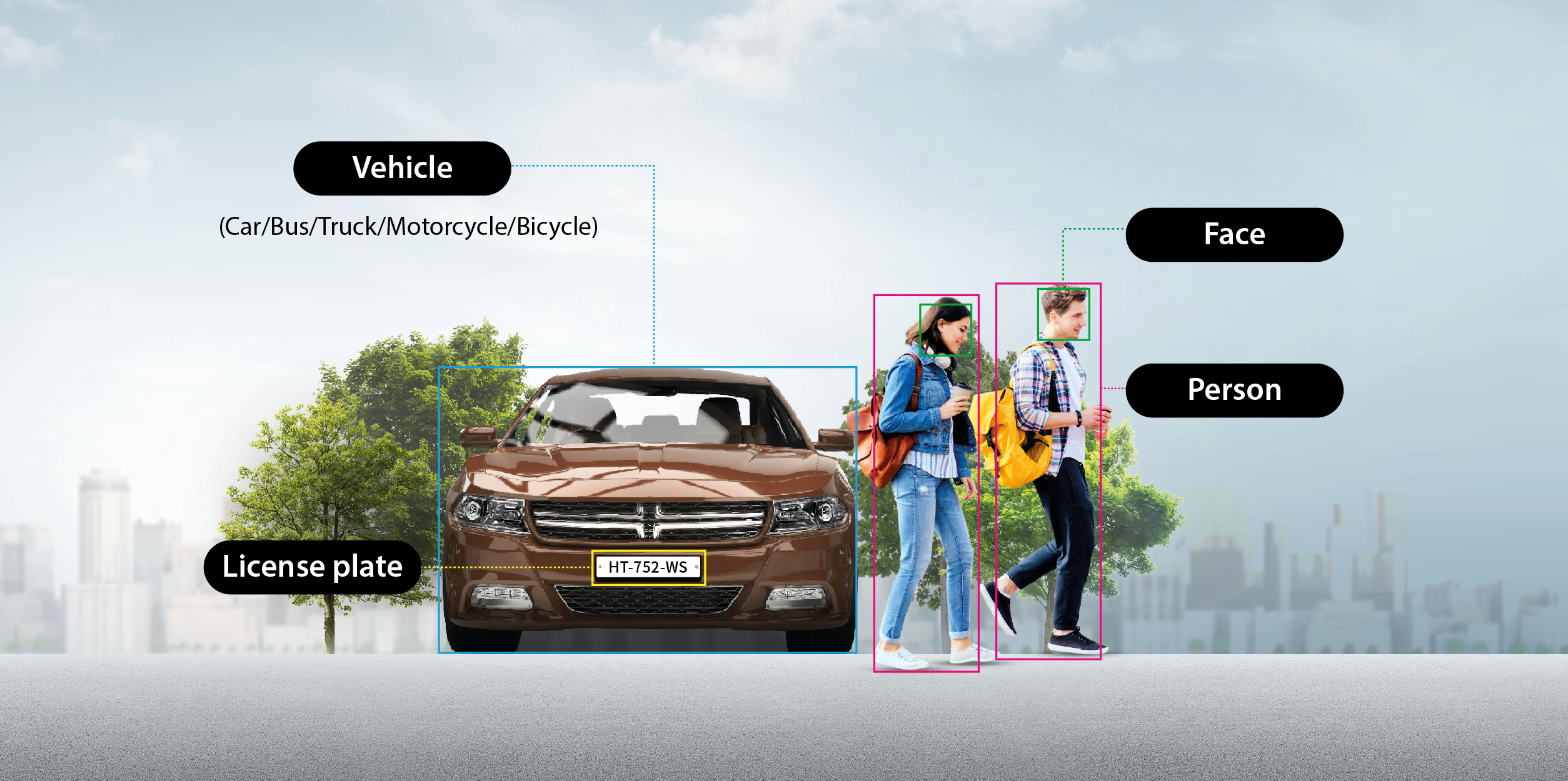 AI-based WiseNRII and Prefer Shutter Control
WiseNRII is a new enhancement which utilizes AI to identify object movement and reduce blur in noisy, low light environments. AI-based Preferred Shutter technology automatically adjusts the shutter speed based on classified objects in motion and the lighting conditions in a scene to reduce motion blur and deliver the clearest images.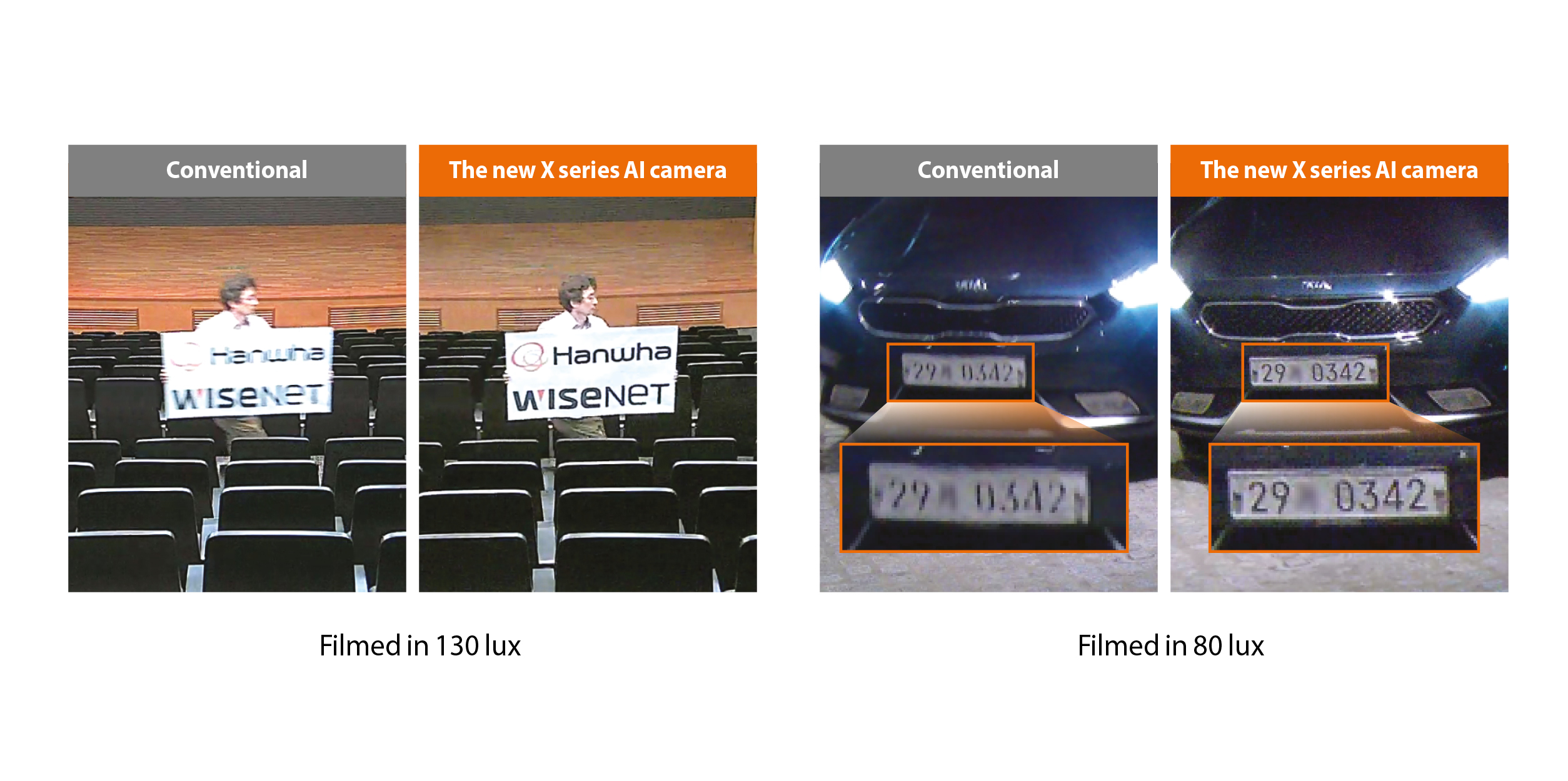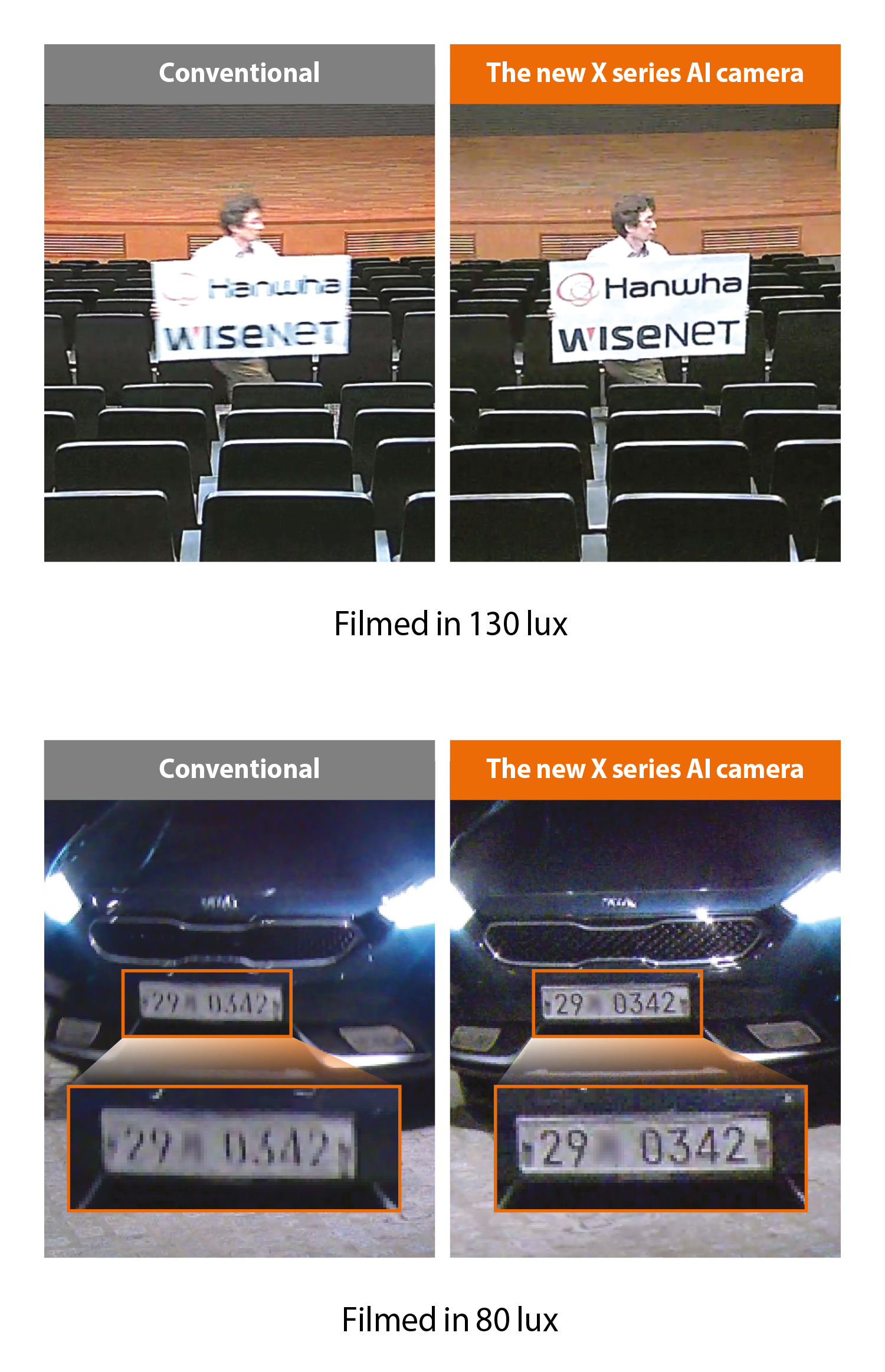 AI-based Image Optimization, WiseStreamⅢ
By utilizing the results of AI-based object detection, WiseStreamIII technology adjusts the video encoder to focus maximum video quality on the detected objects in a scene while scaling back encoding on the rest of the scene.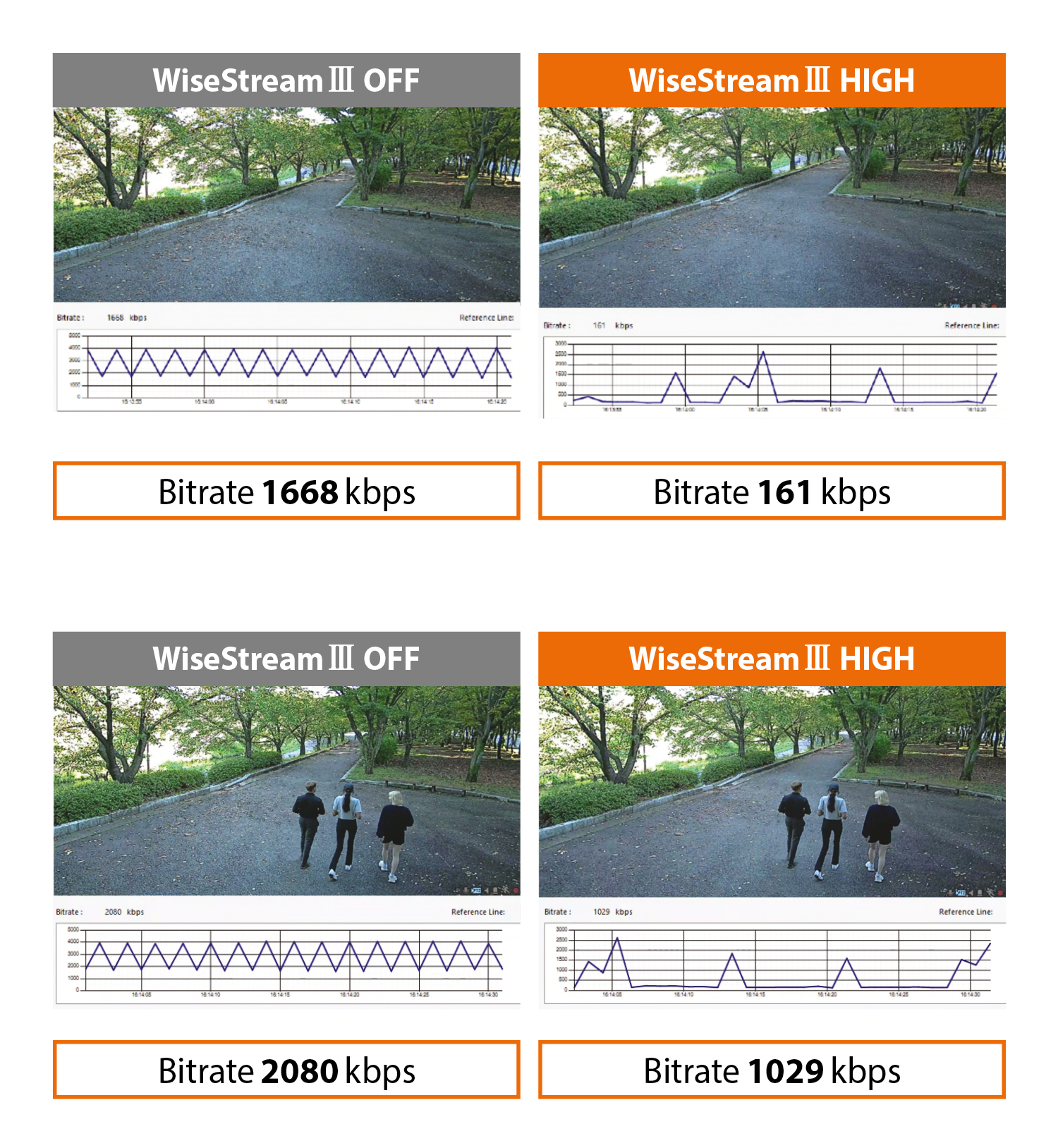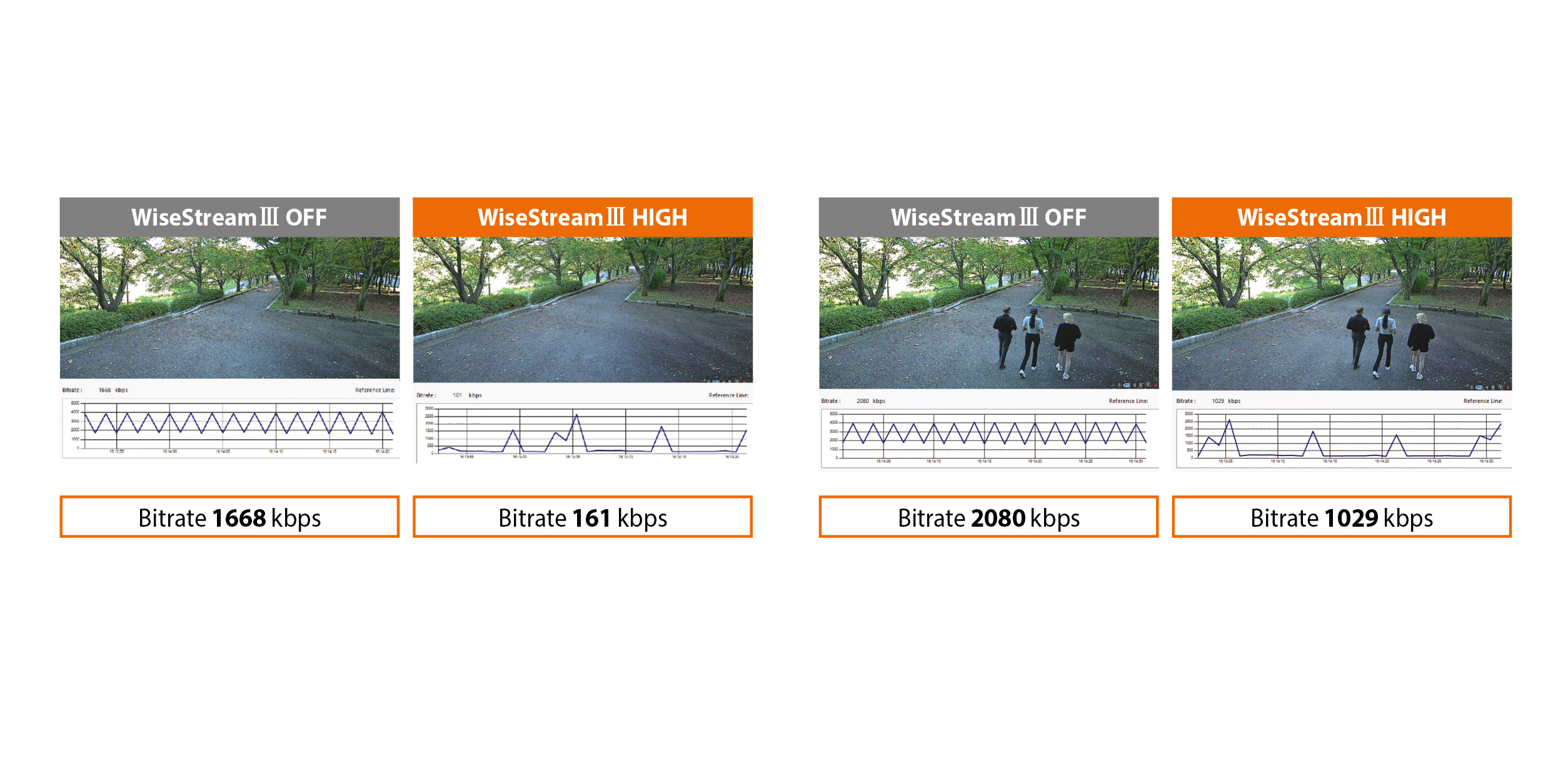 Product Specification
Video
Lens
Operational
Network
General
Environmental & Electrical
Mechanical
Certifications & Standards
DORI (EN62676-4 standard)
Video
Imaging Device
1/2.8" progressive CMOS
Resolution
1920x1080, 1280x1024, 1280x960, 1280x720, 1024x768, 800x600, 800x448, 720x576, 720x480, 640x480, 640x360, 320x240
Max. Framerate
H.265/H.264: Max. 120fps/100fps(60Hz/50Hz)(WDR off)
Max. 60fps/50fps(60Hz/50Hz)(WDR on)
MJPEG: Max. 30fps
Min. Illumination
Color: 0.01Lux(F1.4, 1/30sec, 30IRE)
BW: 0.001Lux(F1.4, 1/30sec, 30IRE), 0Lux(IR LED on), 30/25fps

Color: 0.02Lux(F1.4, 1/60sec, 30IRE)
BW: 0.002Lux(F1.4, 1/60sec, 30IRE), 0Lux(IR LED on), 60/50fps

Color: 0.04Lux(F1.4, 1/120sec, 30IRE)
BW: 0.004Lux(F1.4, 1/120sec, 30IRE), 0Lux(IR LED on), 120/100fps
Video Out
CVBS: 1.0 Vp-p / 75Ω composite, 720x480(N), 720x576(P) for installation
USB: Micro USB Type B, 1280x720 for installation
Lens
Focal Length (Zoom Ratio)
2.8~12mm(4.3x) motorized varifocal
Max. Aperture Ratio
F1.4(Wide)~F3.6(Tele)
Angular Field of View
H: 120°(Wide)~27°(Tele)
V: 63°(Wide)~15°(Tele)
D: 143°(Wide)~32°(Tele)
Min. Object Distance
0.5m(1.64ft)
Focus Control
Simple focus, Manual
Lens Type
DC auto iris with hall sensor(IR corrected)
Operational
Camera Title
Displayed up to 85 characters
Day & Night
Auto(ICR)
Backlight Compensation
BLC, HLC, WDR, SSDR
Wide Dynamic Range
extremeWDR(150dB)
Digital Noise Reduction
WiseNRⅡ(Based on AI engine), SSNRⅤ
Digital Image Stabilization
Support(built-in gyro sensor)
Defog
Support
Motion Detection
8ea, 8point Polygonal zones
Privacy Masking
32ea, 4point Quadrangle zones
- Color: Gray/Green/Red/Blue/Black/White
- Mosaic
Gain Control
Off / Max Gain / Manual
White Balance
ATW / NarrowATW / AWC / Manual / Indoor / Outdoor
LDC
Support(Fill/stretch mode)
Electronic Shutter Speed
Minimum / Maximum / Anti flicker(2~1/12,000sec)
prefer shutter control(Based on AI engine)
Video Rotation
Flip, Mirror, Hallway view(90°/270°)
Analytics
Classified object type: Person/Face/Vehicle/License plate
Attributes : Vehicle(Type: car/bus/truck/motorcycle/bicycle)
Support DetectionShot
Analytics events based on AI engine
- Object detection, Virtual line(Crossing/Direction), Virtual area(Loitering/Intrusion/Enter/Exit)
Analytics events
- Defocus detection, Motion detection, Tampering, Fog detection, Audio detection, Sound classification, Shock detection, Virtual area(Appear/Disappear)
Business Intelligence
Based on AI engine: People counting, Queue management, Heatmap
Alarm I/O
2 configurable I/O ports, DC 12V output(Max. 50mA)
Alarm Triggers
Analytics, Network disconnect, Alarm input, App event, Time schedule, MQTT subscription
Alarm Events
When alarm trigger occurred
- File upload(image): e-mail/FTP
- Notification: e-mail
- Recording: SD/SDHC/SDXC or NAS recording at event triggers
- Alarm output
- Handover: PTZ preset, send message by HTTP/HTTPS/TCP
- Audio clip playback
- MQTT: publication
Audio In
Selectable(mic in/line in)
Supply voltage: 2.5VDC(4mA), Input impedance: 2K Ohm
Audio Out
Line out, Max.output level: 1Vrms
IR Viewable Length
WiseIR 50m(164.04ft)
Network
Ethernet
Metal shielded RJ-45(10/100/1000BASE-T)
Video Compression
H.265/H.264: Main/Baseline/High, MJPEG
Audio Compression
G.711 u-law /G.726 Selectable
G.726(ADPCM) 8KHz, G.711 8KHz
G.726: 16Kbps, 24Kbps, 32Kbps, 40Kbps
AAC-LC: 48Kbps at 16KHz
Smart Codec
Manual(5ea area), WiseStreamⅡ, WiseStreamⅢ(Based on AI engine)
Bitrate Control
H.264/H.265: CBR or VBR
MJPEG: VBR
Streaming
Unicast(20 users) / Multicast
Multiple streaming(Up to 10 profiles, 3 virtual channel support)
Protocol
IPv4, IPv6, TCP/IP, UDP/IP, RTP(UDP), RTP(TCP), RTCP,RTSP, NTP, HTTP, HTTPS, SSL/TLS, DHCP, FTP, SMTP, ICMP, IGMP, SNMPv1/v2c/v3(MIB-2), ARP, DNS, DDNS, QoS, UPnP, Bonjour, LLDP, CDP, SRTP(TCP, UDP Unicast), MQTT
Security
TPM 2.0(FIPS 140-2 level 2)
HTTPS(SSL) Login Authentication
Digest Login Authentication
IP Address Filtering
User access log
802.1X Authentication(EAP-TLS, EAP-LEAP, EAP-PEAP MSCHAPv2)
Device Certificate(Hanwha Techwin Root CA, pre-installed)
Secure by default certificate
Secure OS/Boot/Storage, Verify firmware forgery
Application Programming Interface
ONVIF Profile S/G/T/M
SUNAPI(HTTP API)
Wisenet open platform
General
Webpage Language
English, Korean, Chinese, French, Italian, Spanish, German, Japanese, Russian, Portuguese, Czech, Polish, Turkish, Dutch, Greek, Hungarian
Edge Storage
Micro SD/SDHC/SDXC 2slot Max. 1TB(512GB * 2)
Memory
2GB RAM, 512MB Flash
Environmental & Electrical
Operating Temperature / Humidity
-50°C~+55°C(-58°F~+131°F)
NEMA TS 2(2.2.7.2): 74°C
* Start up should be done at above -30°C
0~95%RH(non-condensing)
Humidity control /w AIR vent
Storage Temperature / Humidity
-50°C~+60°C(-58°F~+140°F) / 0~90% RH
Certification
IP66/IP67, NEMA4X, IK10
Input Voltage
PoE+(IEEE802.3at type2, Class4), 12VDC
Power Consumption
PoE+: Max 22.5W, typical 17.9W
12VDC: Max 20.0W, typical 15.6W
Power redundancy failover
Mechanical
Color / Material
White / Aluminum
Hard-coated window
RAL Code
RAL9003
Product Dimensions / Weight
ø93.4x298.4mm(ø3.68x11.75"), 2200g(4.85 lb)
Compatible Conduit hole / Gangbox
19.1mm(3/4")(M25)
single, double, 4" octagon, 4" square
Backbox
include
Certifications & Standards
EMC
FCC 47 CFR 15 Subpart B Class A
ICES-3(A)/NMB-3(A)
CE/UKCA
- EN 55032 Class A, EN 50130-4, EN 61000-3-2, EN 61000-3-3
VCCI CISPR 32 Class A
RCM AS/NZS CISPR 32 Class A
KS C 9832 Class A , KS C 9835
Safety
UL 62368-1, CAN/CSA C22.2 NO. 62368-1
IEC/EN 62471
Environment
IEC/EN 63000
IEC/EN 60529 IP66/IP67, IEC/EN 62262 IK10
NEMA TS 2-2013(2.2.7.2, 2.2.8, 2.2.9)
NEMA 250 type 4X
DORI (EN62676-4 standard)
Detect (25PPM/ 8PPF)
Wide: 22.4m(73.47ft) / Tele: 154.6m(507.18ft)
Observe (63PPM/ 19PPF)
Wide: 9.0m(29.39ft) / Tele: 61.8m(202.87ft)
Recognize (125PPM/ 38PPF)
Wide: 4.5m(14.69ft) / Tele: 30.9m(101.44ft)
Identify (250PPM/ 76PPF)
Wide: 2.2m(7.35ft) / Tele: 15.5m(50.72ft)

• The latest product information / specification can be found at hanwha-security.com
• Design and specifications are subject to change without notice.
• Wisenet is the proprietary brand of Hanwha Techwin, formerly known as Samsung Techwin.
Download
---
| | Category | File Name | | Last Updated |
| --- | --- | --- | --- | --- |
| | Manuals | Manuals_XNO-6083R,XNO-8083R,XNO-9083R,XNB-6003,XNB-8003,XNB-9003_230328_EN.pdf | | 2023-04-24 |
| | CAD | CAD_XNO-8083R,XNO-9083R,XNO-6083R_210802_Common.pdf | | 2021-12-10 |
| | CAD | CAD_XNO-8083R,XNO-9083R,XNO-6083R_210802_Common.dxf | | 2021-12-10 |
| | CAD | CAD_XNO-8083R,XNO-9083R,XNO-6083R_210802_Common.dwg | | 2021-12-10 |
| | Certification | Certification_XNO-6083R_210713_EN_EMC_CE.PDF | | 2021-11-17 |
| | Certification | Certification_XNO-6083R_210713_EN_DoC_UKCA.pdf | | 2021-11-17 |
| | Certification | Certification_XNO-6083R_210713_EN_DoC_CE.pdf | | 2021-11-17 |
| | Certification | Certification_XNO-6083R_210715_EN_IP67.pdf | | 2022-06-13 |
| | Certification | Certification_XNO-6083R_210715_EN_IK10.pdf | | 2022-06-13 |
| | Certification | Certification_XNO-6083R_210713_EN_RCM.PDF | | 2021-11-17 |
| | Certification | Certification_XNO-6083R_210713_EN_FCC.PDF | | 2021-11-17 |
| | Certification | Certification_XNO-6083R_210715_EN_IP66.pdf | | 2022-06-13 |
| | Certification | Certification_XNO-6083R_210809_EN_UL.pdf | | 2021-11-17 |
| | Certification | Certification_XNO-6083R_210713_KO_Report_KC(TEL).pdf | | 2021-11-17 |
| | Certification | Certification_XNO-6083R_210713_KO_Report_KC(EMC).PDF | | 2021-11-17 |
| | Certification | Certification_XNO-6083R_210713_KO_KC(EMC).PDF | | 2021-11-17 |
| | Certification | Certification_XNO-6083R_210809_KO_SDoC_KC.pdf | | 2021-11-17 |
| | Certification | Certification_XNO-6083R_210713_EN_VCCI.PDF | | 2021-11-17 |
| | Brochures | Brochures_XNO-6083R,XNO-8083R,XNO-9083R_211005_EN.pdf | | 2021-12-20 |
| | Quick Guide | Quick Guide_XNO-6083R,XNO-8083R,XNO-9083R_230329_EN.pdf | | 2023-04-25 |
| | BIM/Revit | BIM&Revit_XNO-6083R_211019_Common_mm.rfa | | 2021-10-19 |
| | BIM/Revit | BIM&Revit_XNO-6083R_211019_Common_inch.rfa | | 2021-10-19 |
| | Online Help | Online Help_XNO-9083R,XNO-8083R,XNO-6083R_20211101_EN.pdf | | 2021-11-16 |
| | OpenSourceLicense | OpenSourceLicense_XNO-9083R,XNO-8083R,XNO-6083R_210729_EN.txt | | 2021-10-05 |
| | Datasheet | Datasheet_XNO-6083R_EN-SEA.pdf | | 2023-04-11 |
| | Firmware | XND-6083RV_2.22.03_20230711_R319.zip | | 2023-07-21 |