XRN-3210RB2
32CH NVR
• Up to 32CH, 32MP Resolution
• Max. 400Mbps network camera recording
• HDMI out
• User friendly UI / UX
• AI search support when working with Wisenet AI camera
• Dynamic Event support
- New event function of cameras is available without software update
• Bookmark management (Up to 100 set)
• H.265, H.264, MJPEG compression support
• SATA 8ea (Up to 80TB, Non-RAID mode)
• RAID 5/6 support
※ Product availability may vary by region.
Please contact your regional representative.
? Hanwha Vision is formerly known as Hanwha Techwin
XRN-3210RB2
32CH NVR
• Up to 32CH, 32MP Resolution
• Max. 400Mbps network camera recording
• HDMI out
• User friendly UI / UX
• AI search support when working with Wisenet AI camera
• Dynamic Event support
- New event function of cameras is available without software update
• Bookmark management (Up to 100 set)
• H.265, H.264, MJPEG compression support
• SATA 8ea (Up to 80TB, Non-RAID mode)
• RAID 5/6 support
※ Product availability may vary by region.
Please contact your regional representative.
? Hanwha Vision is formerly known as Hanwha Techwin
Timeline preview and easy channel, event, alarm configuration
When managing multi channels, XRN-6410RB2/3210RB2/6410B2/3210B2 greatly improves search efficiency by allowing users to preview images and videos by simply hovering mouse cursor on the timeline. Moreover, users can configure event and alarm for all channels within a single page.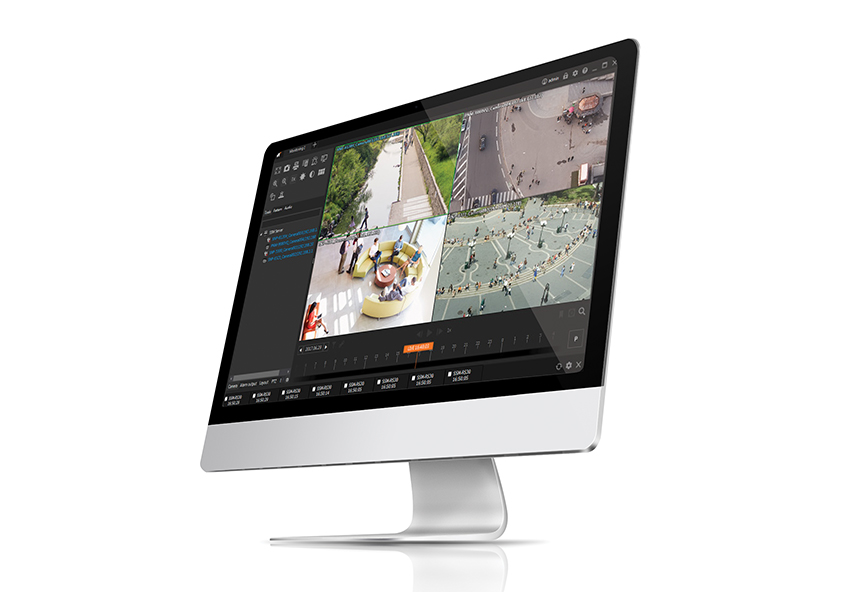 Supports live monitoring and bookmarks
With the live monitoring feature, XRN-6410RB2/3210RB2/6410B2/3210B2 allow users to view information by channel including real-time videos, system status, recording status and etc. and also offer easy and detailed monitoring with the digital PTZ control.
Moreover, bookmarks feature makes it possible to save up to 100 major events for the easy and quick event search.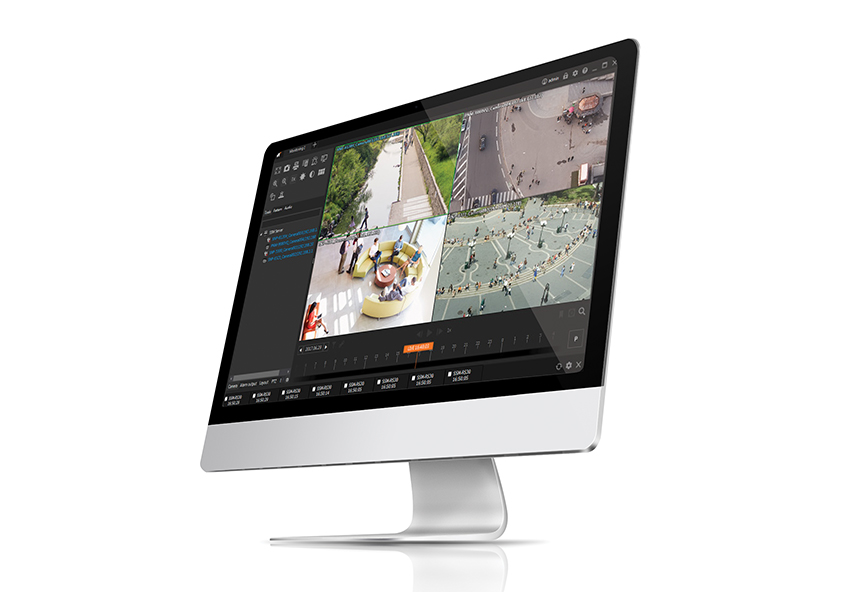 AI search working with Wisenet P series AI Cameras
XRN-6410RB2/3210RB2/6410B2/3210B2 support AI search features when using with Wisenet P series AI cameras.
Users can search various attributes from AI cameras such as people (gender, age, hat, bag, color of clothes) and vehicle (type, color).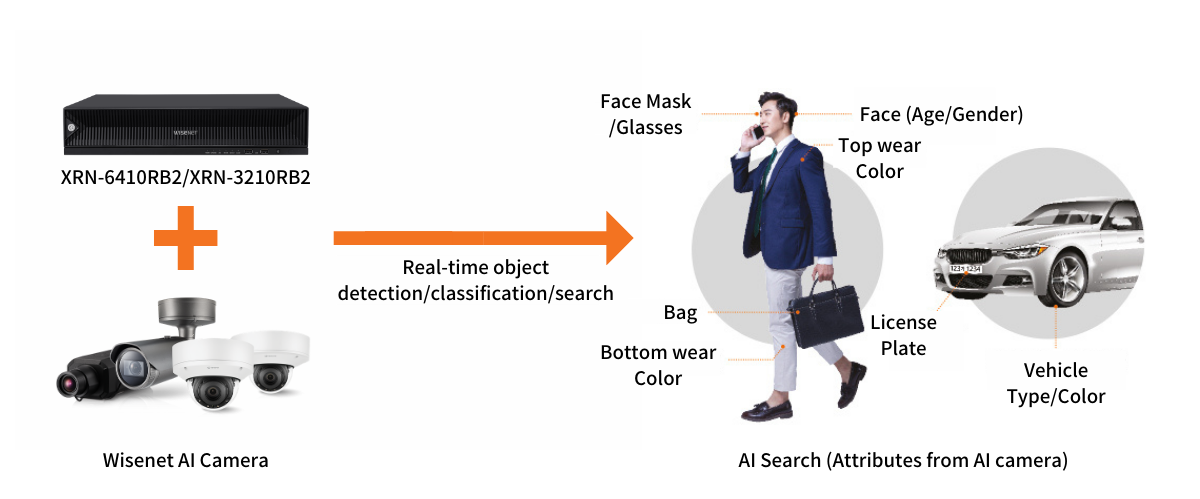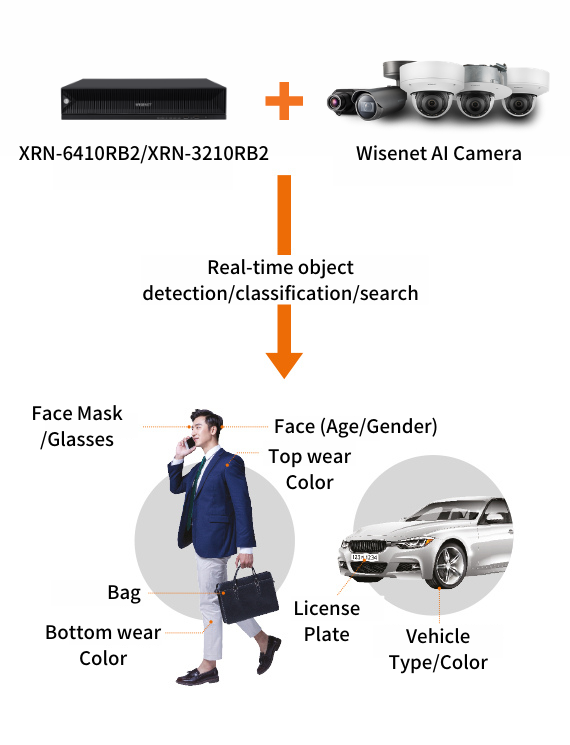 Product Specification
Display
Performance
Network
Functions
Interface
System
Environmental
Electrical
Mechanical
Intelligent Analysis
Display
Network camera
Inputs
Max. 32CH
Resolution
32MP ~ CIF
Protocols
SUNAPI, ONVIF
Decoding
Local Display
[Dual Display]
HDMI 1: 3840 x 2160 (30Hz)
HDMI 2: 1920x1080 (60Hz)
Multi Screen Display
[Local Monitor] 1/ 2H/ 2V/ 3V/ 4/ 6/ 8/ 9/ 13/ 16/ 25/ 36/ Sequence
[Web] 1/ 2H/ 2V/ 3V/ 4/ 6/ 8/ 9
Resolution
32M(15fps, H.265 Only), 12M(30fps, H.265 Only), 8.3M(120fps), 1080p(480fps), 720P(960fps), D1(960fps)
Performance
Operating System
Embedded
Linux
Record
Compression
H.265, H.264, MJPEG
Recording Bandwidth
Max. 400Mbps
Resolution
32MP ~ CIF
Mode
Normal, Dual Stream, Schedule(Continuous/Event), Event (Pre/Post), Bookmark
Event Trigger
Alarm Input, Video Loss, Camera Event(Sensor, MD, Video Analytics, Defocus, Audio), Dynamic Event
Event Action
e-Mail, Event Push, PTZ Preset, Alarm Out, Buzzer, Monitor Out
Search & Play
Playback Bandwidth
RAID Mode : Max. 64Mbps(64CH simultaneously)
Non-RAID Mode : Max. 32Mbps
User
Max. 4 Users (Local 1, Remote 3)
Simultaneous playback
Max. 80CH(Local 32CH, Remote 16CH per user)
Fisheye Dewarping
CMS
Mode
Date & Time(Calendar), Event list, Text Search, Smart Search
Resolution
CIF ~ 32MP (Up to H.264 9MP, H.265 32MP)
Playback Control
Fast/Slow Forward / Backward, Move one step Up / Down
Storage
Supported HDD
Up to 10TB
HDD Slot
SATA 8ea(Max. 80TB, Non-RAID mode)
External
iSCSI storage
RAID
RAID-5/6(Single, 1 Array)
Backup
File backup
BU/Exe(GUI), JPG/AVI(Network)
Function
Multi channel(Up to 16CH) Play, Date-Time/Title display
Network
Protocol
IPv4, IPv6, TCP/IP, UDP/IP, RTP (UDP), RTP (TCP), RTSP, NTP, HTTP, DHCP (Server, Client), SMTP, ICMP, IGMP, ARP, DNS, DDNS, uPnP, HTTPS, SNMP, ONVIF (Profile-S), SUNAPI(Server, Client)
DDNS
Hanwha DDNS
Transmission Bandwidth
Max. 400Mbps
Audio
Input/Output
32 CH(network)
Compression
G.711, G.726, AAC(16/48KHz)
Audio Communication
2-Way
Max Remote Users
Search(3), Live Unicast(10), Multicast(20)
Security
IP address filtering, User access Log, 802.1x, Encryption\nDevice certificate(Hanwha Techwin Root CA), Signed firmware
Web viewer
Supported OS
Windows 10, macOS 10.13
Supported browser
Google Chrome, Microsoft Edge, Mac Safari
Viewer Software
WAVE, SSM, Webviewer, Smart Viewer, Wisenet mobile\nSupport SDK/CGI(SUNAPI) for integration to 3'rd party VMS
Functions
Camera Setup
Register
Auto, Manual
Item
IP address, Add profile edit, Bitrate, Compression, GOP, Quality, Camera MD setup (4, 8 point polygon)
Camera video setup (Simple focus, Brightness/Contrast, Flip/Mirror, IRIS, WDR, D&N, SSNR, Shutter, SSDR, DIS), Fisheye Dewarping Mode, Hallway View Setup, Camera Webpage
PTZ
Control
Via GUI, Webviewer, SPC-2000
Preset
300 Presets
Smart phone
Support Model
iOS, Android
Protocol Support
RTP, RTSP, HTTP, CGI(SUNAPI)
Control
Live 16CH(Multi-Profile Support), Playback 4CH
Max. Remote Users
Search(3), Live Unicast(10)
Redundancy
Failover
N+1
ARB
Support
Easy configuration
P2P(QR code)
Interface
Front
Indicator
HDD, Alarm, Power, Record, Backup, Network
Storage
OK
Reset
OK
HDD Key Lock
OK
HDMI
2EA ( Playback/Setup → HDMI1)\nHDMI1 : 3840x2160 30Hz \nHDMI2 : 1920x1080 60Hz
Audio
Out 1EA
Ethernet
RJ-45 3EA (LAN/WAN, 1Gbps)
Alarm
In 8EA, Out 4EA
USB
4EA(Front 2 x USB 2.0, Rear 2 x USB 3.0)
Power inlet
AC 1EA
System
Log
Log List
Max. 100,000 (System Log, Event Log each)
System Control
Mouse, Web, Controller (SPC-2000)
Language
English, French, German, Italian, Spanish, Russian, Turkish, Polish, Dutch, Swedish, Czech, Portuguese, Danish, Rumanian, Serbian, Croatian, Hungarian, Greek, Norwegian, Finnish, Korean, Chinese, Japanese, Thai, Vietnamese
Environmental
Operating Temperature
0°C to +40°C(32℉ to 104℉)
Operating Humidity
20% ~ 85% RH
Electrical
Power Input
100 ~ 240 VAC ±10%; 50/60 Hz, 1.7A (Single SMPS)
Power Consumption
Max. 160W (with 10TB HDD 8EA)
Mechanical
Color / Material
Black / Metal
Dimension (WxHxD)
438 x 86 x 434.9 mm
Weight
9.1Kg (20.1 lb, Except HDD)
Intelligent Analysis
AI Search
Object Attribute
Compatible for Wisenet AI Camera

• The latest product information / specification can be found at hanwha-security.com
• Design and specifications are subject to change without notice.
• Wisenet is the proprietary brand of Hanwha Techwin, formerly known as Samsung Techwin.
Download
---
| | Category | File Name | | Last Updated |
| --- | --- | --- | --- | --- |
| | Manuals | Manuals_XRN-6410RB2,XRN-6410B2,XRN-3210RB2,XRN-3210B2_230411_EN.pdf | | 2023-04-14 |
| | Manuals | Manuals_XRN-6410RB2,XRN-6410B2,XRN-3210RB2,XRN-3210B2_230411_ZH.pdf | | 2023-04-14 |
| | Manuals | Manuals_XRN-6410RB2,XRN-6410B2,XRN-3210RB2,XRN-3210B2_230411_TR.pdf | | 2023-04-14 |
| | Manuals | Manuals_XRN-6410RB2,XRN-6410B2,XRN-3210RB2,XRN-3210B2_230411_PT.pdf | | 2023-04-14 |
| | Manuals | Manuals_XRN-6410RB2,XRN-6410B2,XRN-3210RB2,XRN-3210B2_230411_PL.pdf | | 2023-04-14 |
| | Manuals | Manuals_XRN-6410RB2,XRN-6410B2,XRN-3210RB2,XRN-3210B2_230411_NL.pdf | | 2023-04-14 |
| | Manuals | Manuals_XRN-6410RB2,XRN-6410B2,XRN-3210RB2,XRN-3210B2_230411_IT.pdf | | 2023-04-14 |
| | Manuals | Manuals_XRN-6410RB2,XRN-6410B2,XRN-3210RB2,XRN-3210B2_230411_FR.pdf | | 2023-04-14 |
| | Manuals | Manuals_XRN-6410RB2,XRN-6410B2,XRN-3210RB2,XRN-3210B2_230411_ES.pdf | | 2023-04-14 |
| | Manuals | Manuals_XRN-6410RB2,XRN-6410B2,XRN-3210RB2,XRN-3210B2_230411_DE.pdf | | 2023-04-14 |
| | CAD | CAD_XRN-6410RB2,XRN-3210RB2_210426_EN.pdf | | 2021-04-26 |
| | CAD | CAD_XRN-6410RB2,XRN-3210RB2_210426_EN.dxf | | 2021-04-26 |
| | Certification | Certification_XRN-3210RB2_210329_EN_UL.pdf | | 2021-04-28 |
| | Certification | Certification_XRN-3210RB2_210330_KO_SDoC_KC.pdf | | 2021-04-28 |
| | Certification | Certification_XRN-3210RB2_210317_EN_CB.PDF | | 2021-04-28 |
| | Certification | Certification_XRN-3210RB2_210305_EN_Report_CB.pdf | | 2021-04-28 |
| | Certification | Certification_XRN-3210RB2_210114_KO_KC(EMC).pdf | | 2021-04-28 |
| | Certification | Certification_XRN-3210RB2_210106_EN_EMC_CE.pdf | | 2021-04-28 |
| | Certification | Certification_XRN-3210RB2_210106_EN_DoC_CE.pdf | | 2021-04-28 |
| | Certification | Certification_XRN-3210RB2_210105_KO_Report_KC(TEL).pdf | | 2021-04-28 |
| | Certification | Certification_XRN-3210RB2_210105_KO_Report_KC(EMC).pdf | | 2021-04-28 |
| | Certification | Certification_XRN-3210RB2_210105_EN_VCCI.pdf | | 2021-04-28 |
| | Certification | Certification_XRN-3210RB2_210105_EN_RCM.pdf | | 2021-04-28 |
| | Certification | Certification_XRN-3210RB2_210105_EN_FCC.pdf | | 2021-04-28 |
| | A&E Document | A&E Document_XRN-3210RB2_210501_EN.docx | | 2021-04-30 |
| | Quick Guide | Quick Guide_XRN-6410RB2,XRN-6410B2,XRN-3210RB2,XRN-3210B2_230331_EN.pdf | | 2023-04-17 |
| | Quick Guide | Quick Guide_XRN-6410RB2,XRN-6410B2,XRN-3210RB2,XRN-3210B2_230331_ZH.pdf | | 2023-04-17 |
| | Quick Guide | Quick Guide_XRN-6410RB2,XRN-6410B2,XRN-3210RB2,XRN-3210B2_230331_TR.pdf | | 2023-04-17 |
| | Quick Guide | Quick Guide_XRN-6410RB2,XRN-6410B2,XRN-3210RB2,XRN-3210B2_230331_PT.pdf | | 2023-04-17 |
| | Quick Guide | Quick Guide_XRN-6410RB2,XRN-6410B2,XRN-3210RB2,XRN-3210B2_230331_PL.pdf | | 2023-04-17 |
| | Quick Guide | Quick Guide_XRN-6410RB2,XRN-6410B2,XRN-3210RB2,XRN-3210B2_230331_NL.pdf | | 2023-04-17 |
| | Quick Guide | Quick Guide_XRN-6410RB2,XRN-6410B2,XRN-3210RB2,XRN-3210B2_230331_IT.pdf | | 2023-04-17 |
| | Quick Guide | Quick Guide_XRN-6410RB2,XRN-6410B2,XRN-3210RB2,XRN-3210B2_230331_FR.pdf | | 2023-04-17 |
| | Quick Guide | Quick Guide_XRN-6410RB2,XRN-6410B2,XRN-3210RB2,XRN-3210B2_230331_ES.pdf | | 2023-04-17 |
| | Quick Guide | Quick Guide_XRN-6410RB2,XRN-6410B2,XRN-3210RB2,XRN-3210B2_230331_DE.pdf | | 2023-04-17 |
| | Quick Guide | Quick Guide_XRN-6410RB2,XRN-6410B2,XRN-3210RB2,XRN-3210B2_230331_CS.pdf | | 2023-04-17 |
| | Product Specifications | Product Specifications_XRN-6410RB2,XRN-6410B2,XRN-3210RB2,XRN-3210B2_230411_EN.pdf | | 2023-04-17 |
| | Product Specifications | Product Specifications_XRN-6410RB2,XRN-6410B2,XRN-3210RB2,XRN-3210B2_230411_ZH.pdf | | 2023-04-17 |
| | Product Specifications | Product Specifications_XRN-6410RB2,XRN-6410B2,XRN-3210RB2,XRN-3210B2_230411_TR.pdf | | 2023-04-17 |
| | Product Specifications | Product Specifications_XRN-6410RB2,XRN-6410B2,XRN-3210RB2,XRN-3210B2_230411_PT.pdf | | 2023-04-17 |
| | Product Specifications | Product Specifications_XRN-6410RB2,XRN-6410B2,XRN-3210RB2,XRN-3210B2_230411_PL.pdf | | 2023-04-17 |
| | Product Specifications | Product Specifications_XRN-6410RB2,XRN-6410B2,XRN-3210RB2,XRN-3210B2_230411_NL.pdf | | 2023-04-17 |
| | Product Specifications | Product Specifications_XRN-6410RB2,XRN-6410B2,XRN-3210RB2,XRN-3210B2_230411_IT.pdf | | 2023-04-17 |
| | Product Specifications | Product Specifications_XRN-6410RB2,XRN-6410B2,XRN-3210RB2,XRN-3210B2_230411_FR.pdf | | 2023-04-17 |
| | Product Specifications | Product Specifications_XRN-6410RB2,XRN-6410B2,XRN-3210RB2,XRN-3210B2_230411_ES.pdf | | 2023-04-17 |
| | Product Specifications | Product Specifications_XRN-6410RB2,XRN-6410B2,XRN-3210RB2,XRN-3210B2_230411_DE.pdf | | 2023-04-17 |
| | OpenSourceLicense | OpenSourceLicense_PRN-3210B2,PRN-1610B2,XRN-6410RB2,XRN-3210RB2,XRN-6410B2,XRN-3210B2_221221_EN.txt | | 2023-01-27 |
| | Datasheet | Datasheet_XRN-3210RB2_EN.pdf | | 2021-04-26 |
| | Firmware | PRN-6400DB4_5.30.62_230824204102.zip | | 2023-09-01 |