QNP-6250R
2MP 25x IR PTZ Camera
• Max. 2MP resolution
• 4.44~111mm (25x) lens
• Max. IR viewable length 100m (328.08ft)
• Day & Night (ICR), WDR, DIS (Built-in gyro sensor)
• Intelligent Analytics
• H.264, H.265, MJPEG codec, WiseStreamII
• Micro SD/SDHC/SDXC 1slot 256GB
• IP66, IK10, NEMA4X
※ Product availability may vary by region.
Please contact your regional representative.
※ Hanwha Vision is formerly known as Hanwha Techwin
QNP-6250R
2MP 25x IR PTZ Camera
• Max. 2MP resolution
• 4.44~111mm (25x) lens
• Max. IR viewable length 100m (328.08ft)
• Day & Night (ICR), WDR, DIS (Built-in gyro sensor)
• Intelligent Analytics
• H.264, H.265, MJPEG codec, WiseStreamII
• Micro SD/SDHC/SDXC 1slot 256GB
• IP66, IK10, NEMA4X
※ Product availability may vary by region.
Please contact your regional representative.
※ Hanwha Vision is formerly known as Hanwha Techwin
Weight and size reduced up to 55%, better performance, easier installation
New Q series PTZ reduced the weight by up to 55% for the Dome type (QNP-6230RH) and the size became more compact than conventional PTZ cameras. More compact and lighter design significantly reduce the burden of installation.
Moreover, the lightened head increased the speed of Pan/Tilt.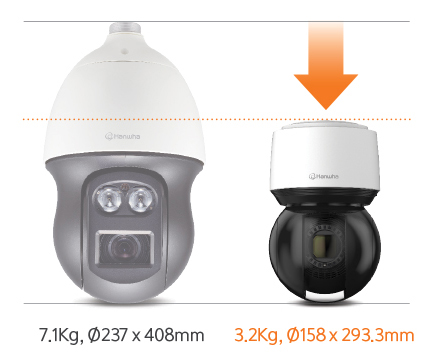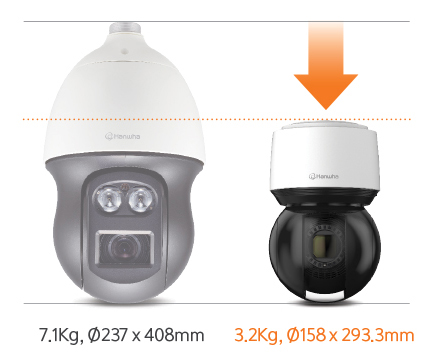 Precise PTZ control
New Q series PTZ supports delicate and precise PTZ control. Conventional PTZ cameras had challenges in offering precise monitoring of moving objects due to its pre-set centered movement. New Q series PTZ provides stable object monitoring using precise PTZ control when a user wants to track moving objects manually.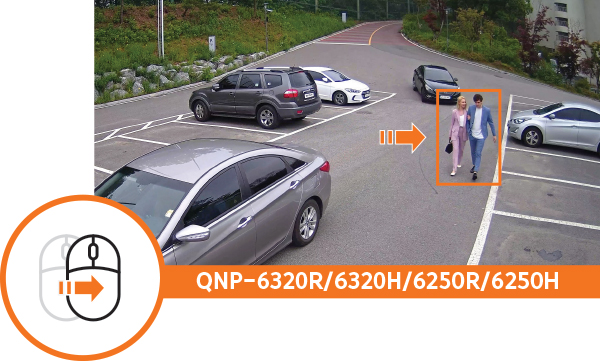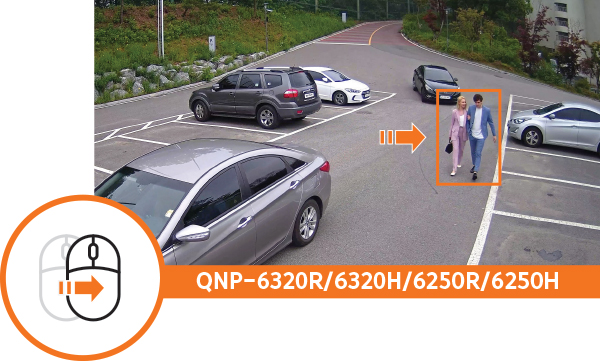 Widened Tilt angle
QNP-6320R/6250R offers 110º (-20º ~ 90º) of Tilt angle, enabling effective monitoring of objects positioned above the camera level and objects in sloped environment.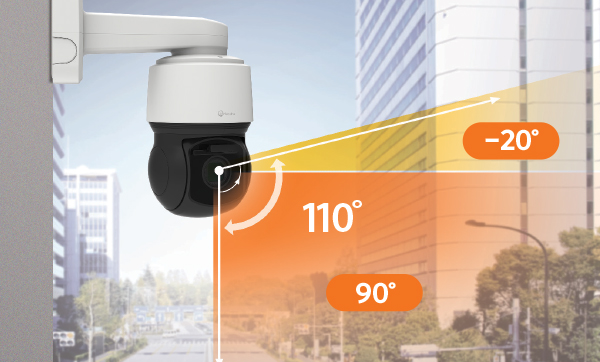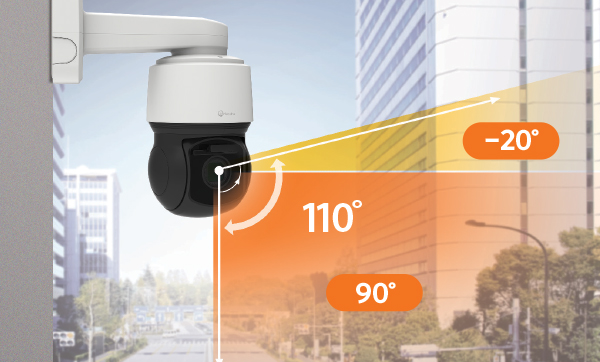 Product Specification
Video
Lens
Pan / Tilt / Rotate
Operational
Network
General
Environmental & Electrical
Mechanical
DORI (EN62676-4 standard)
Video
Imaging Device
1/2.8" CMOS
Resolution
1920x1080, 1280x1024, 1280x960, 1280x720, 1024x768, 800x600, 800x448, 720x576, 720x480, 640x480, 640x360, 320x240
Max. Framerate
H.265/H.264: Max. 60fps/50fps(60Hz/50Hz)
MJPEG: Max. 30fps/25fps(60Hz/50Hz)
Min. Illumination
Color: 0.05Lux(F1.6, 1/30sec)
BW: 0Lux(IR LED On)
Lens
Focal Length (Zoom Ratio)
4.44~111mm(25x) zoom (digital 32x, total 800x zoom)
Max. Aperture Ratio
F1.6(Wide)~F3.9(Tele)
Angular Field of View
H: 64.66˚(Wide)~2.99˚(Tele) / V: 38.08˚(Wide)~1.68˚(Tele)
Min. Object Distance
Wide: 1.5m(4.92ft), Tele: 2m(6.56ft)
Focus Control
Oneshot AF, Focus save
Lens Type
DC auto iris
Pan / Tilt / Rotate
Pan Range
360˚ Endless
Pan Speed
Preset: 700˚/sec, Manual: 0.024˚/sec~250˚/sec
Tilt Range
110˚(-20˚~90˚)
Tilt Speed
Preset: 300˚/sec, Manual: 0.024˚/sec~250˚/sec
Sequence
Preset(300ea), Swing, Group(6ea), Trace, Tour, Auto Run, Schedule
Preset Accuracy
±0.2˚
Operational
Camera Title
Displayed up to 85 characters
Direction Indicator
Support
Day & Night
Auto(ICR)
Backlight Compensation
BLC, HLC, WDR, SSDR
Wide Dynamic Range
120dB
Digital Noise Reduction
SSNRⅤ
Digital Image Stabilization
Support(built-in gyro sensor)
Defog
Support
Motion Detection
8ea, 8point polygonal zones
Privacy Masking
32ea, Quadrangle Support
- Color: Grey/Green/Red/Blue/Black/White
- Solid/Mosaic
Gain Control
Low / Middle / High
White Balance
ATW / AWC / Manual / Indoor / Outdoor / Mercury / Sodium
Electronic Shutter Speed
Minimum / Maximum / Anti flicker (2~1/12,000sec)
Video Rotation
Flip, Mirror
Analytics
Directional detection, Motion detection, Enter/Exit, Tampering, Virtual line
* Audio detection(with NW I/O Box)
Alarm Triggers
Analytics, Network disconnect
* Alarm input(with NW I/O Box)
Alarm Events
File upload via FTP and e-mail
Notification via e-mail
SD/SDHC/SDXC or NAS recording at event triggers
PTZ Preset
Handover
* Alarm output(with NW I/O Box)
IR Viewable Length
100m(328.08ft)
Auto Tracking
Support
Network
Ethernet
Metal shielded RJ-45(10/100BASE-T)
Video Compression
H.265/H.264,MJPEG
Smart Codec
Manual(5ea area), WiseStreamⅡ
Bitrate Control
H.264/H.265: CBR or VBR
MJPEG: VBR
Streaming
Unicast(20 users) / Multicast (128 user)
Multiple streaming(Up to 10 profiles)
Protocol
IPv4, IPv6, TCP/IP, UDP/IP, RTP(UDP), RTP(TCP), RTCP,RTSP, NTP, HTTP, HTTPS, SSL/TLS, DHCP, FTP, SMTP, ICMP, IGMP, SNMPv1/v2c/v3(MIB-2), ARP, DNS, DDNS, QoS, PIM-SM, UPnP, Bonjour, LLDP, SRTP
Security
HTTPS(SSL) Login Authentication
Digest Login Authentication
IP Address Filtering
User access log
802.1X Authentication(EAP-TLS, EAP-LEAP)
Application Programming Interface
ONVIF Profile S/G/T
SUNAPI(HTTP API)
Wisenet open platform
General
Webpage Language
English, Korean, Chinese, French, Italian, Spanish, German, Japanese, Russian, Swedish, Portuguese, Czech, Polish, Turkish, Dutch, Hungarian, Greek
Edge Storage
Micro SD/SDHC/SDXC 1slot 256GB
Memory
1024MB RAM, 256MB Flash
Environmental & Electrical
Operating Temperature / Humidity
Normal : -35°C~+55°(-31°F ~ +131°F)
* Start up should be done at above -30°C
Less than 95% RH(Non-condensing)
Storage Temperature / Humidity
-50°C~+60°C (-58°F~+140°F) / Less than 95% RH(Non-condensing)
Certification
IP66, IK10, NEMA4X
Input Voltage
PoE+(IEEE802.3at, Class4)
Power Consumption
Typ.14.7W, Max.25.5W Camera only
Mechanical
Color / Material
Body : White / Aluminum
Head : Black / Polycarbontate
Hard-coated dome
RAL Code
RAL9003
Product Dimensions / Weight
Ø158 x 293.3mm (6.22 x 11.55") / 3.1Kg
DORI (EN62676-4 standard)
Detect (25PPM/ 8PPF)
Wide: 60.7m(199.1ft) / Tele: 1471.3m(4827.2ft)
Observe (63PPM/ 19PPF)
Wide: 24.3m(79.6ft) / Tele: 588.5m(1930.9ft)
Recognize (125PPM/ 38PPF)
Wide: 12.1m(39.8ft) / Tele: 294.3m(965.4ft)
Identify (250PPM/ 76PPF)
Wide: 6.1m(19.9ft) / Tele: 147.1m(482.7ft)

• The latest product information / specification can be found at hanwha-security.com
• Design and specifications are subject to change without notice.
• Wisenet is the proprietary brand of Hanwha Techwin, formerly known as Samsung Techwin.
Download
---
| | Category | File Name | | Last Updated |
| --- | --- | --- | --- | --- |
| | Manuals | Manuals_QNP-6320R,QNP-6250R_210811_ZH.pdf | | 2021-08-03 |
| | Manuals | Manuals_QNP-6320R,QNP-6250R_210811_TR.pdf | | 2021-08-03 |
| | Manuals | Manuals_QNP-6320R,QNP-6250R_210811_PT.pdf | | 2021-08-03 |
| | Manuals | Manuals_QNP-6320R,QNP-6250R_210811_PL.pdf | | 2021-08-03 |
| | Manuals | Manuals_QNP-6320R,QNP-6250R_210811_IT.pdf | | 2021-08-03 |
| | Manuals | Manuals_QNP-6320R,QNP-6250R_210811_FR.pdf | | 2021-08-03 |
| | Manuals | Manuals_QNP-6320R,QNP-6250R_210811_ES.pdf | | 2021-08-03 |
| | Manuals | Manuals_QNP-6320R,QNP-6250R_210811_DE.pdf | | 2021-08-03 |
| | Manuals | Manuals_QNP-6320R,QNP-6250R_210805_EN.pdf | | 2021-08-03 |
| | CAD | CAD_XNP-9250R,XNP-8250R,XNP-6400R,QNP-6320R,QNP-6250R_210901_Common.pdf | | 2021-01-11 |
| | CAD | CAD_XNP-9250R,XNP-8250R,XNP-6400R,QNP-6320R,QNP-6250R_210901_Common.dxf | | 2021-01-07 |
| | Certification | Certification_QNP-6250R_210729_EN_IP66.pdf | | 2021-09-06 |
| | Certification | Certification_QNP-6250R_210729_EN_IK10.pdf | | 2021-09-06 |
| | Certification | Certification_QNP-6250R_210811_EN_UL.pdf | | 2021-09-01 |
| | Certification | Certification_QNP-6250R_210727_EN_VCCI.PDF | | 2021-09-01 |
| | Certification | Certification_QNP-6250R_210727_EN_RCM.PDF | | 2021-09-01 |
| | Certification | Certification_QNP-6250R_210727_EN_FCC,IC.PDF | | 2021-09-01 |
| | Certification | Certification_QNP-6250R_210727_EN_DoC_UKCA.PDF | | 2021-09-01 |
| | Certification | Certification_QNP-6250R_210727_EN_EMC_CE.PDF | | 2021-09-01 |
| | Certification | Certification_QNP-6250R_210727_EN_DoC_CE.PDF | | 2021-09-01 |
| | Certification | Certification_QNP-6250R_210730_EN_NEMA4X.pdf | | 2022-06-23 |
| | Brochures | Brochures_QNP-6320R,QNP-6250R,QNP-6320H,QNP-6250H, | | 2021-10-27 |
| | A&E Document | A&E Document_QNP-6250R_20210909_EN.docx | | 2021-09-09 |
| | Quick Guide | Quick Guide_QNP-6320R,QNP-6250R_210803_ZH.pdf | | 2021-08-03 |
| | Quick Guide | Quick Guide_QNP-6320R,QNP-6250R_210803_TR.pdf | | 2021-08-03 |
| | Quick Guide | Quick Guide_QNP-6320R,QNP-6250R_210803_PT.pdf | | 2021-08-03 |
| | Quick Guide | Quick Guide_QNP-6320R,QNP-6250R_210803_PL.pdf | | 2021-08-03 |
| | Quick Guide | Quick Guide_QNP-6320R,QNP-6250R_210803_NL.pdf | | 2021-08-03 |
| | Quick Guide | Quick Guide_QNP-6320R,QNP-6250R_210803_IT.pdf | | 2021-08-03 |
| | Quick Guide | Quick Guide_QNP-6320R,QNP-6250R_210803_FR.pdf | | 2021-08-03 |
| | Quick Guide | Quick Guide_QNP-6320R,QNP-6250R_210803_ES.pdf | | 2021-08-03 |
| | Quick Guide | Quick Guide_QNP-6320R,QNP-6250R_210803_EN.pdf | | 2021-08-03 |
| | Quick Guide | Quick Guide_QNP-6320R,QNP-6250R_210803_DE.pdf | | 2021-08-03 |
| | Quick Guide | Quick Guide_QNP-6320R,QNP-6250R_210803_CS.pdf | | 2021-08-03 |
| | BIM/Revit | BIM&Revit_QNP-6250R_211206_Common_mm.rfa | | 2021-12-06 |
| | BIM/Revit | BIM&Revit_QNP-6250R_211206_Common_inch.rfa | | 2021-12-06 |
| | Online Help | Online Help_QNP-6320R,QNP-6250R_210727_ES.pdf | | 2021-10-20 |
| | Online Help | Online Help_QNP-6320R,QNP-6250R_210727_EN.pdf | | 2021-10-20 |
| | Online Help | Online Help_XNF-9010RS_210805_FR.pdf | | 2021-08-05 |
| | OpenSourceLicense | OpenSourceLicense_QNP-6320R,QNP-6250R_210610_EN.txt | | 2021-08-10 |
| | Datasheet | Datasheet_QNP-6250R_EN.pdf | | 2023-02-14 |
| | Firmware | QNP-6320R_2.21.02_20220809_R199.zip | | 2022-09-05 |