PND-A9081RF
4K AI IR Dome Camera
• Maximum 4K resolution
• 0.05Lux@F1.6 (Color), 0Lux (B/W, IR LED on)
• Day & Night(ICR), WDR(120dB), WiseNRⅡ (Using AI engine), Prefer Shutter
• H.265, H.264, MJPEG codec, WiseStreamⅡ, WiseStreamⅢ (Using AI engine)
• Video Analytics based on AI
- Object detection and classification(Person, Face, Vehicle, License Plate)
- Face mask detection, Social distancing detection
- Attribute, BestShot
• Modular structure for easy installation
• Requires camera firmware v1.41.03 or later to use Face Mask Detection
• System requirements
- SSM v2.10.8 or later, Genetec plugin v1.0 or later, Milestone plugin v1.0.2 or later
※ Product availability may vary by region.
Please contact your regional representative.
? Hanwha Vision is formerly known as Hanwha Techwin
Nhấp Chuột lên hình để phóng to
PND-A9081RF
4K AI IR Dome Camera
• Maximum 4K resolution
• 0.05Lux@F1.6 (Color), 0Lux (B/W, IR LED on)
• Day & Night(ICR), WDR(120dB), WiseNRⅡ (Using AI engine), Prefer Shutter
• H.265, H.264, MJPEG codec, WiseStreamⅡ, WiseStreamⅢ (Using AI engine)
• Video Analytics based on AI
- Object detection and classification(Person, Face, Vehicle, License Plate)
- Face mask detection, Social distancing detection
- Attribute, BestShot
• Modular structure for easy installation
• Requires camera firmware v1.41.03 or later to use Face Mask Detection
• System requirements
- SSM v2.10.8 or later, Genetec plugin v1.0 or later, Milestone plugin v1.0.2 or later
※ Product availability may vary by region.
Please contact your regional representative.
? Hanwha Vision is formerly known as Hanwha Techwin
Reducing false alarm based on deep learning technology
P series AI cameras using AI algorithms filter out irrelevant movements caused by environmental changes such as waving trees, shadows, or animals. While conventional cameras detect motion based on its pixels and generate events even if users want to ignore, Deep Learning-based P series AI cameras generate event alarm only for people and vehicles, reducing false alarms for more efficient operation.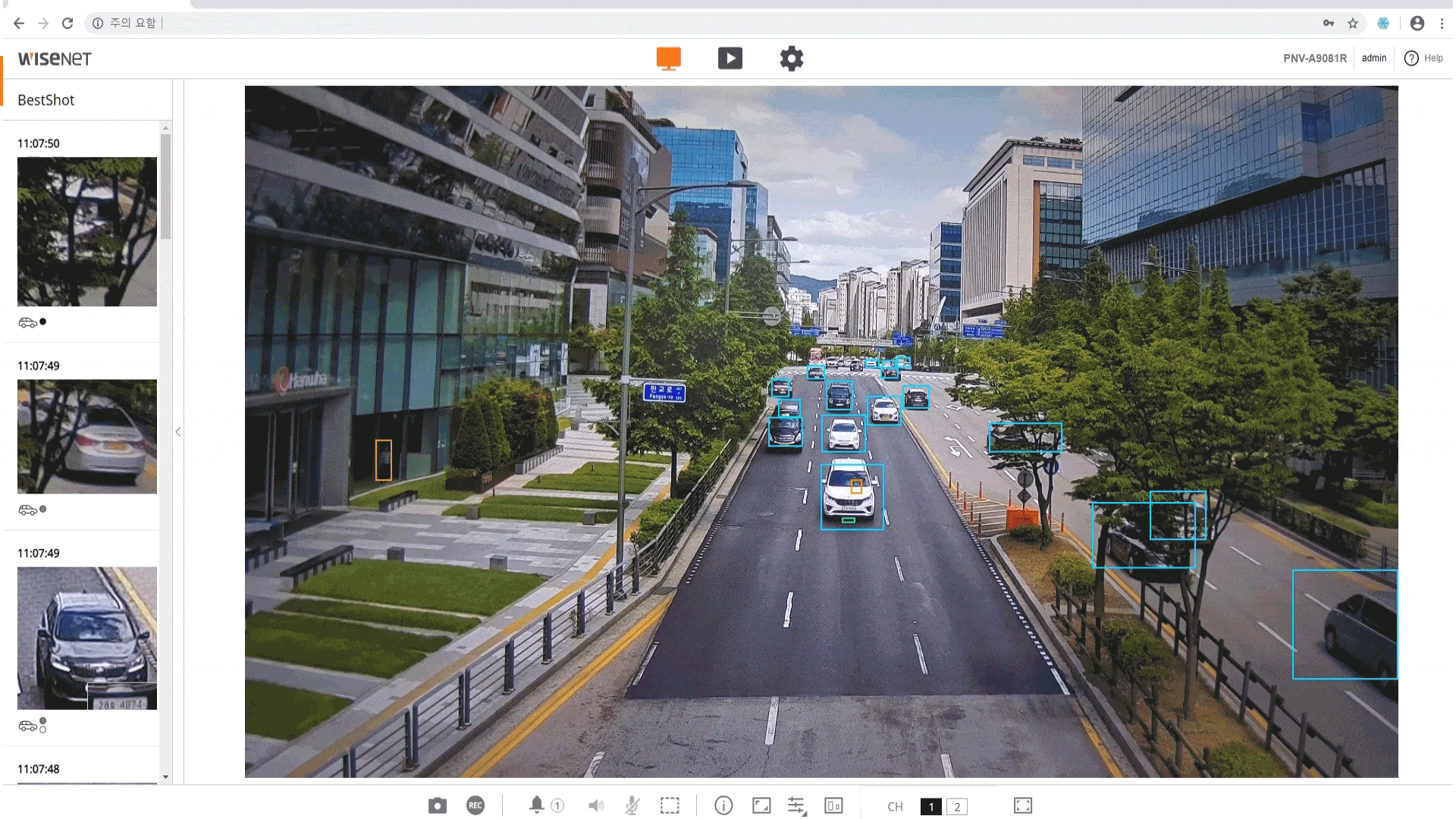 Attribute, BestShot for the forensic search
Metadata including attribute (people : age, gender, colors of top/bottom clothes, wearing glasses, Vehicle : types, colors) is sent to the backend server and used to extract information on specific situations, significantly reducing the time to search the entire video. And P series AI cameras are equipped with the BestShot feature for re-identification which ensures that only the most suitable images of classified objects are sent to the backend server. P seires AI cameras can also quickly and accurately detect the objects with or without face mask and immediately sends out alert.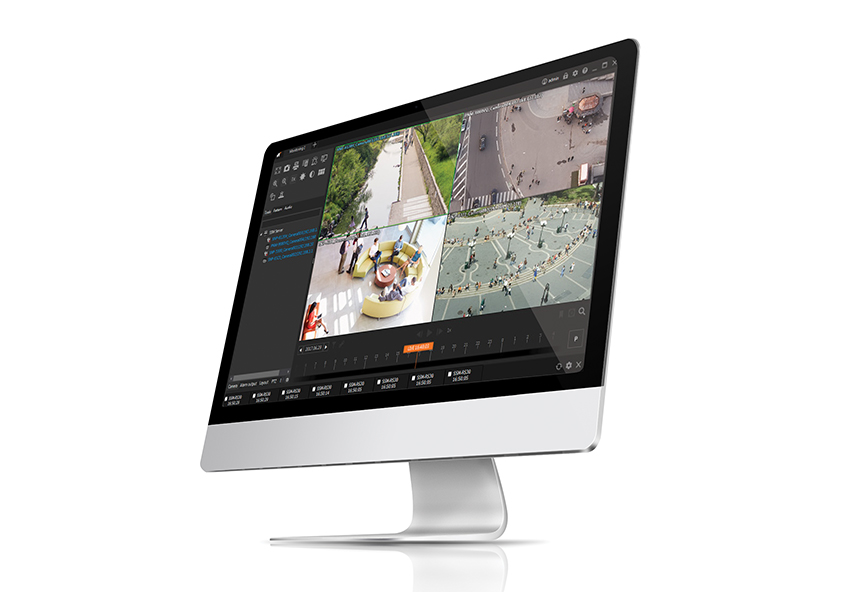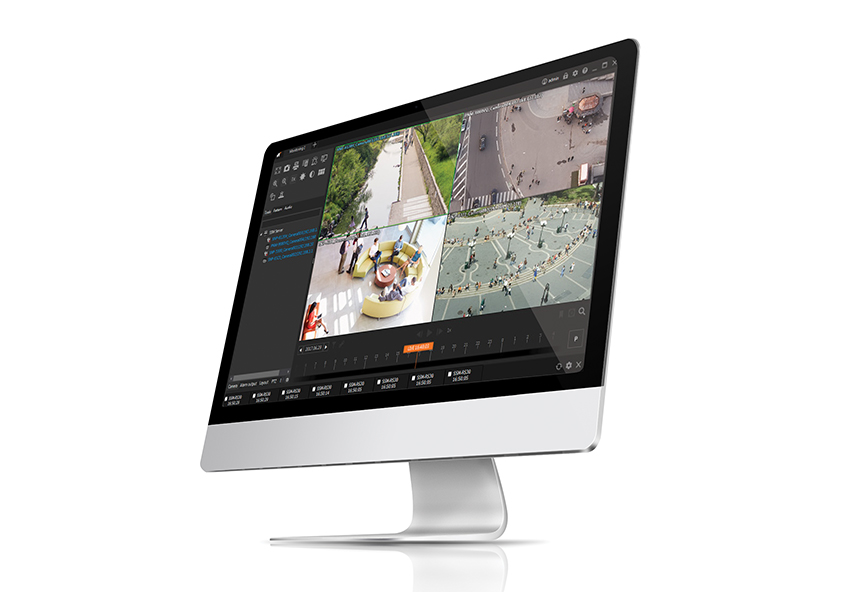 VMS Integration for forensic search applications
P series AI cameras offers integration of video management system from Milestone, Genetec using Hanwha Vision's AI Plug-ins and Wisenet WAVE. These Plug-ins provide improved AI search on Milestone and Genetec's video management system.


Thông số sản phẩm
Video
Lens
Pan / Tilt / Rotate
Operational
Network
General
Environmental & Electrical
Mechanical
DORI (EN62676-4 standard)
Video
Imaging Device
1/1.8" CMOS
Resolution
3840x2160, 3072x1728, 2592x1944, 2688x1520, 2560x1440, 2048x1536, 1920x1080, 1600x1200, 1280x1024,1280x960, 1280x720, 1024x768,
800 x 600, 800 x 448, 720 x 576, 720x480, 640x480, 640x360
Max. Framerate
H.265/H.264: Max. 30fps/25fps(60Hz/50Hz)
MJPEG: Max. 30fps/25fps(60Hz/50Hz)
Min. Illumination
Color: 0.05Lux(F1.6, 1/30sec)
BW: 0.005Lux(F1.6, 1/30sec), 0Lux(IR LED on)
Video Out
CVBS: 1.0 Vp-p / 75Ω composite, 720x480(N), 720x576(P) for installation
USB: Micro USB Type B, 1280x720 for installation
Lens
Focal Length (Zoom Ratio)
4.5~10mm(2.2x) motorized varifocal
Max. Aperture Ratio
F1.6(Wide)~F2.65(Tele)
Angular Field of View
H:101.4°(Wide)~45.5°(Tele) / V:53.6°(Wide)~25.5°(Tele) / D:120.7°(Wide)~52.3°(Tele)
Min. Object Distance
0.5m(1.64ft)
Focus Control
Simple focus
Lens Type
P iris
Pan / Tilt / Rotate
Pan / Tilt / Rotate Range
0˚~360˚ / -45˚~85˚ / 0˚~355˚
Operational
Camera Title
Displayed up to 85 characters
Day & Night
Auto(ICR)
Backlight Compensation
BLC, WDR, SSDR
Digital Noise Reduction
SSNRⅤ, WiseNR Ⅱ(using AI engine)
Digital Image Stabilization
Stabilization Support(built-in gyro sensor)
Motion Detection
8ea, polygonal zones
Privacy Masking
6ea, rectangle zones
- Color: Gray/Black/White
Gain Control
Low / Middle / High
White Balance
ATW / AWC / Manual / Indoor / Outdoor
LDC
Support
Electronic Shutter Speed
Minimum / Maximum / Anti flicker (1/5~1/12,000sec)
Auto prefer shutter control based on AI engine
Video Rotation
Flip, Mirror, Hallway view(90˚/270˚)
Analytics
Classified object type : Person/Face/Vehicle/License plate
Attributes : Person(Gender, Color and Bag), Face(Age, Gender, Mask and Glasses), Vehicle(Type:car/bus/truck/motorcycle/bicycle and Color)
Support Bestshot per object
Analytics events based on AI engine
- Object detection, Virtual line*(Crossing/Direction), Virtual area*(Loitering/Intrusion/Enter/Exit), Face mask detection, Digital auto tracking, Social distancing detection
Analytics events
- Defocus detection, Motion detection, Tampering, Audio detection, Sound classification, Shock detection, Virtual area(Appear/Disappear)

*Some of the video analytics only works with people and vehicle detection
Business Intelligence
People counting, Queue management, Heatmap based on AI engine
Alarm I/O
2 configurable I/O ports, DC 12V output(Max. 50mA)
Alarm Triggers
Analytics, Network disconnect, Alarm input
Alarm Events
File upload via FTP and e-mail
Notification via e-mail
SD/SDHC/SDXC or NAS recording at event triggers
Alarm output
Handover
Audio playback
Audio In
Selectable(mic in/line in)
Supply voltage: 2.5VDC(4mA), Input impedance: 2K Ohm
Audio Out
Line out, Max.output level: 1Vrms
IR Viewable Length
30m(98.42ft)
Network
Ethernet
Metal shielded RJ-45(10/100/1000 BASE-T)
Video Compression
H.265/H.264: Main/High, MJPEG
Audio Compression
G.711 u-law /G.726 Selectable
G.726(ADPCM) 8KHz, G.711 8KHz
G.726: 16Kbps, 24Kbps, 32Kbps, 40Kbps
AAC-LC: 48Kbps at 16KHz
Smart Codec
Manual(5ea area), WiseStreamⅡ, WiseStreamⅢ(using AI engine)
Bitrate Control
H.264/H.265: CBR or VBR
MJPEG: VBR
Streaming
Unicast(6 users) / Multicast
Multiple streaming(Up to 3 profiles)
Protocol
IPv4, IPv6, TCP/IP, UDP/IP, RTP(UDP), RTP(TCP), RTCP,RTSP, NTP, HTTP, HTTPS, SSL/TLS, DHCP, FTP, SMTP, ICMP, IGMP, SNMPv1/v2c/v3(MIB-2), ARP, DNS, DDNS, QoS, UPnP, Bonjour, LLDP, SRTP (TCP, UDP Unicast)
Security
HTTPS(SSL) Login Authentication
Digest Login Authentication
IP Address Filtering
User access log
802.1X Authentication(EAP-TLS, EAP-LEAP)
Device Certificate(Hanwha Techwin Root CA)
Secure boot
Application Programming Interface
ONVIF Profile S/G/T/M
SUNAPI(HTTP API)
Wisenet open platform
General
Webpage Language
English, French, German, Spanish, Italian, Chinese, Korean, Russian, Japanese,
Swedish, Portuguese, Czech, Polish, Turkish, Dutch, Hungarian, Greek
Edge Storage
Micro SD/SDHC/SDXC 2slots 512GB
Memory
4096MB RAM, 512MB Flash
Environmental & Electrical
Operating Temperature / Humidity
-25°C ~ +50°C (-13°F ~ +122°F) / Less than 90% RH
Storage Temperature / Humidity
-50°C ~ +60°C(-58°F ~ +140°F) / Less than 90% RH
Certification
IP52, IK10, Plenum rate
Input Voltage
PoE+(IEEE802.3at), 12VDC
Power Consumption
PoE+: Max 20.00W, typical 16.00W
12VDC: Max 17.70W, typical 14.00W
Mechanical
Color / Material
White / Aluminum
RAL Code
RAL9003
Product Dimensions / Weight
Ø205x163mm(8.07x4.92"), Weight : 1.95Kg (4.30lb)
DORI (EN62676-4 standard)
Detect (25PPM/ 8PPF)
Wide: 62.9m(206.34ft) / Tele: 183m(600.33ft)
Observe (63PPM/ 19PPF)
Wide: 25.1m(82.34ft) / Tele: 73.3m(240.46ft)
Recognize (125PPM/ 38PPF)
Wide: 12.6m(41.33ft) / Tele: 36.6m(120.07ft)
Identify (250PPM/ 76PPF)
Wide: 6.3m(20.67ft) / Tele: 18.3m(60.03ft)

• The latest product information / specification can be found at hanwha-security.com
• Design and specifications are subject to change without notice.
• Wisenet is the proprietary brand of Hanwha Techwin, formerly known as Samsung Techwin.
Tải về
---
| | Thể loại | Tên tệp | | Cập nhật mới nhất |
| --- | --- | --- | --- | --- |
| | Hướng dẫn sử dụng | Manuals_PNV-A9081R,PND-A9081RV,PND-A9081RF,PNO-A9081R,PNB-A9001_230420_EN.pdf | | 2023-04-21 |
| | CAD | CAD_PND-A9081RF_191218.pdf | | 2020-01-17 |
| | CAD | CAD_PND-A9081RF_191218.dxf | | 2020-01-17 |
| | Chứng nhận | Certification_PND-A9081RF_191230_EN_IP52.pdf | | 2020-07-07 |
| | Chứng nhận | Certification_PND-A9081RF_191230_EN_IK10.pdf | | 2020-07-07 |
| | Chứng nhận | Certification_PND-A9081RF_200110_EN_UL.pdf | | 2020-02-19 |
| | Chứng nhận | Certification_PND-A9081RF_230224_EN_RCM.pdf | | 2023-06-09 |
| | Chứng nhận | Certification_PND-A9081RF_230224_EN_FCC,IC.pdf | | 2023-06-09 |
| | Chứng nhận | Certification_PND-A9081RF_230224_EN_EMC_CE(+UKCA).pdf | | 2023-06-09 |
| | Chứng nhận | Certification_PND-A9081RF_230224_EN_DoC_UKCA.pdf | | 2023-06-09 |
| | Chứng nhận | Certification_PND-A9081RF_230224_EN_DoC_CE.pdf | | 2023-06-09 |
| | Chứng nhận | Certification_PND-A9081RF_230321_KO_SDoC_KC.pdf | | 2023-06-09 |
| | Chứng nhận | Certification_PND-A9081RF_230321_KO_KC(EMC).pdf | | 2023-06-09 |
| | Chứng nhận | Certification_PND-A9081RF_230315_KO_Report_KC(TEL).pdf | | 2023-06-09 |
| | Chứng nhận | Certification_PND-A9081RF_230315_KO_Report_KC(EMC).pdf | | 2023-06-09 |
| | Chứng nhận | Certification_PND-A9081RF_230224_EN_VCCI.pdf | | 2023-06-09 |
| | Tài liệu quảng cáo | Brochures_PND-A9081RV,PND-A9081RF,PNV-A9081R,PNB-A9001,PNO-A9081R_220318_EN.pdf | | 2022-03-18 |
| | Tài liệu quảng cáo | Brochures_WiseDetector_230224_EN | | 2023-02-24 |
| | Tài liệu A & E | A&E Document_PND-A9081RF_210825_EN.docx | | 2020-04-09 |
| | Hướng dẫn nhanh | Quick Guide_PND-A6081RV,PND-A6081RF,PND-A9081RV,PND-A9081RF_230331_EN.pdf | | 2023-04-19 |
| | BIM/Revit | BIM&Revit_PND-A9081RF_200529_Common_mm.rfa | | 2020-05-29 |
| | BIM/Revit | BIM&Revit_PND-A9081RF_200529_Common_inch.rfa | | 2020-05-29 |
| | Hỗ trợ trực tuyến | Online Help_PNV-A9081R,PND-A9081RF,PND-A9081RV,PNO-A9081R,PNB-A9001_20210407_EN.pdf | | 2021-04-08 |
| | OpenSourceLicense | OpenSourceLicense_PNV-A9081R,PND-A9081RF,PND-A9081RV,PNB-A9001,PNO-A9081R_210513_EN.txt | | 2021-06-30 |
| | Datasheet | Datasheet_PND-A9081RF_VN.pdf | | 2021-11-18 |
| | Chương trình cơ sở | PNO-A9081R_2.11.10_20220519_R614.zip | | 2022-06-09 |