TNO-3050T
QVGA Thermal Camera
• Max. 320 x 240 resolution support
• Horizontal 6.3°, Vertical 4.7° field of view
• H.265, H.264, MJPEG codec
• Max. 30fps@all resolutions (H.265, H.264, MJPEG)
• Motion detection, Handover, Tampering, Loitering
• Directional detection, Audio detection, Shock detection
• Micro SD / SDHC / SDXC memory slot (Max. 256GB)
• Hallway View, WiseStreamII support
• PoE, 24VAC, 12VDC
• IP66, NEMA4X
※ Product availability may vary by region.
Please contact your regional representative.
? Hanwha Vision is formerly known as Hanwha Techwin
Для увеличения изображения наведите курсор мыши
TNO-3050T
QVGA Thermal Camera
• Max. 320 x 240 resolution support
• Horizontal 6.3°, Vertical 4.7° field of view
• H.265, H.264, MJPEG codec
• Max. 30fps@all resolutions (H.265, H.264, MJPEG)
• Motion detection, Handover, Tampering, Loitering
• Directional detection, Audio detection, Shock detection
• Micro SD / SDHC / SDXC memory slot (Max. 256GB)
• Hallway View, WiseStreamII support
• PoE, 24VAC, 12VDC
• IP66, NEMA4X
※ Product availability may vary by region.
Please contact your regional representative.
? Hanwha Vision is formerly known as Hanwha Techwin
Detect people and objects 24/7 with thermal cameras
In challenging weather(fog, smoke, rain) or lighting conditions(complete darkness, backlight), it can be difficult to distinguish people or objects in a complex background by a visible camera or a human eye. For accurate monitoring purposes, a professional surveillance system is required. Wisenet thermal cameras are the excellent choice : they provide high contrast images based on temperature differences between the object and background, so that users can detect incidents more easily. The advanced thermal imaging technology provides high contrast to make the unseen details visible without additional lighting.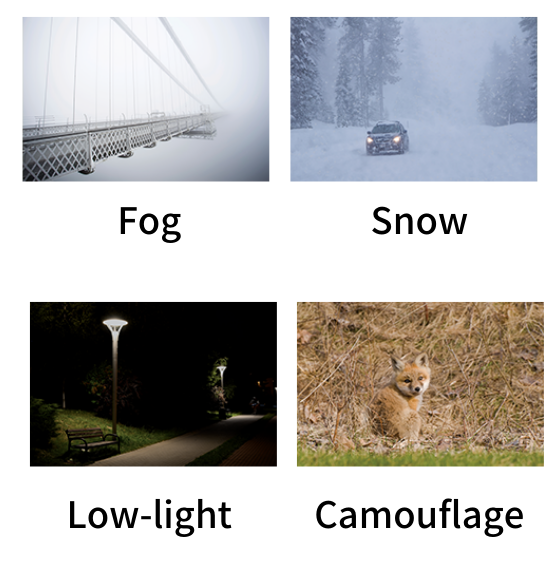 Multiple color palettes
Wisenet thermal cameras provide seven different types of color palette for users to select the best image in various situations. Each color palette has a specific set of colors which change according to the temperature range of the scene.

Secure a wide variety of applications
Wisenet thermal cameras can be a powerful tool when monitoring applications where there is very little light, due to their ability to create images based on heat. Thermal cameras are especially applicable in manufacturing and industrial facilities, air and seaports, and mining areas.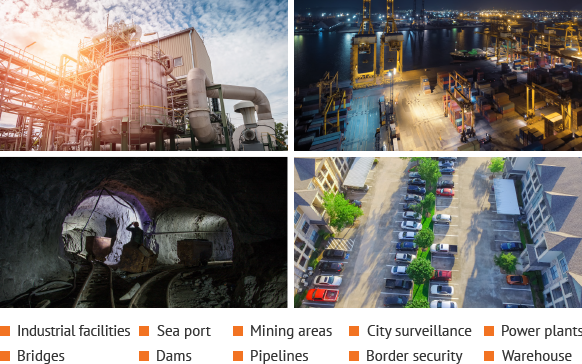 Технические характеристики
Video
Lens
Operational
Network
General
Environmental & Electrical
Mechanical
Video
Imaging Device
Uncooled micro bolometer
Resolution
320x240
Max. Framerate
H.265/H.264: Max. 30fps/25fps(60Hz/50Hz)
MJPEG: Max. 30fps/25fps(60Hz/50Hz)
NETD
<60mK
Pixel size
12㎛
Video Out
CVBS: 1.0 Vp-p / 75Ω composite, 720x480(N), 720x576(P) for installation
USB: Micro USB Type B, 1280x720 for installation
Lens
Focal Length (Zoom Ratio)
35mm fixed focal
Max. Aperture Ratio
F1.0
Angular Field of View
H: 6.3°, V: 4.7°, D: 7.8°
Min. Object Distance
51m
Focus Control
Fixed
Operational
Camera Title
Displayed up to 85 characters
Digital Image Stabilization
Support(built-in gyro sensor)
Motion Detection
8ea, 8point polygonal zones
Privacy Masking
32ea, polygonal zones
- Color: Grey/Green/Red/Blue/Black/White
- Mosaic
Video Rotation
Flip, Mirror, Hallway view(90˚/270˚)
Analytics
Directional detection, Motion detection, Appear/Disappear, Enter/Exit, Loitering, Tampering, Virtual line, Audio detection, Temperature ditection, Sound classification, Shock detection
Alarm I/O
Input 1ea / Output 2ea
Alarm Triggers
Analytics, Network disconnect, Alarm input
Alarm Events
File upload via FTP and e-mail
Notification via e-mail
SD/SDHC/SDXC or NAS recording at event triggers
Alarm output
Handover
Audio In
Selectable(mic in/line in)
Supply voltage: 2.5VDC(4mA), Input impedance: 2K Ohm
Audio Out
Line out, Max.output level: 1Vrms
Color Palettes
Whitehot, Blackhot, Rainbow, Rainbow2, Sepia, Red, Iron, Custom
Network
Ethernet
RJ-45(10/100BASE-T)
Video Compression
H.265/H.264: Main/Baseline/High, MJPEG
Audio Compression
G.711 u-law / G.726 Selectable
G.726(ADPCM) 8KHz, G.711 8KHz
G.726: 16Kbps, 24Kbps, 32Kbps, 40Kbps
AAC-LC: 48Kbps at 16KHz
Smart Codec
Manual(5ea area), WiseStreamⅡ
Bitrate Control
H.264/H.265: CBR or VBR
MJPEG: VBR
Streaming
Unicast(20 users) / Multicast
Multiple streaming(Up to 10 profiles)
Protocol
IPv4, IPv6, TCP/IP, UDP/IP, RTP(UDP), RTP(TCP), RTCP,RTSP, NTP, HTTP, HTTPS, SSL/TLS, DHCP, FTP, SMTP, ICMP, IGMP, SNMPv1/v2c/v3(MIB-2), ARP, DNS, DDNS, QoS, PIM-SM, UPnP, Bonjour, LLDP, SRTP
Security
HTTPS(SSL) login authentication
Digest login authentication
IP address filtering
User access log
802.1X authentication(EAP-TLS, EAP-LEAP)
Device certificate(Hanwha Techwin Root CA)
Application Programming Interface
ONVIF Profile S/G/T
SUNAPI(HTTP API)
Wisenet open platform
General
Webpage Language
English, French, Italian, Spanish, German, Japanese, Russian, Swedish, Portuguese, Czech, Polish, Turkish, Dutch, Hungarian, Greek
Edge Storage
Micro SD/SDHC/SDXC 1slot 256GB
Memory
1024MB RAM, 256MB Flash
Environmental & Electrical
Operating Temperature / Humidity
-40°C ~ +60°C (-40°F ~ +140°F) / Less than 90% RH
Storage Temperature / Humidity
-50°C ~ +60°C (-58°F ~ +140°F) / Less than 90% RH
Certification
IP66, NEMA4X
Input Voltage
PoE(IEEE802.3af, Class3), 24VAC, 12VDC
Power Consumption
PoE: Max. 8.7W, typical 7.5W
12VDC: Max. 7.8W, typical 6.7W
24VAC: Max. 9.2W, typical 8.0W
Mechanical
Color / Material
White / Aluminum
RAL Code
RAL9003
Product Dimensions / Weight
Φ147.51x401.3mm(5.81x15.79") / 2742g(6.05lb)

• The latest product information / specification can be found at hanwha-security.com
• Design and specifications are subject to change without notice.
• Wisenet is the proprietary brand of Hanwha Techwin, formerly known as Samsung Techwin.
Загрузить
---
| | Категория | Имя файла | | Последнее обновление |
| --- | --- | --- | --- | --- |
| | Руководства | Manuals_TNO-3010T,TNO-3020T,TNO-3030T,TNO-3040T,TNO-3050T,TNO-L3030T_230425_RU.pdf | | 2023-05-08 |
| | САПР | CAD_TNO-3050T_210531_Common.dxf | | 2021-05-31 |
| | САПР | CAD_TNO-3050T_210531_Common.pdf | | 2021-05-31 |
| | Сертификация | Certification_TNO-3050T_210512_EN_UL.pdf | | 2021-06-01 |
| | Сертификация | Certification_TNO-3050T_210416_KO_Report_KC(TEL).pdf | | 2021-06-01 |
| | Сертификация | Certification_TNO-3050T_210416_KO_Report_KC(EMC).pdf | | 2021-06-01 |
| | Сертификация | Certification_TNO-3050T_210416_KO_KC(EMC).pdf | | 2021-06-01 |
| | Сертификация | Certification_TNO-3050T_210416_EN_VCCI.PDF | | 2021-06-01 |
| | Сертификация | Certification_TNO-3050T_210416_EN_RCM.PDF | | 2021-06-01 |
| | Сертификация | Certification_TNO-3050T_210416_EN_IC.PDF | | 2021-06-01 |
| | Сертификация | Certification_TNO-3050T_210416_EN_FCC.PDF | | 2021-06-01 |
| | Сертификация | Certification_TNO-3050T_210416_EN_EMC_CE.PDF | | 2021-06-01 |
| | Сертификация | Certification_TNO-3050T_210416_EN_DoC_UKCA.PDF | | 2021-06-01 |
| | Сертификация | Certification_TNO-3050T_210416_EN_DoC_CE.PDF | | 2021-06-01 |
| | Сертификация | Certification_TNO-3050T_210326_EN_IP66.pdf | | 2021-06-01 |
| | Сертификация | Certification_TNO-3050T_220720_EN_NEMA4X.pdf | | 2023-08-31 |
| | Сертификация | Certification_TNO-3050T_220720_EN_IK10.pdf | | 2023-08-31 |
| | Аналитическая документация | A&E Document_TNO-3050T_210712_EN.docx | | 2021-06-14 |
| | Краткое руководство | Quick Guide_TNO-3010T,TNO-3020T,TNO-3030T,TNO-3040T,TNO-3050T,TNO-L3030T_230425_RU.pdf | | 2023-05-08 |
| | BIM/Revit | BIM&Revit_TNO-3050T_210712_Common_mm.rfa | | 2021-07-12 |
| | BIM/Revit | BIM&Revit_TNO-3050T_210712_Common_inch.rfa | | 2021-07-12 |
| | Онлайн-справка | Online Help_TNO-3040T,TNO-3050T_20210421_EN.pdf | | 2021-04-21 |
| | Datasheet | Datasheet_TNO-3050T_RU.pdf | | 2021-05-31 |
| | Прошивка | TNO-3050T_2.11.11_20221117_R190.zip | | 2022-11-29 |