TID-600R
2MP Intercom
• 1/2.8" 2MP sensor
• 1.6mm fixed lens : HFoV 180°, VFoV 114°
• IR viewable length 5m
• Built-in mic and speaker : 85dB speaker out at 0.5m
• Echo cancellation and noise reduction
• Touchless call, Built-in tamper switch
• SIP 2.0 support
• MicroSD 1slot, PoE/12VDC
Max. 550mA relay out with 2A 12VDC adapter
• IP65, IK08, NEMA4X
※ Product availability may vary by region.
Please contact your regional representative.
? Hanwha Vision is formerly known as Hanwha Techwin
Для увеличения изображения наведите курсор мыши
TID-600R
2MP Intercom
• 1/2.8" 2MP sensor
• 1.6mm fixed lens : HFoV 180°, VFoV 114°
• IR viewable length 5m
• Built-in mic and speaker : 85dB speaker out at 0.5m
• Echo cancellation and noise reduction
• Touchless call, Built-in tamper switch
• SIP 2.0 support
• MicroSD 1slot, PoE/12VDC
Max. 550mA relay out with 2A 12VDC adapter
• IP65, IK08, NEMA4X
※ Product availability may vary by region.
Please contact your regional representative.
? Hanwha Vision is formerly known as Hanwha Techwin
Wide Field of View for a wide range of applications
TID-600R has a wide field of view, 180 ̊ horizontal and 114 ̊ vertical. Making it suitable for various applications as TID-600R can capture from 14.2 inches (36cm) to 100.4 inches (255cm) tall objects (When an object is 29.5 inches away from the station)
*Various applications including Kindergarten, Nurshing home, Residence, Commercial building, Warehouse, and more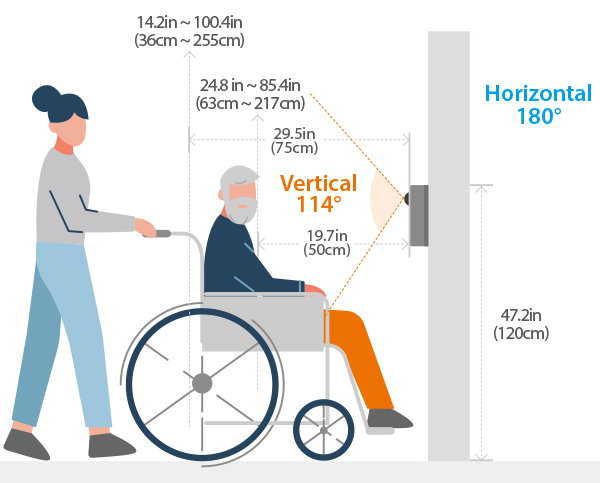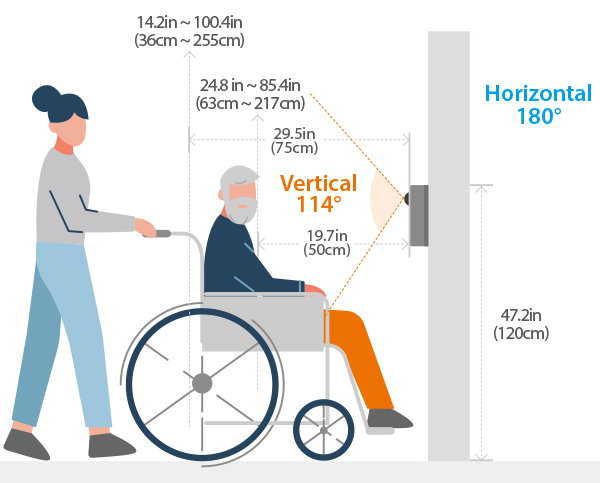 Various mounting options for a greater versatility
TID-600R is designed to be used at various business areas. Its small and slim from factor and contemporary product design offer both style and functionality. With multiple mounting options, covers and skin, it fits perfectly with its surroundings.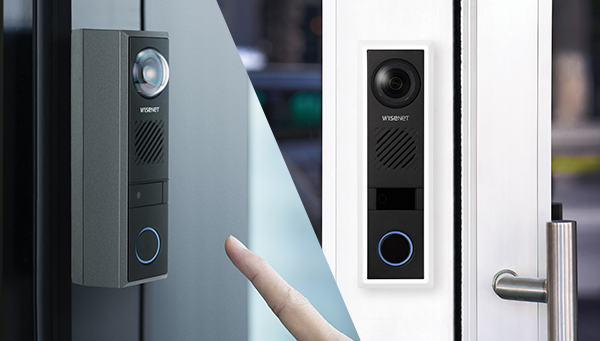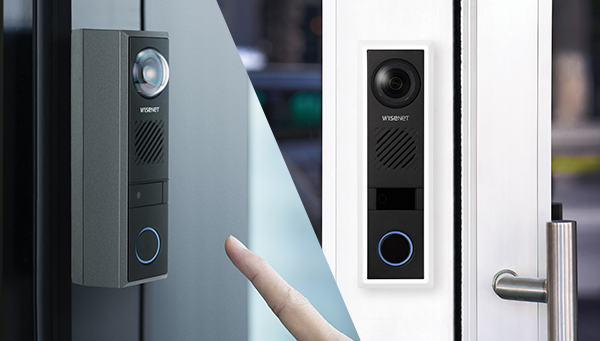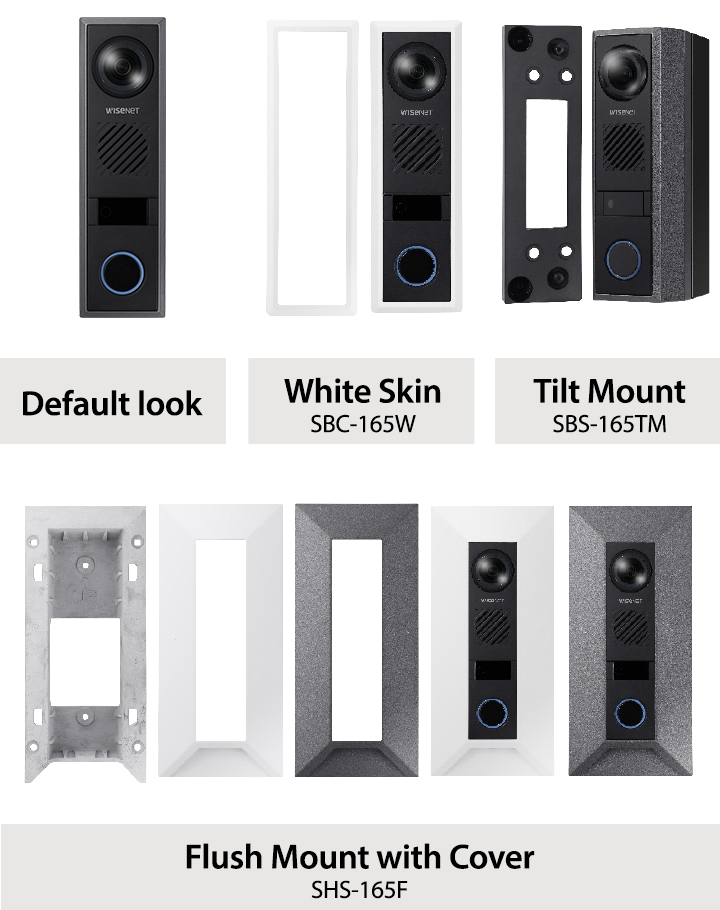 Touchless call as an essential post COVID-19 safety protocol
The ToF sensor of TID-600R allows touchless call, where users simply present their palm within 6 inches of the station to initiate a call. Touchless system is getting more and more important especially when there's a highly contagious diseases and outbreaks.
*It also offers a push-button call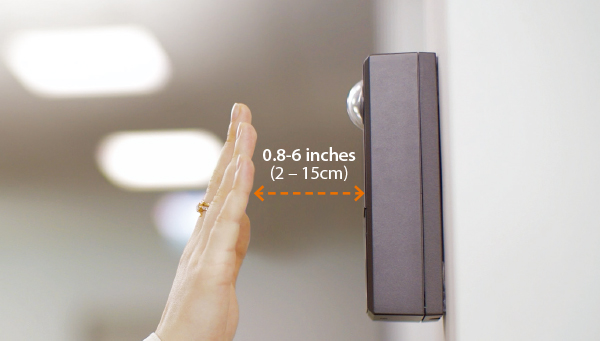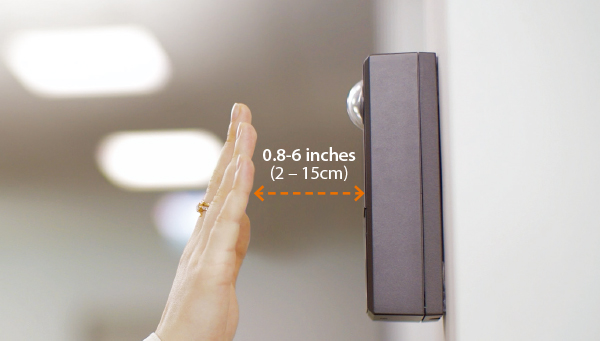 Технические характеристики
Video
Lens
Operational
Network
General
Environmental & Electrical
Mechanical
DORI (EN62676-4 standard)
Video
Imaging Device
1/2.8" CMOS
Resolution
1920x1080, 1280x1024, 1280x960, 1280x720, 1024x768, 800x600, 800x448, 720x576, 720x480, 640x480, 640x360, 320x240
Max. Framerate
H.265/H.264 : Max. 60fps/50fps(60Hz/50Hz)
MJPEG: Max. 30fps/25fps(60Hz/50Hz)
Min. Illumination
Color: 0.018lux (F1.6, 1/30sec)
BW: 0 Lux (IR LED On)
Video Out
CVBS: 1.0 Vp-p / 75Ω composite, 720x480(N), 720x576(P) for installation
Lens
Focal Length (Zoom Ratio)
1.6mm fixed focal
Max. Aperture Ratio
F1.6
Angular Field of View
H: 180˚ / V: 114˚ / D: 180˚
Min. Object Distance
0.3m
Focus Control
Fixed
Operational
Camera Title
Displayed up to 85 characters
Day & Night
Auto(ICR)
Backlight Compensation
BLC, HLC, WDR, SSDR
Wide Dynamic Range
WDR(150dB)
Digital Noise Reduction
SSNRⅤ
Digital Image Stabilization
Support
Defog
Support
Motion Detection
8ea, 8point polygonal zones
Privacy Masking
32ea, polygonal zones
- Color: Grey/Green/Red/Blue/Black/White
- Mosaic
Gain Control
Low / Middle / High
White Balance
ATW / AWC / Manual / Indoor / Outdoor
Electronic Shutter Speed
Minimum / Maximum / Anti flicker (2~1/12,000sec)
Analytics
Directional detection, Motion detection, Appear/Disappear, Enter/Exit, Loitering, Tampering, Virtual line, Audio detection, Shock detection, Sound classification
Alarm I/O
Input 2ea / Output 1ea , Relay out 1ea (12VDC Max. 550mA with 2A adapter)
Tampering switch, Touchless call
Alarm Triggers
Analytics, Network disconnect, Alarm input
Alarm Events
File upload via FTP and e-mail
Notification via e-mail
SD/SDHC/SDXC or NAS recording at event triggers
Alarm output
Handover
Audio playback
Audio Streaming
Two-way/one-way selectable, Full duplex, Echo cancellation and noise reduction
Audio In
Built-in mic
Audio Out
Built-in speaker: 85dB at 0.5m
IR Viewable Length
5m
Network
Ethernet
Metal shielded RJ-45(10/100BASE-T)
Video Compression
H.265/H.264: Main/Baseline/High, MJPEG
Audio Compression
G.711 u-law / G.726 Selectable
G.726(ADPCM) 8KHz, G.711 8KHz
G.726: 16Kbps, 24Kbps, 32Kbps, 40Kbps
AAC-LC: 48Kbps at 16KHz
Opus 8/16KHz
Smart Codec
Manual(5ea area), WiseStreamⅡ
Bitrate Control
H.264/H.265: CBR or VBR
MJPEG: VBR
Streaming
Multiple streaming(Up to 10 profiles)
Protocol
IPv4, IPv6, TCP/IP, UDP/IP, RTP(UDP), RTP(TCP), RTCP, RTSP, NTP, HTTP, HTTPS, SSL/TLS, PPPoE, FTP, SMTP, ICMP, IGMP, SNMPv1/v2c/v3(MIB-2), ARP, DNS, DDNS, QoS, PIM-SM, UPnP, Bonjour, SRTP, SIP 2.0(RFC 3261 and companion RFCs)
SIP support (VoIP, Peer-to-peer, SIP/PBX integration)
Tested with Cisco, Grandstream, Yealink VoIP phones and Asterisk PBX software
Security
HTTPS(SSL) login authentication, Digest login authentication, IP address filtering, User access log, 802.1X authentication(EAP-TLS, EAP-LEAP),
Device certificate(Hanwha Techwin Root CA)
Application Programming Interface
ONVIF Profile S
SUNAPI(HTTP API)
Wisenet open platform
General
Webpage Language
English, Korean, Chinese, French, Italian, Spanish, German, Japanese, Russian, Swedish, Portuguese, Czech, Polish, Turkish, Dutch, Hungarian, Greek
Edge Storage
Micro SD/SDHC/SDXC 1slot 256GB
Memory
2GB RAM
Environmental & Electrical
Operating Temperature / Humidity
-30°C~+55°C(-22°F ~ +131°F) / Less than 95% RH
Storage Temperature / Humidity
-50°C~+55°C / Less than 95% RH
Certification
IP65, IK08, NEMA4X, Safety(UL), EMC(FCC, CE)
Input Voltage
PoE, 12VDC
Power Consumption
PoE: Max 12.95W, typical 9.1W
12VDC: Max 17.6W, typical 7W
* 12VDC power consumption includes 12VDC/550mA relay out.
Mechanical
Color / Material
Dark gray / Aluminium
RAL Code
RAL7022
Product Dimensions / Weight
49(W)x165(H)x48(D)mm(1.93x6.50x1.89") / 490g
Skin Cover
SBC-165W
DORI (EN62676-4 standard)
Detect (25PPM/ 8PPF)
25.04m
Observe (63PPM/ 19PPF)
10.02m
Recognize (125PPM/ 38PPF)
5.01m
Identify (250PPM/ 76PPF)
2.50m

• The latest product information / specification can be found at hanwha-security.com
• Design and specifications are subject to change without notice.
• Wisenet is the proprietary brand of Hanwha Techwin, formerly known as Samsung Techwin.