Hanwha Vision secures international shipping containers in Assan Port
Protecting international shipping containers in a major port connecting the Eastern Mediterranean and Anatolia with the West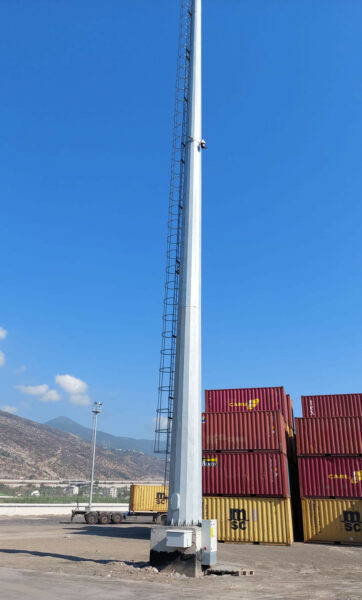 "Using AI to automatically track objects and calling on deep learning to search for and classify objects helps keep this vital port secure and the shipping that relies on it flowing efficiently."
– Adnan Sanli, Employee of Teknoteam Teknoloji Ürünleri
♦ Challenge
Assan Port, İskenderun, was established in June 2010 by Assan Liman İşletmeleri A.Ş., one of the Kibar Group companies. The Port is the only container terminal that connects Northern Iraq to the West, as well as serving companies in the Eastern Mediterranean, South-eastern Anatolia, and the south of Central Anatolia. Therefore, its seamless operations and security are of utmost importance to the region. Assan Port provides port security in accordance with the International Ship and Port Facility Security Code (ISPS). The Port's security operations were hindered by an old CCTV system that wasn't flexible or detailed enough for operators to fully understand what was happening on-site. Assan Port's security identified a need to improve security efficiency and situational awareness, to effectively protect the Port's ships, equipment, shipyards, and containers. The system had to combat a range of threats including theft, vandalism and sabotage, trespassing, and terrorism.
♦ Solution
The entire system was replaced with Hanwha Vision devices, including over 177  Q Series cameras and three  X PTZ PLUS cameras. The team also invested in the 64-channel XRN-6410DB4 NVR, which is equipped with a dual switched-mode power supply that ensures continuity of recording for mission-critical applications. Moreover, the NVRs are able to read AI metadata, enabling operators to quickly and accurately search video for objects and attributes associated to them.
The  X PTZ PLUS range enables users to capture evidence-grade images of activity occurring in large open area applications. This makes it ideal for monitoring the large Assan Port shipyard to capture high-quality images of objects up to a distance of 200 metres in all lighting conditions. The range also comes with an AI auto-tracking feature which allows control room operators to efficiently monitor the movement of objects whilst remaining hands-free to control other cameras.
♦ Result
With new Hanwha Vision's solution, security team members are able to monitor the shipyard and its assets 24/7 both on-site and remotely. They can also view live and recorded video via smart tablets — which enables them to continue monitoring the Port and investigate events while moving around the site. The team plans to install Hanwha cameras across three different locations with all video footage and data being monitored from one central control room. Assan Port's leadership team is looking for more efficient ways to increase its load capacity while maintaining the same level of service and without adding a significant headcount. The efficiency and scalability of the system is supporting them in meeting this goal.