Hanwha Vision protects visitors and exhibits at the world's first purpose-built motor racing track.
Protecting visitors and exhibits at the world's first purpose-built motor racing track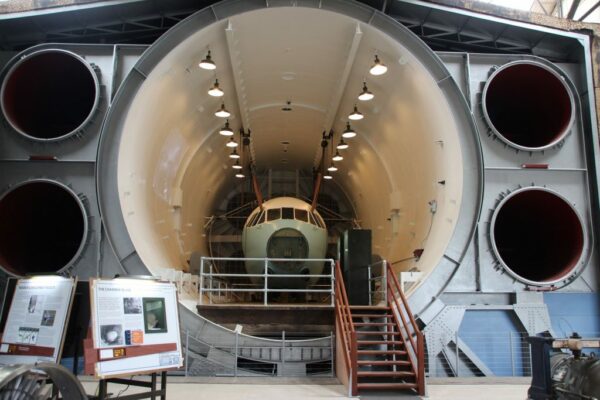 "We had a limited budget to achieve our objectives and yet did not want to compromise on the quality of the images captured by any new cameras, or miss out on taking advantage of the latest technology."
– Mark Dover, Brooklands Museum's facilities manager
♦ Challenge
Brooklands Museum in Surrey, UK, is the world's first purpose-built motor racing track where visitors can get up close to aircraft designed, built, and flown at Brooklands. They can also explore the historic site which is brought to life through interactive collections of motor vehicles and aircraft. The Museum features many valuable exhibits and hosts thousands of visitors every year.
The Museum's security team recognised a need to replace the site's old analogue CCTV cameras with high-definition IP models that utilise the latest technology to keep exhibits and visitors safe.
♦ Solution
Among the cameras installed at the Museum are internal  QND-6082R 2-megapixel dome cameras that feature built-in IR illumination and a 3.1x motorised varifocal lens. This enables operators to easily zoom in and observe any suspicious close up activity. The cameras also feature Hallway View which provides a highly effective way to monitor narrow vertical areas such as corridors.
Intelligent Video Analytics (IVA) also comes with the cameras and includes defocus and tampering detection, as well as directional, intrusion, motion, and enter/exit detection. This helps operators to work more efficiently due to automatic alerts.
New external 5-megapixel  QNO-8080R bullet cameras have also been installed. These are similarly equipped with built-in IR illuminators, that enable them to capture very high-quality images in all lighting conditions. Wide Dynamic Range (WDR) complements this by reacting to changing light conditions or environments with bright and dark areas, to produce clear images where traditionally they would be under or over-exposed.
♦ Result
The cameras enable the Brooklands Museum security team to continuously monitor the site for any events that require their attention. Mark adds, "Our security personnel are now able to view 24/7 the superb quality images captured by the cameras on monitors at our central control room. We now have a highly effective video surveillance solution which will be put to good use as we strive at all times to maintain a safe and secure environment for our employees and visitors."