TNO-4050T
VGA H.265 ネットワーク サーマルカメラ
• 最大640 x 480の解像度対応
• 35mm固定レンズ
• すべての解像度で最大30fps(H.265、H.264、MJPEG)
• H.265、H.264、MJPEG対応、WiseStreamII対応
• モーション検知、ハンドオーバー、いたずら検知、うろつき検知、
方向検知、音声検出、サウンド分類
• 衝撃検知、温度変化検知
• SD/SDHC/SDXCメモリースロット(最大256GB)
• WiseStreamII対応
• PoE、24V AC、12V DC
• IP66、NEMA4X

※ファームウェアv1.00~1.2xを最新版へアップグレードするにはブリッジファームウェアが必要です。詳細はファームウェア(ZIPファイル)に同梱されている[アップグレード通知]または[リリースノート]を参照してください。
※ Product availability may vary by region.
Please contact your regional representative.
※ Hanwha Vision is formerly known as Hanwha Techwin
TNO-4050T
VGA H.265 ネットワーク サーマルカメラ
• 最大640 x 480の解像度対応
• 35mm固定レンズ
• すべての解像度で最大30fps(H.265、H.264、MJPEG)
• H.265、H.264、MJPEG対応、WiseStreamII対応
• モーション検知、ハンドオーバー、いたずら検知、うろつき検知、
方向検知、音声検出、サウンド分類
• 衝撃検知、温度変化検知
• SD/SDHC/SDXCメモリースロット(最大256GB)
• WiseStreamII対応
• PoE、24V AC、12V DC
• IP66、NEMA4X

※ファームウェアv1.00~1.2xを最新版へアップグレードするにはブリッジファームウェアが必要です。詳細はファームウェア(ZIPファイル)に同梱されている[アップグレード通知]または[リリースノート]を参照してください。
※ Product availability may vary by region.
Please contact your regional representative.
※ Hanwha Vision is formerly known as Hanwha Techwin
Seeing Beyond Sight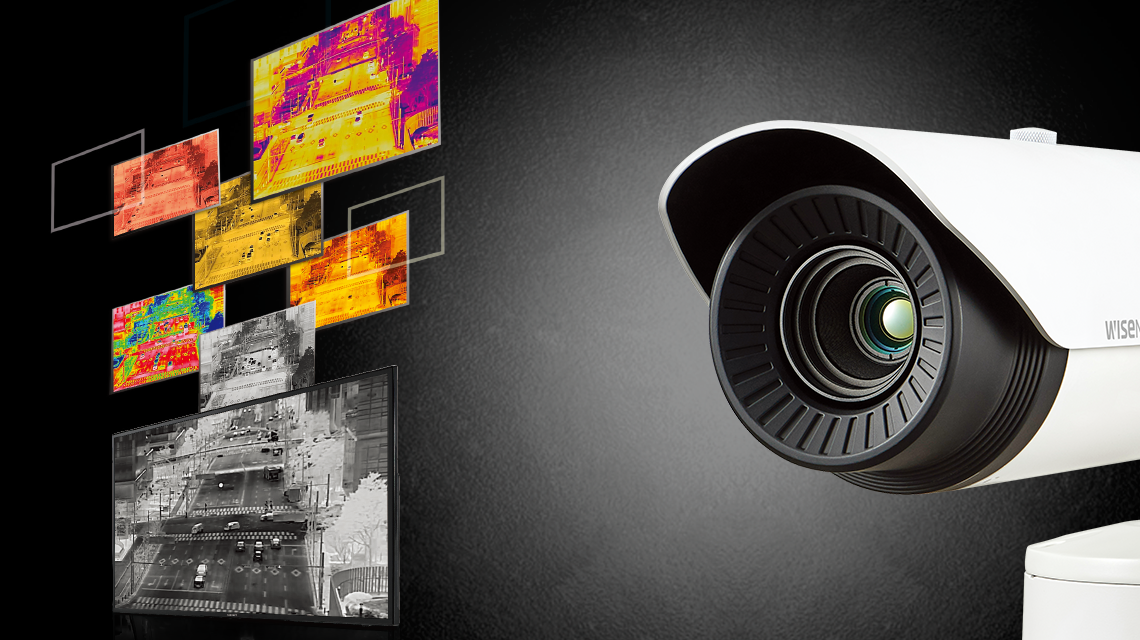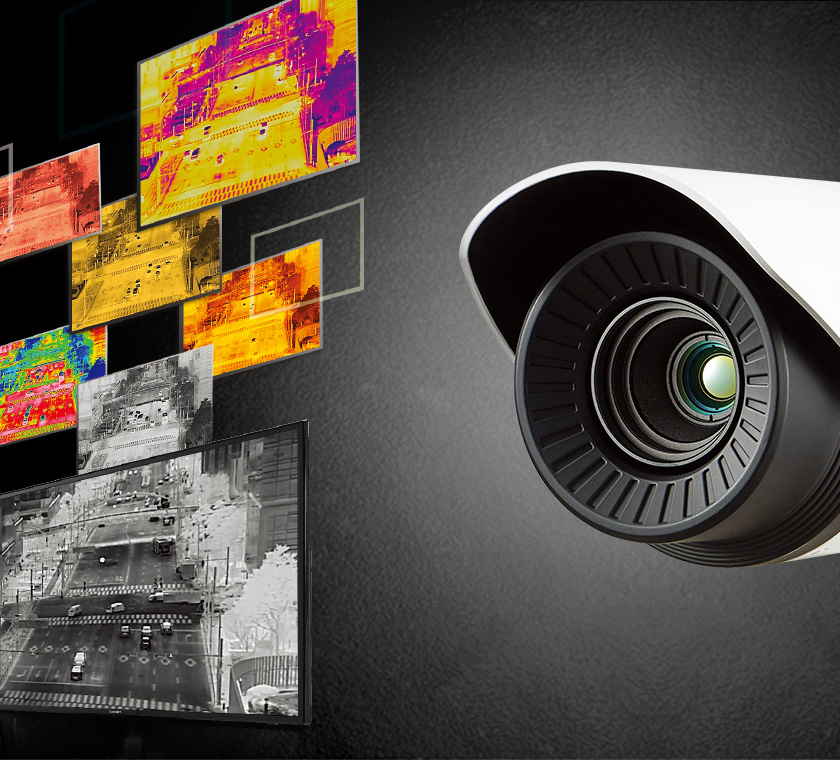 VGA Thermal network camera
Max. 640 x 480 resolution support
H.265, H.264, MJPEG codec
Max. 30fps@all resolutions (H.265, H.264, MJPEG)
WiseStream II support
Video & Audio Analytics
Motion detection, Handover
SD / SDHC / SDXC memory slot (Max. 256GB)
IP66, NEMA4X, IK10 (TNO-4041T / 4041TR / 4040T / 4040TR / 4030T / 4030TR, TNU-4041T)
Bullet Camera
| | | | | |
| --- | --- | --- | --- | --- |
| | | | | |
| TNO-4051T | TNO-4050T | TNO-4041T | TNO-4040T | TNO-4030T |
| 35mm fixed(F1.0) | 35mm fixed(F1.0) | 19mm fixed(F1.0) | 19mm fixed(F1.0) | 13mm fixed(F1.0) |
Bullet Camera
| | | |
| --- | --- | --- |
| | | |
| TNO-4051T | TNO-4050T | TNO-4041T |
| 35mm fixed(F1.0) | 35mm fixed(F1.0) | 19mm fixed(F1.0) |
Positioning Camera
| | | | |
| --- | --- | --- | --- |
| | | | |
| | TNU-4051T | TNU-4041T | |
| | 35mm fixed(F1.0) | 19mm fixed(F1.0) | |
Bullet Radiometric Camera
| | | | | |
| --- | --- | --- | --- | --- |
| | | | | |
| | TNO-4041TR | TNO-4040TR | TNO-4030TR | |
| | 19mm fixed(F1.0) | 19mm fixed(F1.0) | 13mm fixed(F1.0) | |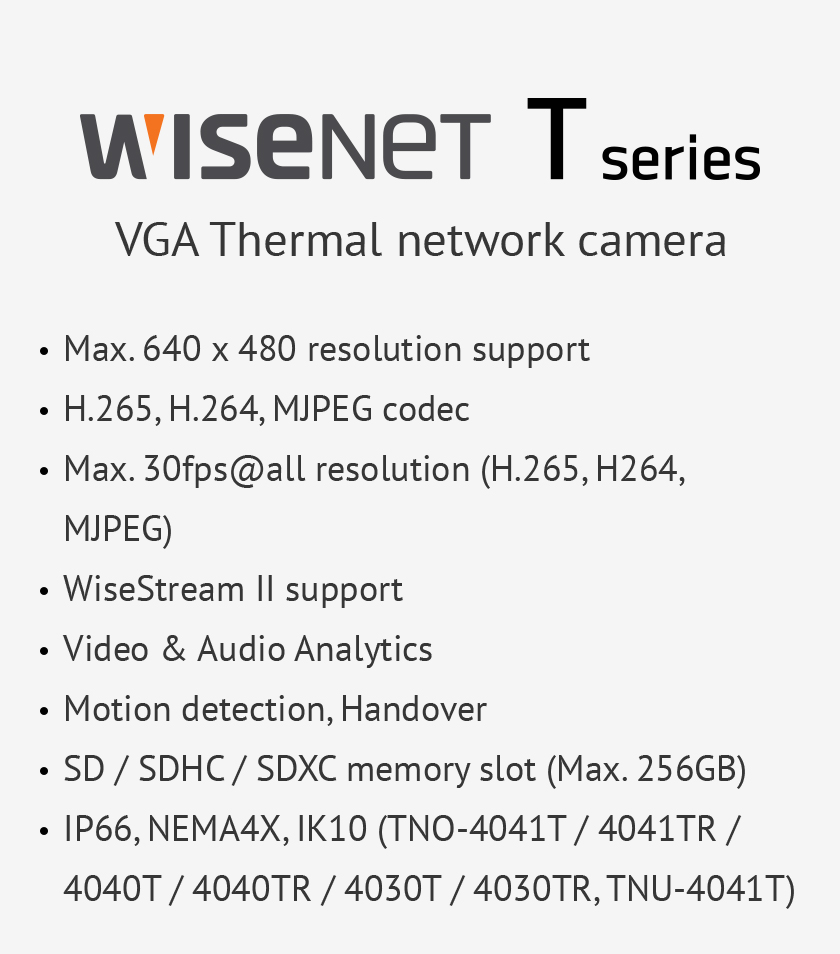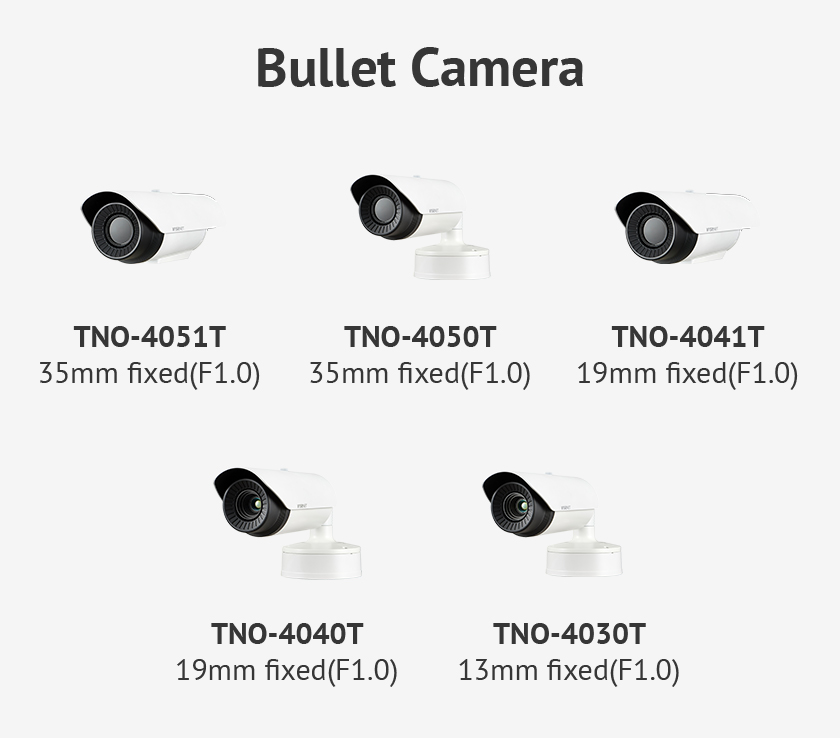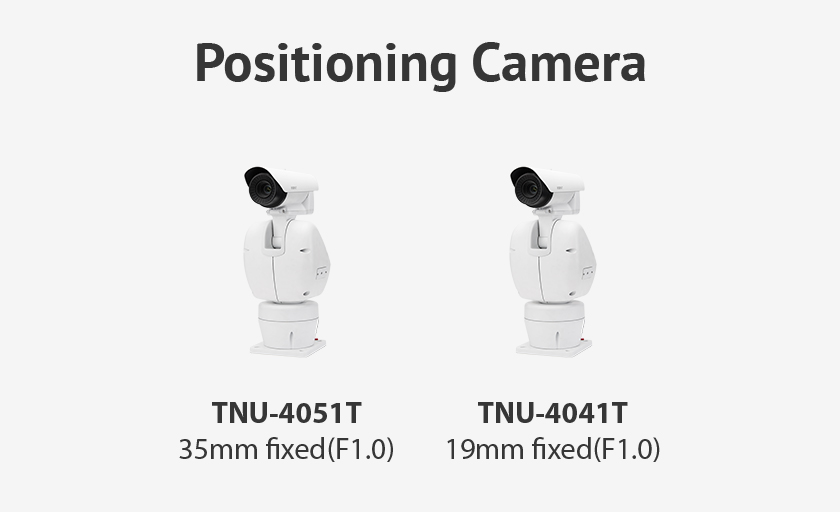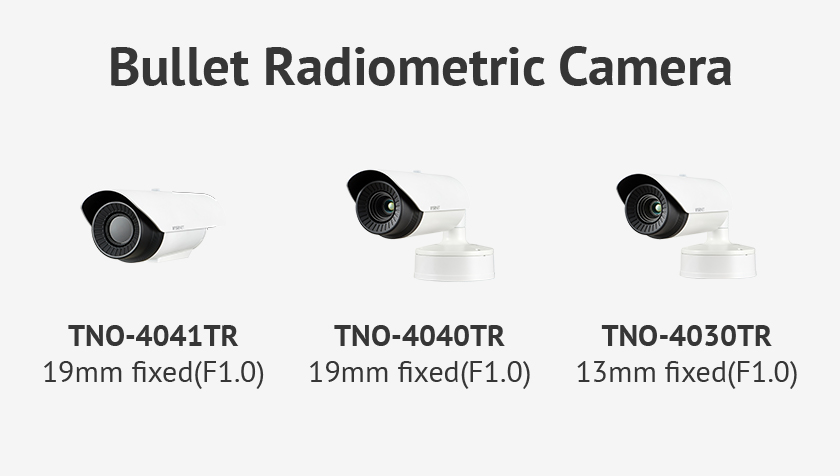 Key Features
Detect people and objects 24/7 with thermal cameras
In challenging weather(fog, smoke, rain) or lighting conditions(complete darkness, backlight), it can be difficult to distinguish people or objects in a complex background by a visible camera or a human eye. For accurate monitoring purposes, a professional surveillance system is required. Wisenet thermal cameras are the excellent choice : they provide high contrast images based on temperature differences between the object and background, so that users can detect incidents more easily. The advanced thermal imaging technology provides high contrast to make the unseen details visible without additional lighting.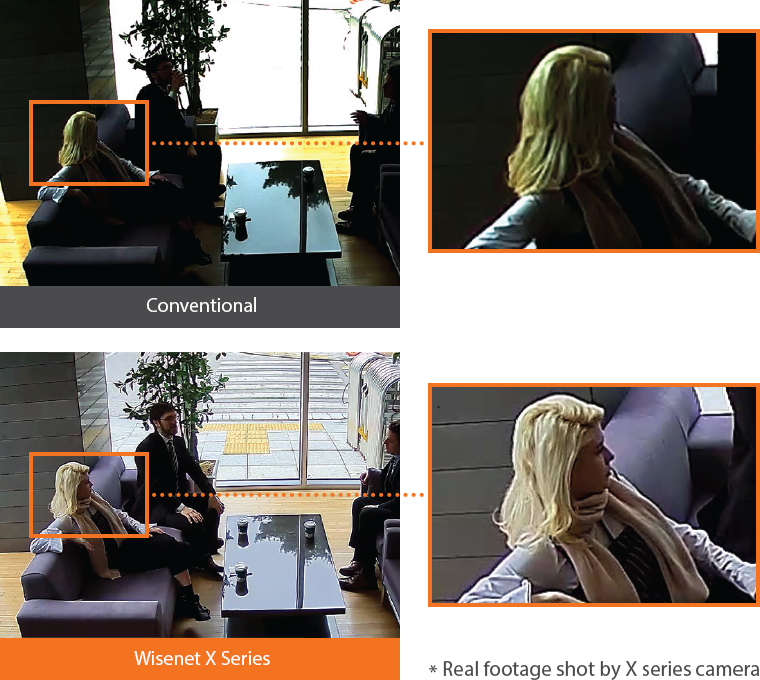 Multiple color palettes
Wisenet thermal cameras provide seven different types of color palette for users to select the best image in various situations. Each color palette has a specific set of colors which change according to the temperature range of the scene.

Long detection range up to 3,157m
The main task of the thermal camera is to detect events that occur at long distances. Wisenet thermal cameras are equipped with a 35/19/13mm lens(Horizontal FoV 17˚/32˚/49˚) to detect vehicles up to 3,157m away. The camera provides an image with high color contrast according to the temperature, so it can easily distinguish objects and background from a long distance. At closer range it can recognize the type of object or identify the characteristic by capturing details.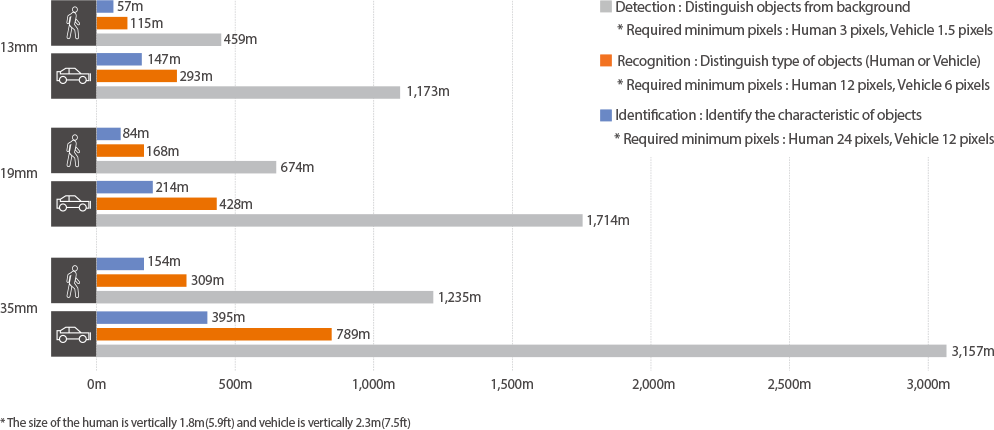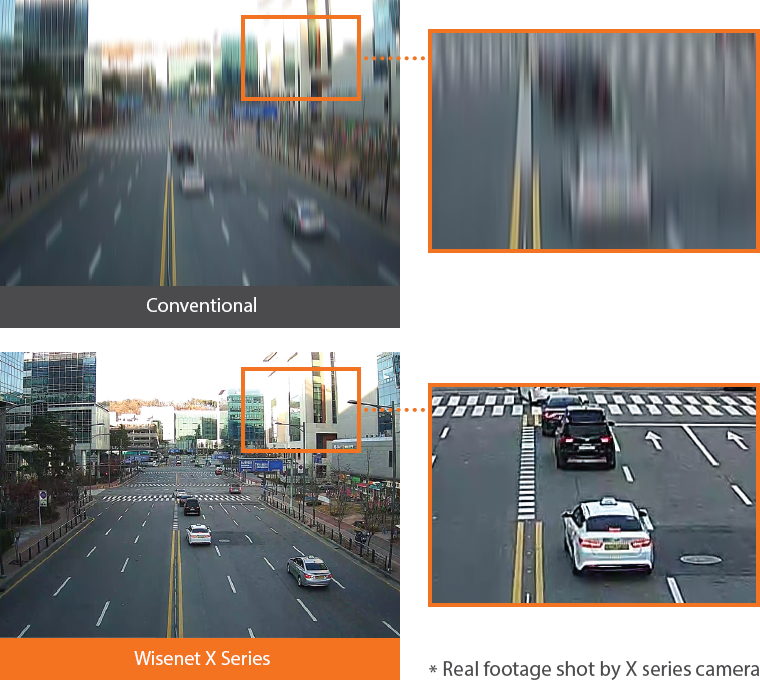 Secure a wide variety of applications
Wisenet thermal cameras can be a powerful tool when monitoring applications where there is very little light, due to their ability to create images based on heat. Thermal cameras are especially applicable in manufacturing and industrial facilities, air and seaports, and mining areas.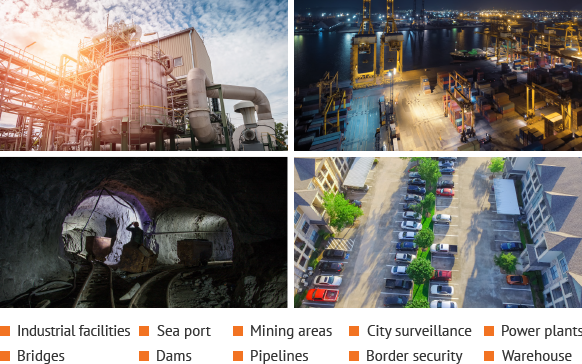 Enhanced video & audio analytics
Wisenet T thermal cameras offers reliable video and audio analytics for efficient monitoring. The featured analytics improves the overall security system's efficiency by automatically notifying users when abnormal behavior is detected.
Temperature change detection

Drastic temperature changes (20 / 40 /60 /80 /100°C difference from current temperature) can be detected in advance to prevent incidents occurring.

* An alarm will be sent when a drastic temperature change is detected for a duration of 2 minutes.

Virtual line

Alarm events are automatically triggered when the camera detects the moving object crossing the virtual line.

Motion Detection

An alarm is triggered when movement is detected within the defined user area.

Shock detection

Shock detection protects the camera when events such as vibrations, quivers and shocks occur.

Sound classification

Sound classification can help users responds immediately in dangerous situations, by classifying sounds such as gunshots, glass breaking, screams and explosions.
Improve bandwidth by up to 99% using WiseStream II
When Hanwha Techwin's original video compression technology WiseStream II is combined with H.265 compression, the bitrate data data is reduced by up to 99% compared to current H.264 technology. The costs of configuring and maintaining the system are also greatly reduced, while still maintaining the same pixels and high quality.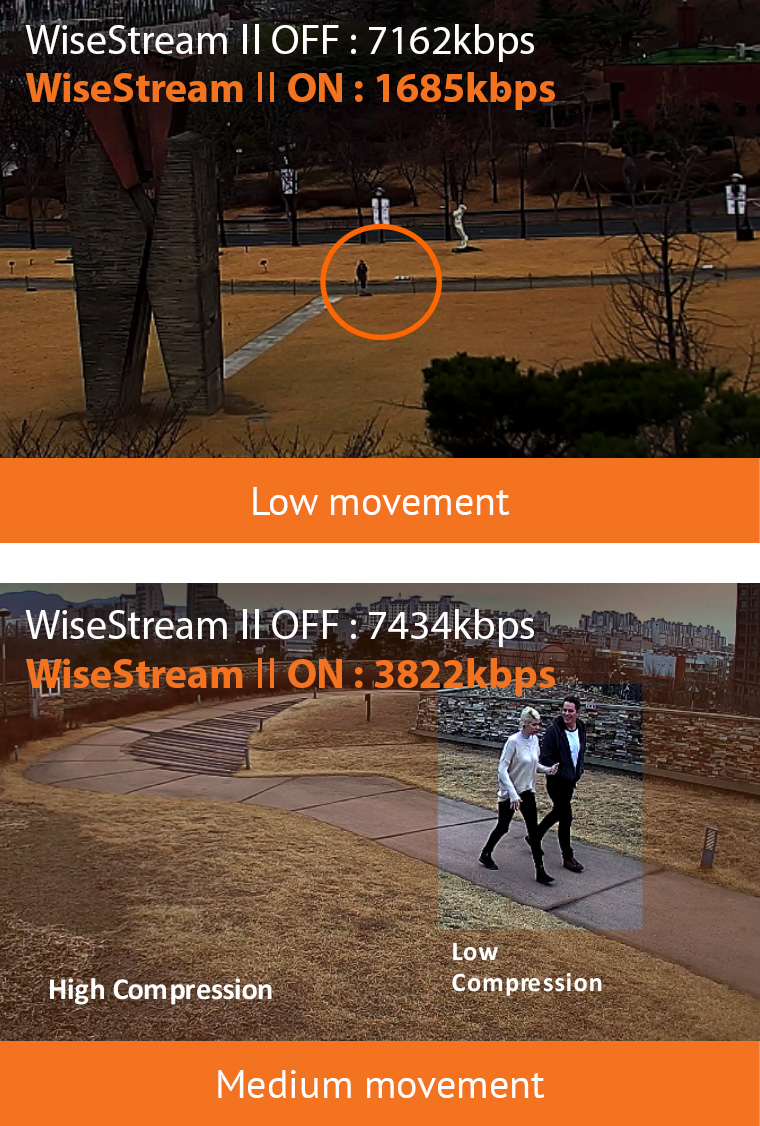 Handover to PTZ
The handover feature allows a PTZ camera* to receive an alarm from a thermal camera operating on the same IP video surveillance system. Once the notification is received, the PTZ camera will zoom into the assigned camera pre-set location. With this feature, PTZ cameras support the thermal camera by providing high resolution images whenever a specific detail is required.
* XNP-6370RH/6320H/6320, PNP-9200RH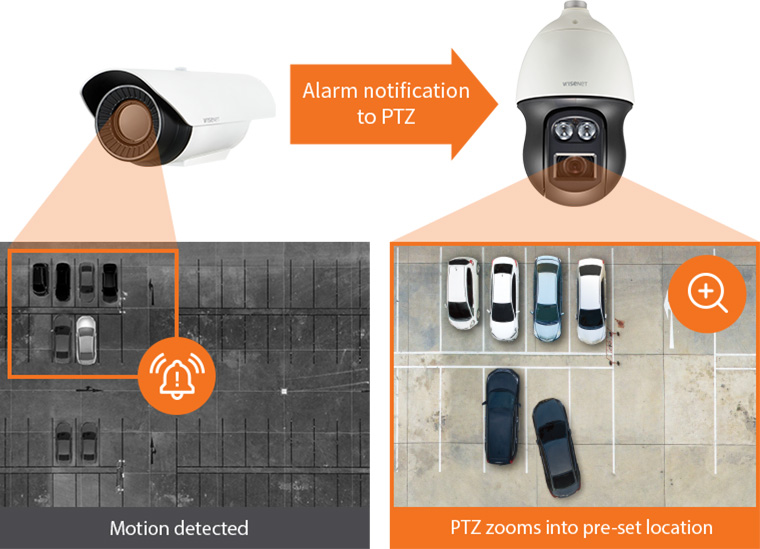 Positioning Camera
Broad thermal monitoring with positioning
The TNU-4051T / 4041T combines a thermal imaging camera and a positioning unit capable of monitoring a broad range, with its 360˚ endless pan and -90˚ to +40˚ tilt. In addition, the camera's flexibility is increased by 300 preset positions, allowing users to save the settings for pan / tilt functions and automatically view the location desired.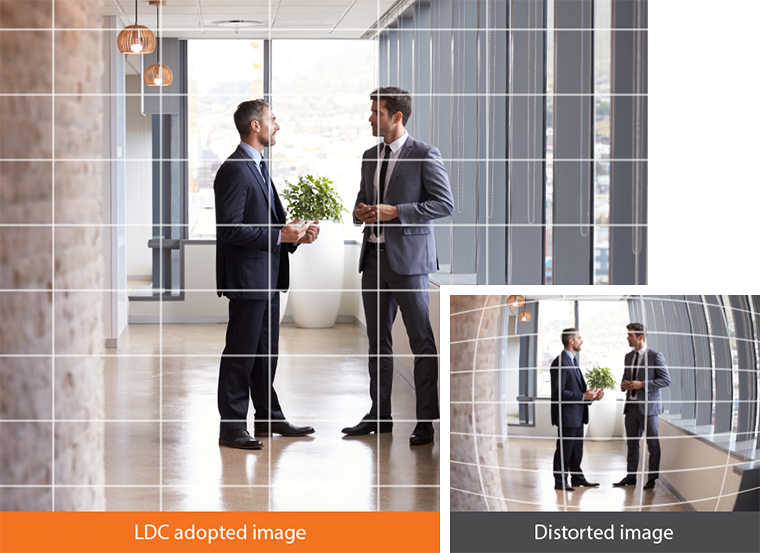 Radiometric Camera
Temperature measurement to monitor incidents
The Wisenet thermal radiometric camera has added a feature to detect the temperature range of -20˚C to +130˚C. Alarms are generated and sent to users in case the temperature of three areas in the monitoring screen is above or below a defined value or the temperature increases or decreases beyond the preset range. In addition, the screen displays average/minimum/maximum temperature of the three areas for more thorough temperature measurement.
Selected temperature range displayed in vivid colors
Using hybrid color palette, the selected range of temperature can be displayed in vivid colors, helping users observe monitoring areas with greater ease. The temperature out of the defined range is expressed in white hot color of black and white, ensuring the camera covers the entire monitoring areas with thermal detection.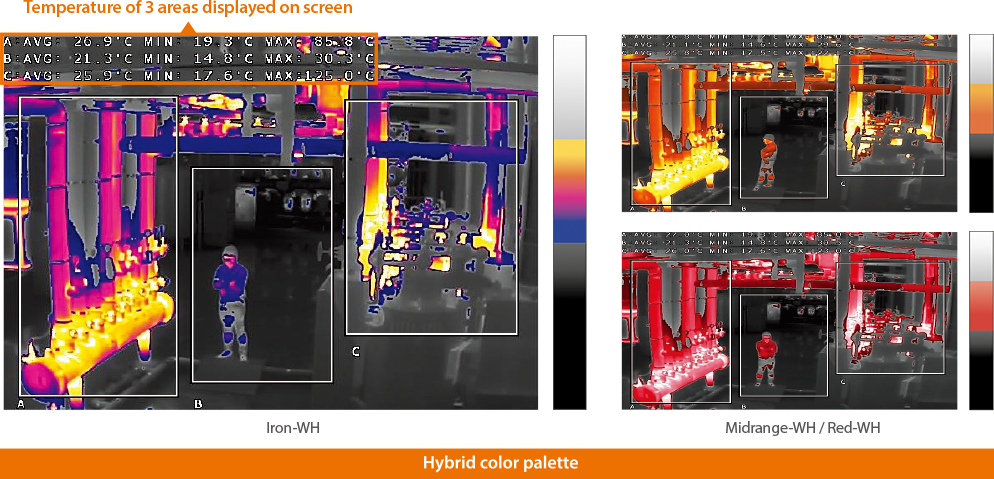 製品の仕様
映像
レンズ
カメラ機能
ネットワーク
一般
動作環境/電源
物理的仕様
映像
映像素子
Uncooled micro bolometer
解像度
640x480, 640x360, 320x240
最大フレームレート
H.265/H.264: Max. 30fps/25fps(60Hz/50Hz)
MJPEG: Max. 30fps/25fps(60Hz/50Hz)
NETD
<50mK
ピクセルサイズ
17㎛
映像出力
CVBS: 1.0 Vp-p / 75Ω composite, 720x480(N), 720x576(P) for installation
USB: Micro USB Type B, 1280x720 for installation
レンズ
焦点距離
35mm fixed focal
最大口径比
F1.0
画角
H: 17.2° / V: 13° / D: 22°
最低被写体距離
36m(118.11ft)
フォーカス制御
Fixed
カメラ機能
カメラタイトル
Displayed up to 85 characters
手振れ補正
Support(built-in gyro sensor)
モーション検知
8ea, 8point polygonal zones
プライバシーマスク
32ea, polygonal zones
- Color: Grey/Green/Red/Blue/Black/White
- Mosaic
映像回転
Flip, Mirror, Hallway view(90°/270°)
インテリジェントビデオ
Directional detection, Motion detection, Appear/Disappear, Enter/Exit, Loitering, Tampering, Virtual line, Audio detection, Temperature ditection, Sound classification, Shock detection
アラーム入出力
Input 1ea / Output 2ea
アラームトリガー
Analytics, Network disconnect, Alarm input
アラームイベント
File upload via FTP and e-mail
Notification via e-mail
SD/SDHC/SDXC or NAS recording at event triggers
Alarm output
Handover
音声入力
Selectable(mic in/line in)
Supply voltage: 2.5VDC(4mA), Input impedance: 2K Ohm
音声出力
Line out, Max.output level: 1Vrms
カラーパレット
Whitehot, Blackhot, Rainbow, Sepia, Red, Iron, Wisenet
ネットワーク
イーサネット
RJ-45(10/100BASE-T)
映像圧縮
H.265/H.264: Main/Baseline/High, MJPEG
音声圧縮
G.711 u-law /G.726 Selectable
G.726(ADPCM) 8KHz, G.711 8KHz
G.726: 16Kbps, 24Kbps, 32Kbps, 40Kbps
AAC-LC: 48Kbps at 16KHz
スマートコーデック
Manual(5ea area), WiseStreamⅡ
ビットレート制御
H.264/H.265: CBR or VBR
MJPEG: VBR
ストリーミング性能
Unicast(20 users) / Multicast
Multiple streaming(Up to 10 profiles)
プロトコル
IPv4, IPv6, TCP/IP, UDP/IP, RTP(UDP), RTP(TCP), RTCP,RTSP, NTP, HTTP, HTTPS, SSL/TLS, DHCP, FTP, SMTP, ICMP, IGMP, SNMPv1/v2c/v3(MIB-2), ARP, DNS, DDNS, QoS, PIM-SM, UPnP, Bonjour, LLDP, SRTP
セキュリティ
HTTPS(SSL) Login Authentication
Digest Login Authentication
IP Address Filtering
User access log
802.1X Authentication(EAP-TLS, EAP-LEAP)
応用インターフェイス
ONVIF Profile S/G/T
SUNAPI(HTTP API)
Wisenet open platform
一般
ウェブビューワー
Supported OS: Windows 7, 8.1, 10, Mac OS X 10.10, 10.11, 10.12
Recommended Browser: Google Chrome
Supported Browser: MS Explore11, MS Edge, Mozilla Firefox(Window 64bit only), Apple Safari(Mac OS X only)
SDカード
Micro SD/SDHC/SDXC 1slot 256GB
メモリー
1024MB RAM, 256MB Flash
動作環境/電源
動作温度/湿度
-40°C ~ +60°C (-40°F ~ +140°F) / 90% RH 이하
保管温度/湿度
-50°C ~ +60°C (-58°F ~ +140°F) / 90% RH 이하
規格認証
IP66, NEMA4X
電源
PoE(IEEE802.3af, Class3), 24VAC, 12VDC
消費電力
PoE: Max. 10W, typical 8.6W
12VDC: Max. 9W, typical 7.5W
24VAC: Max. 10.5W, typical 8.9W
物理的仕様
カラー/材質
White / Aluminum
RAL コード
RAL9003
寸法/重量
Φ101.97x401.8mm(4.01x15.82") / 3175g(7.01 lb)
ダウンロード
---
| | カテゴリー | タイトル | | 最終更新日 |
| --- | --- | --- | --- | --- |
| | マニュアル | Manuals_TNO-4030T,TNO-4040T,TNO-4041T,TNO-4050T,TNO-4051T,TNO-4030TR_230511_JA.pdf | | 2023-05-23 |
| | CAD | CAD_TNO-4050T_180308.pdf | | 2018-03-23 |
| | CAD | CAD_TNO-4050T_180308.dxf | | 2018-03-23 |
| | 証明書 | Certification_TNO-4050T_180215_EN_UL.pdf | | 2020-09-02 |
| | 証明書 | Certification_TNO-4050T_180214_KO_SDoC_KC.pdf | | 2020-09-02 |
| | 証明書 | Certification_TNO-4050T_171201_KO_KC(EMC).pdf | | 2020-09-02 |
| | 証明書 | Certification_TNO-4050T_171115_KO_Report_KC.pdf | | 2020-09-02 |
| | 証明書 | Certification_TNO-4050T_171115_EN_VCCI.PDF | | 2020-09-02 |
| | 証明書 | Certification_TNO-4050T_171115_EN_RCM.PDF | | 2020-09-02 |
| | 証明書 | Certification_TNO-4050T_171115_EN_FCC,IC.PDF | | 2020-09-02 |
| | 証明書 | Certification_TNO-4050T_190812_EN_DoC_CE.pdf | | 2019-09-25 |
| | 証明書 | Certification_TNO-4050T_190812_EN_EMC_CE.pdf | | 2019-09-25 |
| | パンフレット | Brochures_Wisenet T series_210105_EN.pdf | | 2021-01-05 |
| | A&Eドキュメント | A&E Document_TNO-4050T_191231_EN.docx | | 2018-04-11 |
| | Quick Guide | Quick Guide_TNO-4030T,TNO-4040T,TNO-4041T,TNO-4050T,TNO-4051T,TNO-4030TR_230511_JA.pdf | | 2023-05-23 |
| | BIM/Revit | BIM&Revit_TNO-4050T_180912_Common_mm.rfa | | 2018-09-28 |
| | BIM/Revit | BIM&Revit_TNO-4050T_180912_Common_inch.rfa | | 2018-09-28 |
| | Online Help | Online Help_TNO-4050T,TNO-4040T,TNO-4051T,TNO-4041T,TNO-4030T_191031_JA.pdf | | 2019-11-14 |
| | データシート | Datasheet_TNO-4050T_JP.pdf | | 2019-07-30 |
| | ファームウェア | TNO-4050T_2.11.11_20221117_R800.zip | | 2022-11-29 |