Company Overview
The world's best overall security solution for social security
Hanwha Vision's world class imaging technology is now applied to more diverse business areas including Access Control and Intruder Detection. Our products play an important role for the safety and happiness of people by protecting cities, airports, seaports, industrial areas and military installations. We will continuously provide high resolution, high performance and highly reliable premium security products and achieve the social value of "safety and the comfort". Hanwha Vision will advance towards becoming the world's best total security solutions provider by offering a one-stop security solution, facilitating the global network, and continuously conducting research and development.
1990

year

Year of foundation

10,023

billion KRW

Sales (2022)

Business Info
Pioneering Digital Video Surveillance Technologies and Total Security Solution!
World-Leading Optical Design, Manufacturing, and Image-Processing Technologies
Since launching our first surveillance camera in 1990, Hanwha Vision has focused on the video surveillance business for the last 30 years. We've built a full line-up of video surveillance (CCTV) products from cameras and storage devices to integrated control and intelligent video analysis software using our top-tier optical design, manufacturing, and image-processing technologies.
Rather than to rest on our laurels, our move forward to go beyond the market leader of Korea and make our mark in the global video surveillance market continues to this day.

Hanwha Vision is committed to providing world-class total security solutions that are tailored to the varying needs of our customers, such as, high-resolution equipment and intelligent technologies that can thwart crimes in advance and effectively respond to the emergence of new technologies.
01

World-Class Optical and Image-Processing Technologies

Core video surveillance technologies including lens, optical, image-processing, proprietary imaging technologies and self-developed SoCs.

02

Intelligent Video Analysis and Comprehensive Security Technologies

Face detection, event detection, precautionary anti-hacking/forgery, and privacy protection.

03

Highly-Reliable Manufacturing Technologies and Facilities

Hanwha Vision follows multiple verification processes from product development to product sales to ensure the highest level of reliability. Our QA team thoroughly tests the product performance and provides reports such as a Mean Time Between Failures (MTBF), which predicts the service life of a product.

04

Comprehensive Follow-Up and Support Systems

Strict quality assurance system: Our eco-friendly products strictly comply with the European environmental standards (RoHS), helping to create a healthy ecosystem with subsidiaries and distributors.
Global Network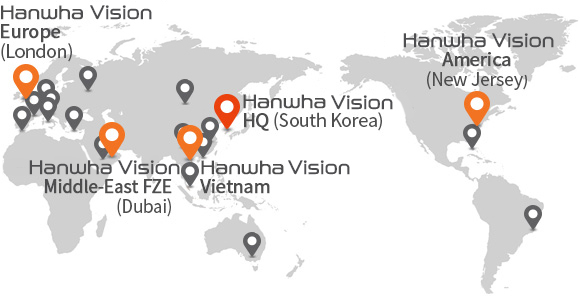 Subsidiaries

New Jersey, London, Vietnam, Dubai
Offices

USA/South America(Miami), Brazil(Sao Paulo), France(Paris), Germany(Frankfurt), Italy(Milano), España(Madrid), Poland(Szczecin), Czech Republic(Praha), Turkey(Istanbul), Singapore, Qatar(Doha), Iraq, China(Beijing, Shanghai, Guangzhou, Chengdu), Korea(Busan, Daegu, Daejeon, Gwangju)
HEAD OFFICE

6, Pangyo-ro 319beon-gil, Bundang-gu, Seongnam-si, Gyeonggi-do, 13488, KOREA

Tel : +82.70.7147.8753
Fax : +82.31.8018.3740

Hanwha Vision America

500 Frank W. Burr Blvd. Suite 43 Teaneck, NJ 07666

Tel : +1.877.213.1222
Fax : +1.201.373.0124

Hanwha Vision Europe

Heriot House, Heriot Road, Chertsey, Surrey, KT16 9DT, United Kingdom

Tel : + 44(0).1932.578.100
Email : htesecurity@hanwha.com

Hanwha Vision Middle East FZE

Jafza View 18, Office 2001-2003, Po Box 263572, Jebel Ali Free Zone, Dubai, United Arab Emirates

Tel : +971.4.870.9316
Fax : +971.4.885.2264

Hanwha Vision Hanoi Office

28th floor, Handico Building, Pham Hung street, Me Tri ward, Nam Tu Liem District, Ha Noi city, Vietnam

Tel : +84.24.7100.0860
Fax : +44.1932.57.8101

Hanwha Vision Ho Chi Minh Office

R. A1, 12th Floor, Minh Long tower, No.17 Ba Huyen Thanh Quan street, Ward 6, District 3, Ho Chi Minh city, Vietnam

Tel : +84.28.7108.8860

Hanwha Vision Singapore Branch

4 Shenton Way, #15-06, SGX Centre 2, Singapore, 068807

Tel : +65.6221.7512
Fax : +65.6227.9337

Hanwha Vision Oceaina Branch

Level 5, 550 Bourke Street, Melbourne 3000, Australia

Tel: +61 403 543 370